Every time we check in with the Larsens, the family of artists who own Vancouver's Le Marché St. George cafe and corner grocery, they're doing something inspiring: hosting rustic-chic parties with foraged decorations, staging feasts in farm fields, holding pop-up shops in the apartment above the restaurant, and all the while making their own work.
Of late, Janaki Larsen has moved her ceramics studio out of her backyard and into a space in the mixed industrial neighborhood of Mount Pleasant, formerly used as her partner Pascal Roy's Chinese medicine office. She didn't leave the yard far behind: At the new workspace and showroom known as Atelier St. George, crumbling clay-covered walls serve as an earthy backdrop for her wares and a seasonally changing array of housewares and fashions by other makers she admires—her mother, sister, and Mother Nature included.
Photography by Issha Marie, courtesy of Atelier St. George, unless otherwise noted.
Above: Janaki transformed the space by applying a slip to the main wall: "She mixed clay with water to form a goopy texture and we applied it with our bare hands," says operations manager Issha Marie. "As it dried, it crinkled and cracked—the desired effect." Janaki rigged the clothesline out of old rope and vintage pulleys; those are tumbleweeds from her property in Oroville, Washington, nestled in the corner.
Above: A shelf built from driftwood and metal scraps displays Janaki's bowls. The crackling on the wall—which crumbles to the touch and gets replaced from time to time—mimics the textures found in Janaki's glazes.
Above: A Janaki Larsen matte-glazed bowl. She has a cult following and most of her pieces sell out as soon as they're offered: To stay on top of her latest batch, follow her announcements on Instagram at @atelierstgeorge.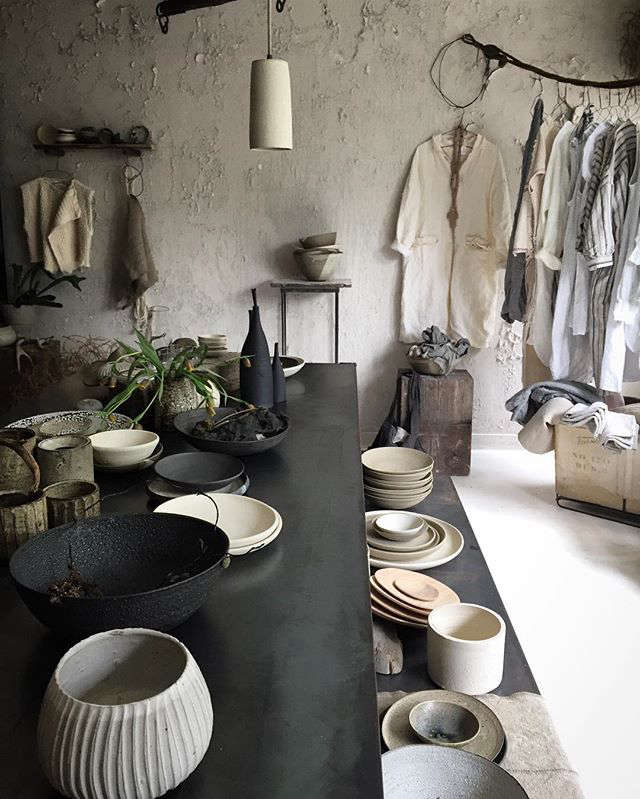 Above: Atelier St. George's display tables were fashioned out of rusty legs and cold-rolled steel tops acquired at a "metal supermarket."
Above: A Janaki Larsen deep bowl doubles as a vase.
Above: The Martine Shirt Dress by CP Shades of SF is $210.
Above: Subtly patterned Wool Throw Blankets with Simple Fringe hang from nails on a branch. They're $95 each and, Janaki notes, can also be used as large shawls and picnic blankets.
Above: Janaki's Linen-Colored Tapas Bowls, $45, are unglazed but treated so that they're food safe. "Because each is hand-thrown, they have slightly varying heights and depths," she notes, "though they all look roughly the same and stack well."
Above: Twenty One Tonnes Babouche Slippers, $79, are handmade in Fez.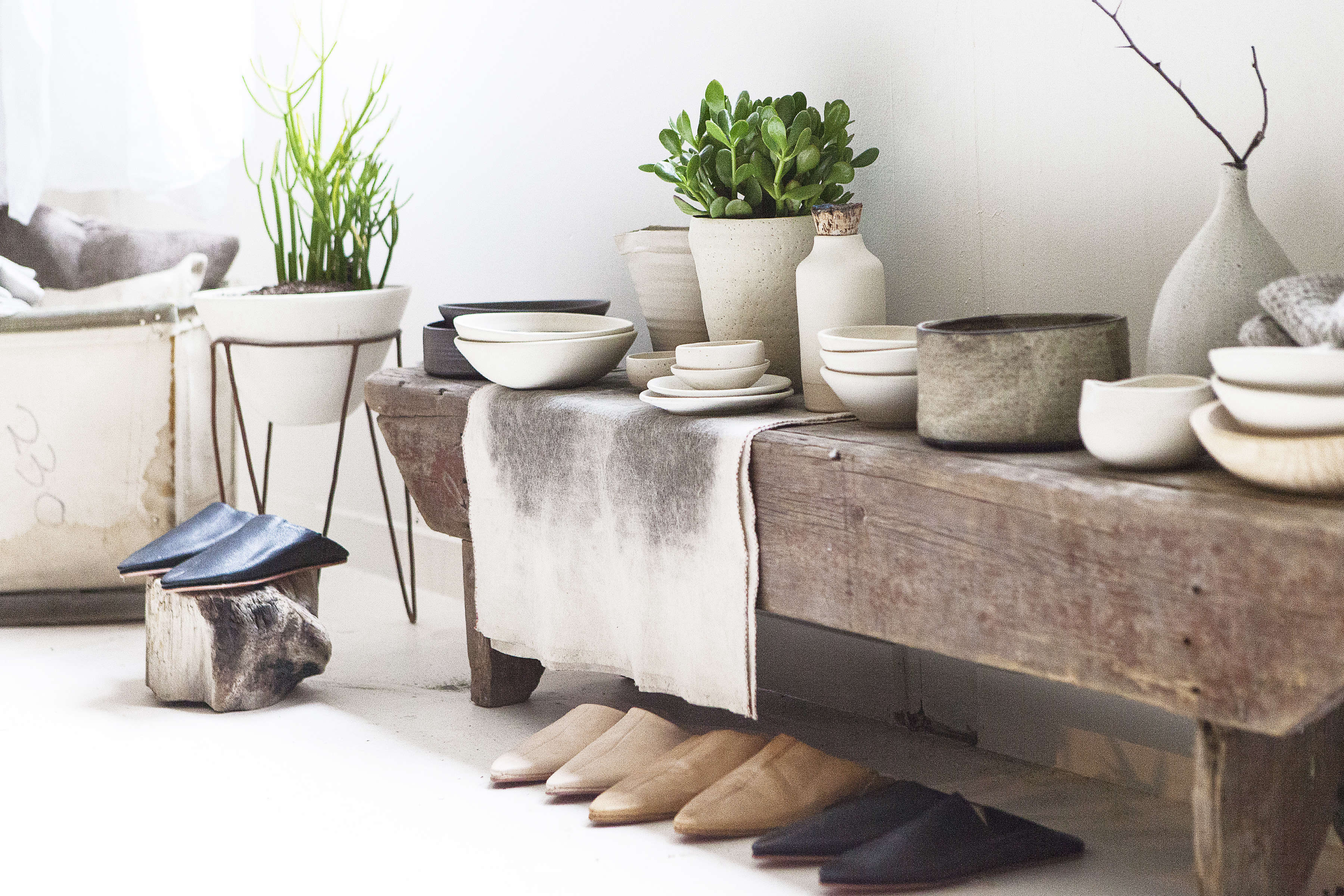 Above: Janaki's ceramics and more babouches—they're available in three shades.
Above: Lately Janaki has been experimenting with kintsugi, a Japanese technique for repairing broken pottery. In place of the traditional gold or silver, she uses hot pink.
Atelier St. George is located at 11 E. Seventh Ave., in Vancouver, B.C., and open Tuesday through Saturday.
(Visited 1,518 times, 5 visits today)