We've had a thing for Luke Irwin and his rugs for a while now; the way his otherworldy designs are inspired by dreams of crop circles and other natural phenomena. His latest inspiration: Deverill Villa, an ancient Roman ruin he uncovered in his Wiltshire garden a year ago (to be filed under: only in England).
In Irwin's words: "In February 2015, while laying electricity cables so my children could play ping-pong in an old barn, we struck a cold, hard surface." Further excavation revealed a well-preserved Roman mosaic from a palatial villa dating from 175 to 220 AD, which inspired Irwin to design the Mosaic collection, a line of rugs based on the intricate ancient patterns. "What I didn't want to do was create a pastiche of Roman mosaics," he says. "What I loved is the sense of the worn, of the distressed, and the geometry from the mosaic pieces, which gives it a beautiful kind of structure."
Learn more at Luke Irwin.
Above: Working with his collaborator, Vikram Kapoor, Luke designed the Mosaic Collection, including the Vespasian Rug (shown). The rugs are hand-knotted and made to order; they are available in a range of sizes in wool, silk, and cashmere.
Above: A detail of the Vespasian Blue Rug.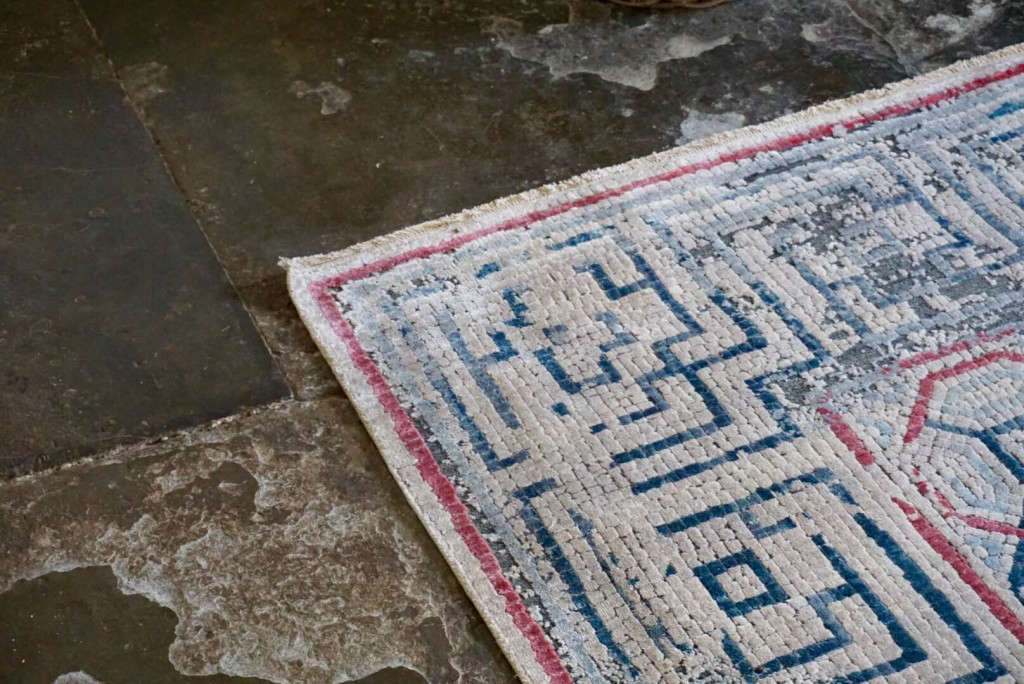 Above: A detail from the Claudius Rug from the Mosaic Collection.
Above: The Claudius Rug has a pleasingly decayed look.
Above: The Cumulae Caractacus Rug.
You need to login or register to view and manage your bookmarks.