I've always believed that, budget allowing, it is better to invest in well-made products. Not only do goods that have been painstakingly crafted from the finest materials bring more "joy," as Marie Kondo would say, but also they last longer. That said, in every price-to-quality ratio, there is a tipping point where one has to ask, "Am I really getting that much more for my money?" It is a threshold that I decided to test this past summer by replacing my own sheets with a set of Sferra sheets.
Here's the backstory. When I bought my summer cottage years ago, I was suddenly faced with outfitting five beds on a limited budget. So out I went to the local discount store to gear up on sheets of all sizes. At the same time, I inherited with the cottage one single sheet set that had been purchased by a previous owner sometime in the 1950s. Long story short, I have subsequently been through many sheets of increasingly better quality, only to find that they all are either ill-fitting or scratchy, prone to yellowing or pilling, or that they tear and become threadbare after only a few years. Meanwhile the vintage sheets that I inherited are still going strong.
So last year, in hopes of finding some heirloom sheets like the ones I inherited, I took the plunge into the luxury sheet market. My choice: Sferra's Giza 45 Percale Collection, in classic white; $205 to $750. Founded in 1891 by Gennaro Sferra, the company has a long-running history of producing luxury linens. But are they worth the price? Only time will tell. But here's what I've learned so far.
Fine Detailing
Right off the bat, several features set Sferra apart—the first being the fine detailing on the flat sheet.
My mother, who gained her bed-making experience as a chambermaid for some of Cape Cod's finest old inns, taught me that a properly made bed features a generous turndown over the blanket. Thus this border is one of the most important physical features of the well-made sheet. But lately, I have noticed, many sheet manufacturers have sacrificed the top border—reducing it to bare minimum or eliminating it altogether—either in favor of economy or because people can no longer be bothered to turn down their sheets. I was pleased to see that my new Sferra Giza 45 Percale sheets sported a generous top border finished with an elegant yet understated hemstitch.
Exquisite Craftsmanship
The hemstitch detailing was a nice touch, but what really impressed was the superior craftsmanship of the sheets, most notable in the finish around the top border, which features exquisitely stitched, diagonal (mitered) seams. By comparison, the finish on my other sheets (by a mid-priced brand) looks rough and sloppy.
Superior Fabric
As someone who has fallen for sky-high thread count before, I've learned to be suspicious of this marketing gimmick. Thread count tells you only the number of threads per square inch, it does not tell you the quality that fiber. Far more important to determining superior quality and comfort, is the length of the fiber. The longer and finer the thread, the softer yet stronger the material. Egyptian cotton is recognized as among the best precisely because of its fine, long fibers. "Giza 45" refers to this quality. According to The Truth About Thread Count, it "is the most highly graded cotton fiber of the Egyptian cottons. It is the longest, thinnest, strongest of all the 'Giza' grade cottons." Giza 45 cotton is also more uniform with fewer irregularities, resulting in a smoother finish.
But you really don't need to know any of this to see right away that Sferra sheets are made of a much finer fabric, especially when compared with the rough, loose weave of other sheets.
More Generous Size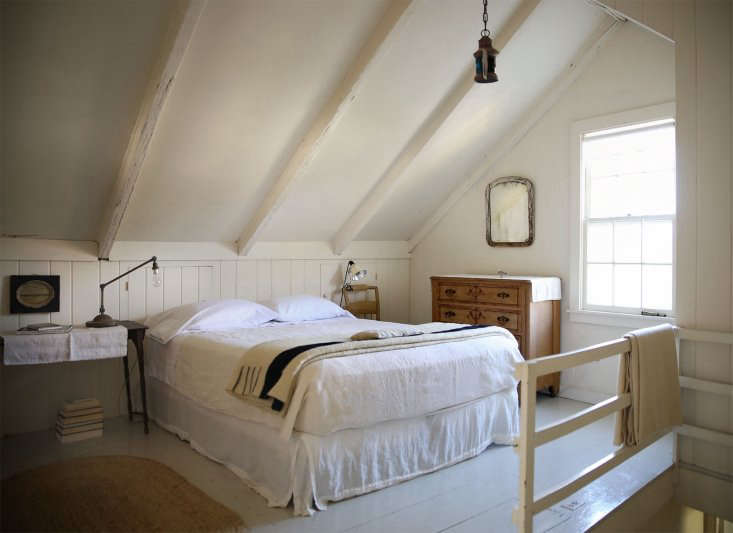 My grandfather, who learned his bed-making skills in the Army, passed on another important practice of the well-made bed: the square corner. Most sheets are not actually wide enough to execute this crucial tuck. In addition to width, many brands also skimp in length. Even if I sacrifice the top fold down, most sheets don't have enough length for a secure bottom tuck. Not only do I find myself fighting with my husband over my fair share of sheets, but I also constantly have to remake the entire bed.
Sferra sheets, on the other hand, are generous without being oversized. Sferra's dimensions perfectly accommodate both a generous fold down at the top, and secure bottom tuck, as well as a good square corner at the sides. Finally my bed stays securely tucked in until I change the bed. My new Sferra sheets not only are more comfortable but also save time.
Smoother Feel
A word to the wise when purchasing fine sheets: Know thy weave. Similar to their use of thread count, marketing departments have distorted our idea of what terms such as "percale" and "sateen" mean. For example, I read one comment in which a reviewer found Sferra Giza 45 Percale sheets to be too stiff. But a percale weave is supposed to be lightweight and crisp. (I suspect she was really more of a sateen girl. Sferra Giza 45 Sheets do come in a Sateen.)
For my summer cottage, I specifically chose percale sheets because they tend to be cool and breathable. They definitely have a more "crisp" feel, but they're smooth, not scratchy or rough. The more I use them, the softer and silkier they feel, though they will never be plush like a jersey cotton.
As the seasons changed, I found it hard to part with my Sferra Giza 45's, so I transferred them to my winter bed. When weighted under a cozy down quilt, their smooth finish is quite refreshing.
Extended Wear
Another reason that I chose percale is that they are reputed to be more durable and less likely to pill. About a year in, I am very happy with how my sheets are wearing especially compared with other brands. In particular, my Sferra Giza 45 Percale sheets seem to have resisted the dreaded yellowing, which is even more prevalent in sweaty, summer sheets. Again this benefit is the result of superior quality; because Giza 45 is a "cleaner" cotton, it requires less bleach to whiten it and therefore is more resistant to yellowing. (See DIY: How to Whiten Your Sheets with Laundry Bluing.)
As with all fine percales, my Sferra sheets do wrinkle in the wash. This, again, is a feature of a fine cotton percale weave. If your percale sheets don't wrinkle, they most likely have some polyester fibers mixed in or are treated with chemicals. If you prefer a natural fiber that is less prone to wrinkling, then you might opt for sateen See: Sferra Giza 45 Sateen Sheets.) For myself, I don't mind a slightly rumpled look, especially in the summer. Line drying helps. In the winter, I do iron the top border and the pillowcases, a practice that, remarkably, I find I enjoy.
The Take Away on Sferra
In the end, each person has a different price-to-quality threshold, depending on his or her budget, priorities, and experiences. After decades of wasting time and money on more disposable brands, I am really happy with my Sferra bedding. The more I used them, the more I come to appreciate the subtle luxury that comes from sleeping on more carefully crafted sheets.
More ways to create the perfect sleep:
(Visited 957 times, 7 visits today)