'Postcards from Myself' is a new collection of tiles designed by South African artist Ruan Hoffmann for Clé, the Sausalito-based tile company. The internationally celebrated Johannesburg artist, using ceramic as his medium, has created 25 designs each hand lithographed on an eight-inch-square encaustic cement tile. Hoffman notes, "I live in Paris half the year, and spend several months traveling. These designs represent my connections to the oceans where I have swum, ancient cities I have explored, the shadows and exuberance of animals and plants." Pricing is $26.95 per square foot. To order or see more of Hoffman's work, go to Clé.
Above: Fireworks shown installed as a backsplash in a kitchen. Photograph by Penni Gladstone.
Above: Istanbul Wave. Each cement tile is compressed, cured and then hand lithographed in a process that replicates Hoffmann's original brushstrokes. As Deborah Osburn, founder and creative director of Clé explains,  "Lithography allows for a precise rendering of a pattern, and so the finished tile looks hand painted. The process for this collection is a centuries old technique coupled with modern technology."
Above: Splash  The tiles are hand lithographed on an eight-inch-square encaustic cement tile using the historic tradition of using multiples of four tiles to complete each pattern.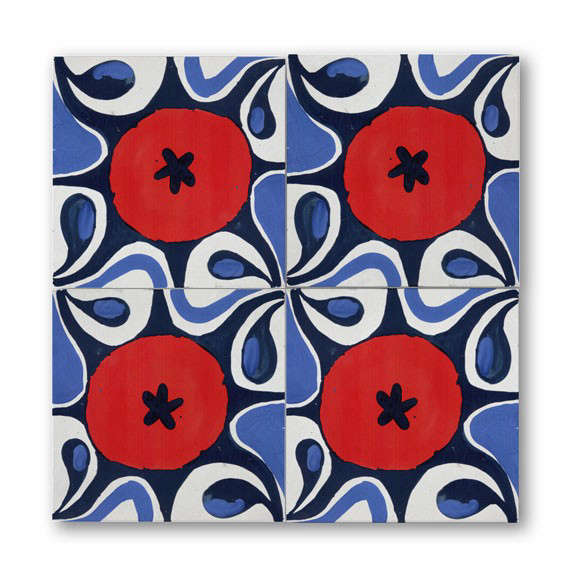 Above: Persimmon. Hoffman created the original art for the tiles with paintings on "postcard" sized paper stock, "a series of postcards from myself about my life."
Above: Bio Circuit
You need to login or register to view and manage your bookmarks.