Kul is the latest restaurant addition to booming Kí¸dbyen, aka the Meatpacking District of Copenhagen. Chef-owners, Henrik Jyrk and Christian Mortensen, met at Tivoli's Michelin-starred restaurant, The Paul, where they worked side by side in the kitchen. After a quick stint in California, Jyrk returned to Copenhagen inspired by American cooking, and the duo set out to create an affordable gourmet restaurant with a focus on multi-national grilled cuisine. Kul, which translates to coal, refers to the charcoal-fired Spanish Josper oven and Japanese yakitori grill where all meals are prepared. Space Copenhagen (the team behind Noma and Kí¸dbyens Fiskebar) designed the 90-seat eatery, setting it in a relaxed open space that takes the color charcoal and works wonders with it.
Photography via Restaurant Kul and by Morten Lundrup, unless otherwise noted.
Above: In the dining room, black tables are accompanied by black Windsor chairs with yellow cushions. The hint of warm color is picked up by the Shade pendant lights, a hand-spun aluminum design by Signe Bindslev Henriksen and Peter Bundgaard Rützou of Space for Mater. The wine menu is written on a chalk-painted blacl wall, and a row of menus hang off a black pipe. A white-tiled wall adds a sharp contract to the otherwise charcoal space. 
Above: Crystal glasses add a glamorous touch to a simple table set against a backdrop of tableware-lined niches. For more crystal inspiration, see Trend Alert: Your Grandmother's Cut Crystal Makes a Comeback.
Above: The linear space is defined by charcoal gray–the ceiling beams echo the lines in a grill–dramatically set against a white-tiled floor and walls. Diners at the bar have prime views of their food sizzling in the kitchen. Photo via Space Copenhagen.
Above: The restaurant's sign is as bright as burning embers.
Above: The Kul logo was designed by Kornmaaler Graphic Design of Copenhagen.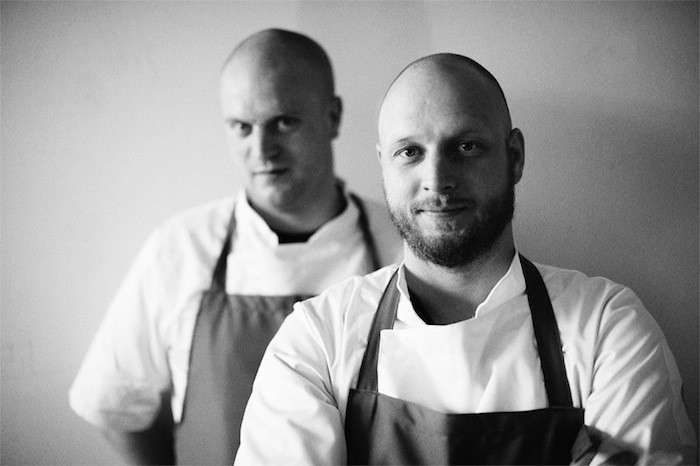 Above: Owners Henrik Jyrk and Christian Mortensen. "You can have the best food, the best service, and the most delicious surroundings at a reasonable price. That is what we want from Kul, " says Jyrk. For menus and reservations, go to Kul.
Eyeing the black Windsor chairs? We've got you covered: check out 10 Easy Pieces: The Windsor Chair Revisited. And if a trip to Copenhagen is in the offing, also have a look at the city's Most Happening Bar, Flames included. Ready to do some of your own grilling? See Gardenista's World's Best Barbecue Grills.
(Visited 133 times, 1 visits today)