A former flophouse on West 8th Street has just received a glam, French-inflected makeover, complete with buzzing bar and restaurant. The Marlton's new guise comes courtesy of hotelier-about-town Sean MacPherson (also an owner of the Bowery Hotel, Maritime Hotel and The Jane, to name but a few). MacPherson masterminded the redesign himself, installing herringbone wood floors, oak paneling, brass faucets, and hand-shaped bedside sconces that look as if they've been in place for decades. An aesthete with an acute sense of what's next, he's pointing our collective compass in the direction of classic comforts (think cherry leather armchairs) and Parisian-size accommodations: the Marlton's tagline is "Honey, I Shrunk the Ritz." Fortunately, there's room to spread out in the lobby.
Photographs by Annie Schlecter via the Marlton Hotel, unless otherwise noted.
Above: The Marlton was built in 1900 as a cheap place to stay. Over the years a number of famous characters have checked in, including Jack Kerouac (who wrote two novellas while in residence), Lenny Bruce (while standing trial for obscenity), Dame Maggie Smith, and Mickey Rourke. More recently, the building was a freshman dorm for The New School. It now has 107 newly finished guest rooms spread over its nine floors. Washington Square Park is nearby, as is a yet-to-be gentrified stretch of 8th Street.
Above: In the cold months there's always a fire blazing in the wood-paneled lobby. Starting at 5 pm, the space fills up with as many locals as guests, but even when buzzing, it remains a surprising oasis of civility.
Above: A range of seating options are spread out before the old-fashioned front desk (with keys rather than key cards). Rates start at $250 a night. 
Above: Situated across from the front desk, the Marlton's espresso bar serves Ferndell coffee from LA.  
Above: The hotel refers to its 107 guest rooms as "baby grands." They range in size from small (100 square feet), medium (125 square feet), and large (150 square feet) to penthouse suites (425 square feet). MacPherson has said that his inspiration for the design came from his stays at the Hí´tel de Saints Péres and Ritz in Paris, as well as F. Scott Fitzgerald's descriptions of Rosemary's hotel in Tender is the Night.
Above: Brass hand sconces, reproduction of antiques, serve as bedside lighting. The headboards are upholstered in velour.
Above: A Serge Mouille Three-Arm Ceiling Lamp, a French classic available from DWR. Photo via The Pursuit of Style .
"The Marlton feels more feminine than some of my other projects," says MacPherson. Above L: Plaster shell sconces in the guest rooms. Above R: Curtained closet doors inset with chicken wire.
Above: A 1920s-style black-and-white tiled bathroom with a mirrored door (to make the rooms feel bigger). All have marble sinks with brass fixtures from Waterworks. The black toilet seat is a great finishing touch; see our Design Sleuth to source your own.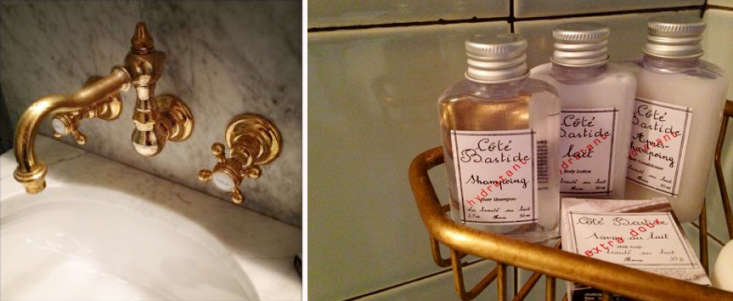 Above: Waterworks brass faucets and shower caddy with Cí´té Bastide toiletries. Photos via Yelp.
Above: The hallways are painted what MacPherson calls "French blue."
Above: One of two penthouse suites, terrace included. The cluster light is by Apparatus Studio of New York.
Apparatusstudio.com 129
Above: A penthouse bathroom with off-center Waterworks sink (markedly bigger than the marble sinks in most rooms) and distressed mirrored lighting.
Above: A cocktail bar adjoins the lobby's fireplace lounge.  
Above L: The cocktail bar leads to Margaux, the in-house restaurant. Above R: Framed Yves Saint Laurent prints hang on the oak paneled walls.
Above: The restaurant has two-toned banquettes and lighting by Apparatus Studio.
Above: Margaux's menu is Mediterranean. Photo via Trip Advisor.
Above: Herringbone wood floors lead to seating in a sun-lit atrium. 
Above: The restaurant is filled with homey French details, including tiled columns. For additional hotel and restaurant details, go to the Marlton Hotel.
Looking for more New York hot spots? See our New York City Travel Guide for shops, restaurants, candy stores, and more hotels, including the Gothic Getaway and a Glamorous Retreat for Modern Mad Men. For the horticultural side of the city, see Gardenista's New York posts, such as A Tropical Paradise Attainable by Subway and How to Navigate the Flower Market.  Like the Marlton's wood floors? Have a look at Trend Alert: Geometric Wood Flooring.
You need to login or register to view and manage your bookmarks.