Much of our focus on Australian design features clean, modern spaces in cities such as Melbourne and Sydney. In her new book, Shelter: How Australians Live, lifestyle photographer and stylist Kara Rosenlund takes us on an epic journey documenting homes and their owners across the country in the bush and beyond. Rosenlund taps into the heart of Australian living documenting unique and authentic interiors illustrating a slice of life that we are rarely privy to. Here she talks about what it is that makes a home uniquely Australian.
Photography by Kara Rosenlund.
Above: A detail of Rosenlund's own house.
Remodelista: How would you define the essence of Australian design?
Kara Rosenlund: Australia is so diverse in all it offers and there is a joyous freedom with being such a young country that allows us to embrace different aesthetics and this lends itself to an accessible way of life. In essence we are in some way a very spirited teenager.
Above: A moodboard in Kara's own house.
RM: What makes an interior singularly Australian?
KL: The strength of our light and our relationship with the outdoors. We do love to blend the outdoors with the indoors—our climate allows us to bring nature inside effortlessly, almost all year round. From the bush to the beach, we love to to be able to live closely with it.
RM: You talk about the authenticity of the homes you feature in your book.
KL: These homes are at peace with being called Australian. They don't look abroad for change or desire to be redecorated each season. This way of life and approach is timeless, authentic, and real. There is a sentimental attachment to the realness also.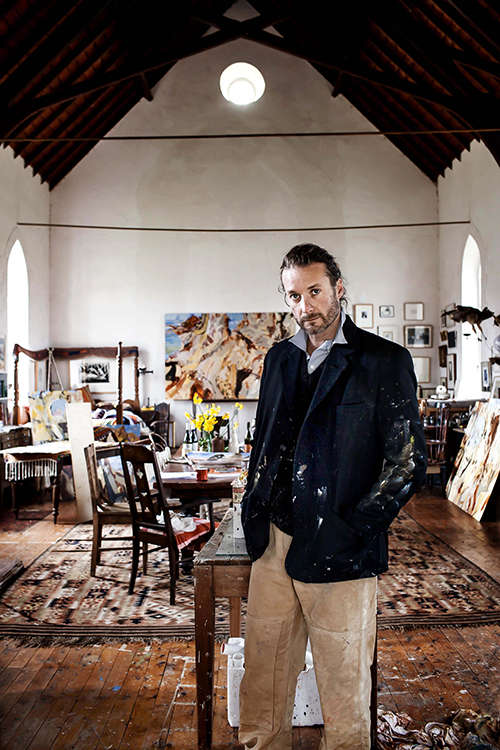 Above: Artist Luke Sciberras at home in New South Wales.
RM: Is this a nostalgic look at the past or a modern reinterpretation?
KL: It is a modern reinterpretation, with a nod to the nostalgic past. This style of book was something which needed to happen. Almost a social documentary approach and looking in on how people live in country Australia. This book celebrates our older homes and the surrounding landscapes they lay within. In the past there has been a cultural cringe with our relationship and acceptance of all things Australian, and I hope this book in some way offers a remedy to this—looking in on how unique, honest, and beautiful the Australian aesthetic really is.
Above: An old boathouse open to the elements on a remote island south of Tasmania.
RM: Your book illustrates a very elemental way of living.
KL: The essence of Shelter is to protect us from the varied elements, and I found this to be a really intriguing thread. It's about listening to what is happening outside. Our elements here in Australia can be brutal and harsh and they can dictate how we live. Up the top end of Australia, the heat drives us onto verandas and we live with doors and windows flung wide open, an optimistic hope to catch breezes. Then down in the south we have the opposite at times, where stone, brickwork, and roaring open fireplaces are used to capture the heat and keep the homes warm. All of these elements are unique to their locations.
RM: The natural landscape plays a major role in the book.
KL: Our way of life in Australia is strongly connected to what is happening outside in nature. It is a constant conversation which is ever-changing with the seasons. Ranging from the color palettes and textures to the overall house design. We glean inspiration and decorative leads from nature. I wasn't expecting nature to play such a strong role in the book, but you start listening to the landscape and you can't fight it, nature always wins.
Above: Gala Estate, the second oldest farm in Tasmania.
RM: We often think of Australians as embracing bright colors but many of these interiors are dark and moody with splashes of color.
KL: I think the homes which have been celebrated in the past were of a certain ilk, to show a particular edited way of life. Australia offers so much more than just the house by the ocean. Again it comes back to our climate. Surprisingly darker interiors are very popular in the hotter regions, as the desire to keep the hot light out of the interior cool. Almost like a primitive cave.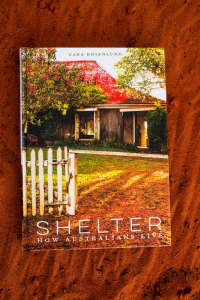 Above: Shelter, How Australians Live is available at IPG for $55 and at Kararoselund for $59.99 AUS ($43.24 USD) along with a limited release of prints for sale to accompany the book.
RM: There's an exotic element to the book that we don't necessarily consider when we think of Australia.
KL: The bush, the sea, the desert, the beach, it is all so varied and so diverse in the color palettes and the textures. I think for most people who have read the book, they too would be surprised by the visual feast of color and landscape.
RM: Did writing this book make you reconsider how Australians live?
KL: Absolutely. I was pleasantly surprised and inspired by the diversity that exists. What surprised me the most was how sentimental so many Australians are to our nostalgic identity. How we feel about the home and the emotional bond we have to some of our older ways and how they stir the senses. The light, the fragrances, the seasons are all part of our emotional tapestry to where we belong. This follows through to the photographic prints I capture and curate online, people want to have their sense stirred. They want to be reminded of that memory of being in the bush or how the air tastes at the beach. The visual language is universal and people want these sentimental reminders in their homes.
Above: The author, Kara Rosenlund.
RM: You often mention a mud map in the book. What's a mud map?
KL: Originally a mud map was a primitive map illustrated into the dirt with a stick, to show people how to get somewhere. While I was traveling around the country photographing for the book people would hand draw crude rough maps for me, usually drawn on a scrap of paper or a napkins, which would reference visual landmarks and not so much a drawn-to-scale map. Who needs Google Maps? I'll take a hand-drawn scribble anyway!
For more, see our feature on her home in House Call: In the Kitchen and Beyond with Kara Rosenlund and our post on her Mobile Brocante.
You need to login or register to view and manage your bookmarks.