A vagabond shopper takes her wares on the road in her native Australia.
When she lived in London, Kara Rosenlund (see House Call) made frequent sojourns to France in pursuit of vintage treasures and flea market finds. Upon returning to her Australia, she noticed a gap in the market and decided to fill the void with Travelling Wares. Hitting the highway in style, Rosenlund offers up practical, well-curated, vintage items from a restored 1956 Franklin Caravan.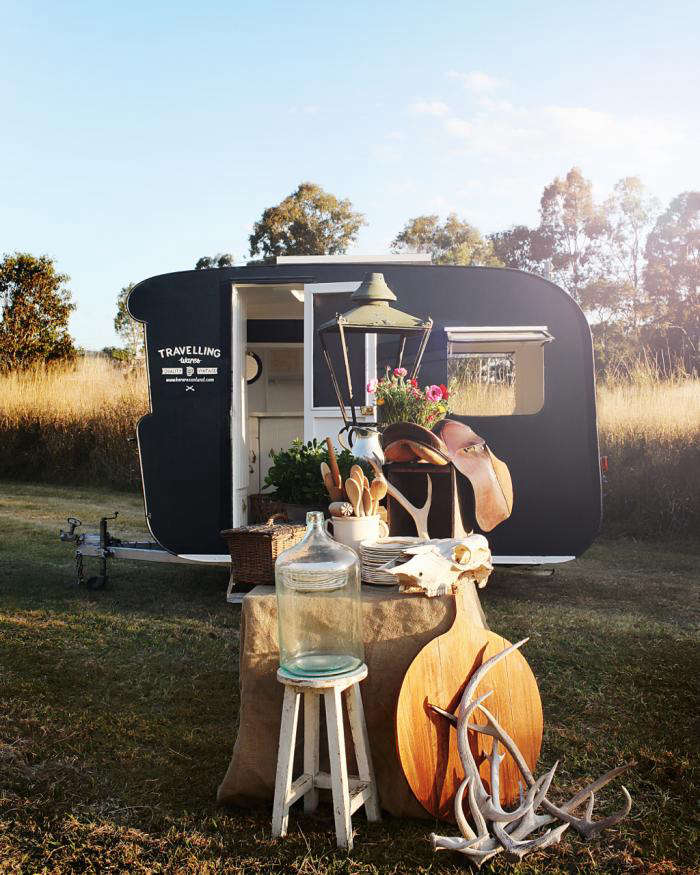 Above: Kara and her husband, Timothy, completely restored their vintage Franklin Caravan, affectionately nicknamed "Frankie."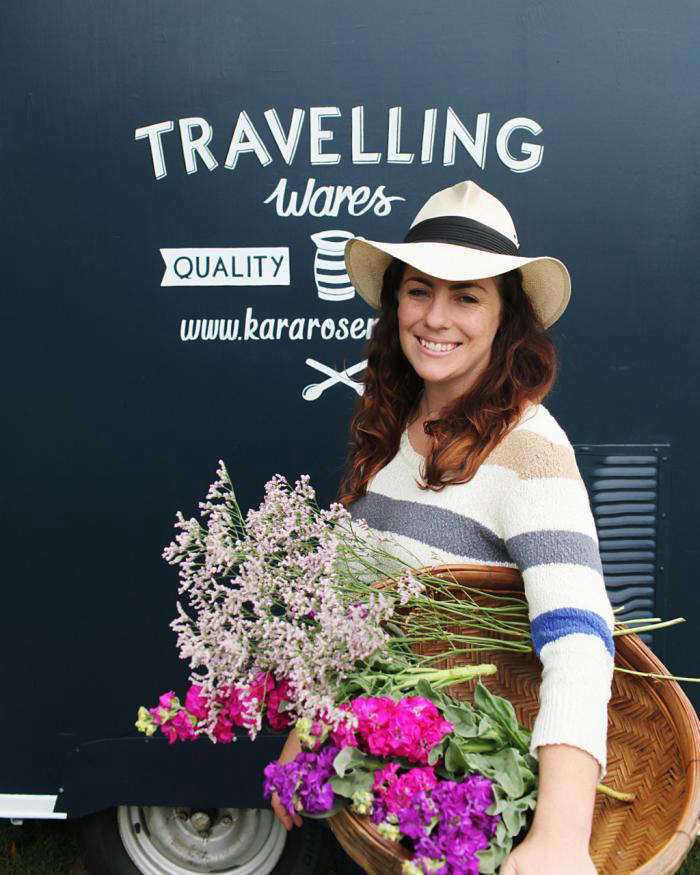 Above: Kara outside her caravan, ready to hit the road.
Above: As in her home, Kara's caravan reflects her signature style: crisp white with textured naturals and warm vintage accents.
Above: To keep things fresh, Kara styles the inside of the caravan according to different themes. Here, a vintage painting fits in perfectly with a seaside motif.
Above: The caravan's striped cushions and other nautical accents are all for sale.
Above: A bit of Australia, both vintage and natural, adorns a shelf.
Above: When renovating the caravan, Kara and Timothy opted for VJ (vertical joint) boards, which give it a more beachy vibe. The original mint green was painted over in a crisp white with navy accents. Rope door pulls complete the coastal feel. For two DIY projects that make use of pre-made wood paneling, see the Kitchen Overhaul for Under $500 and DIY: Beadboard Ceilings.
Above: Outside the caravan, Kara sets up more wares on trestle tables.
Above: Sourcing both locally and abroad, Kara looks for "original utilitarian pieces that were built to last."
Above: Among the many items you'll find at Kara's Travelling Wares: English pudding bowls and mixing bowls, enamelware, French wooden spoons, French dinner plates, and Australian glass preserving jars, canisters, cutlery, and more.
Above: Each item at Travelling Wares is beautifully styled, supplying ideas as to how you might use it in your own home.
Above: For Kara's next location, visit her website. Not in your neighborhood? Kara also offers an online Travelling Wares collection, an ever-evolving selection of her finds.
For more great browsing, go to Shopper's Diary (and on Gardenista, too). Attracted to vintage trailers? See Wanderlust: 10 Airstream Trailers for Living Small. 
N.B.: This post is an update; the original story ran on August 30, 2012 as part of our issue called The Last Gasp of Summer.
(Visited 164 times, 1 visits today)