After jet-setting around the world, an Aussie native (and her chickens) come home to roost in a classic Queensland cottage.
As an accomplished photographer, stylist, buyer, and seller, Kara Rosenlund has a career that takes her all over the world, including delivering masterpieces to Madonna and diving for barnacled earthenware off the Scottish coast. After several years in London, she and her husband, Timothy, decided to return to their native land, where they purchased a 19th-century worker's cottage. The next three years were spent restoring the bare-bones home, incorporating many traditional fixtures and materials, to create a contemporary feel.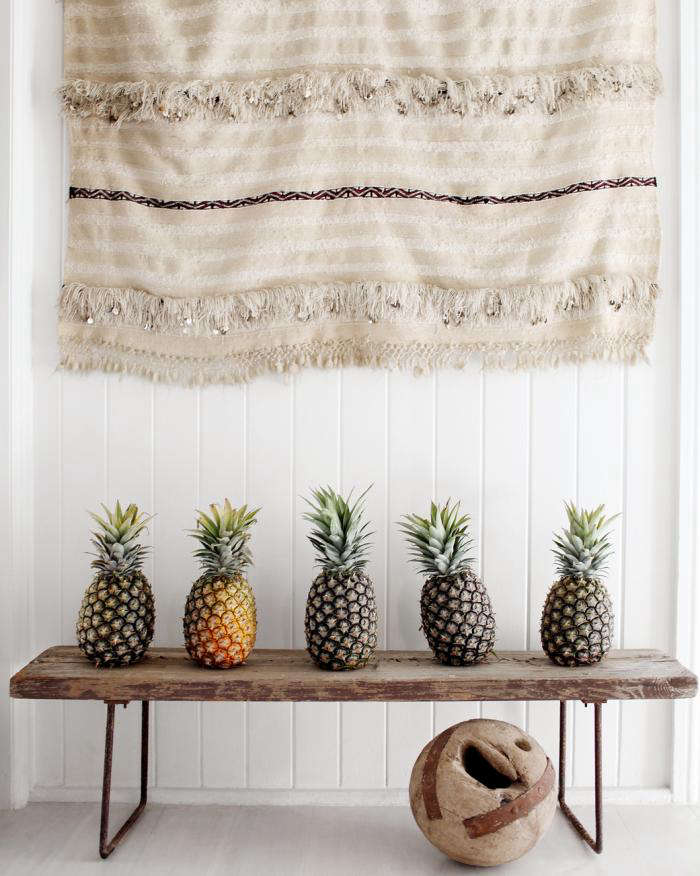 Above: Reflecting her worldliness and sense of humor, ethnic elements like a Moroccan wedding blanket and a row of pineapples festoon the hall.
Above: Inspired by old, hard-working kitchens (i.e. bakeries or butcher shops), Kara selected materials that were durable and practical for food preparation. Salvaged elements, including the open shelving, as well as traditional fixtures (marble countertops and a butler's sink), create an updated old-world feel.
Above: A kitchen detail shows Kara's signature style: vintage and natural elements applied to create texture, character, and a contemporary feel.
Above: A classic net bag suspended from a vintage hook serves as storage for fruit.
Above: Throughout her kitchen and home, Kara deftly applies touches of wood to keep the pristine white interior and modern elements from becoming too cold.
Above: Organizing principles to envy: in this kitchen, order and beauty are more than skin deep.
Above: Everything in Kara's kitchen is decanted in labeled jars.
Above: The mix of warm naturals and white marble in the dining area creates a continuity between the kitchen and dining spaces.
Above: In the bedroom, a polished tortoise shell makes a witty complement to the decorative tufted pillow.
Above: Opting for a slightly darker tone in the bathrooms, Kara creates a spa-like haven.
Above: Grasses and rattans, vintage shutters, and sea shells lend a beachy vibe to the living room.
Above: Echoing the kitchen storage, open shelving in the living room is a excellent place to display treasures from Kara's travels.
N.B. Looking for more cottage inspiration? See 286 images of Contemporary Cottages in our Gallery of rooms and spaces.
You need to login or register to view and manage your bookmarks.