London designer Charles Mellersh was a member of the original editorial team at Wallpaper (along with Tyler Brule, now of Monocle, Alasdhair Willis, who until recently headed up Established & Sons, and Paul de Zwart of Another Country furniture). "In a past life, my role as an interiors editor at Wallpaper was to instill each story with a distinct narrative and to translate this onto the page," Mellersh says. "I used to pull inspiration and items from a global list of suppliers, often with a nod to a specific time or place in mind, and this is very much how I approach each project as a designer. It's not just design for design's sake. It's about telling a story and trying to create an atmosphere that provokes an emotional response."
For this Notting Hill house, Mellersh worked with the owners to create a modern space with "warmth and soul. We looked to the historic references in the building and the location for initial inspiration, and then interpreted these references in a modern way without being slavish to the past or losing sight of it altogether." To see more, go to Charles Mellersh Design Studio. N.B.: Tomorrow, we'll be featuring a roundup of trade secrets from the project.
Photography by Chris Tubbs.
Above: "The wooden paneling provided architectural interest to the basement level accommodation and helped to instill a certain coziness," Mellersh says. "Materials and textures play a large part in the process."
Above: "I look out for things that are left of center, esoteric, overlooked, or underappreciated," according to Mellersh.
Above: A framed Apple and Pear print by Enzo Mari (1963) hangs in the dining area; Another Country's Stool One in oak sits in the kitchen area.
Above: A trio of brass pendant lamps illuminates the dining area.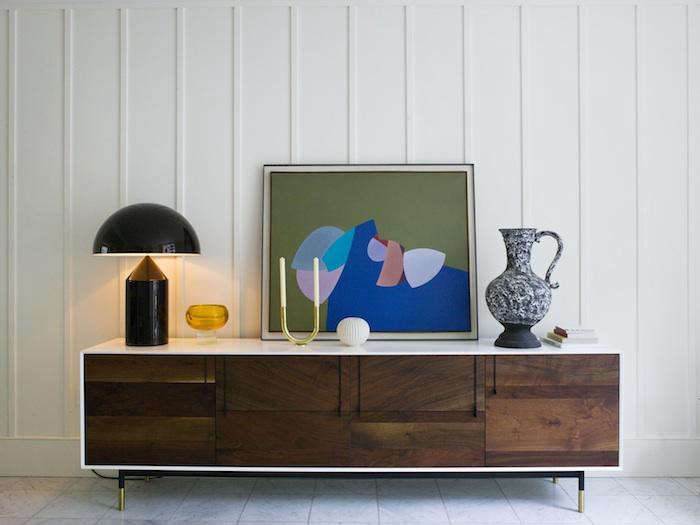 Above: Mellersh sourced the walnut Lake Credenza from BDDW in New York.
Above: "In the kitchen, we used honed (rather than polished) marble and brass trimmings for a warmer feel," Mellersh says.
Above: A vintage Ercol-style chair and stool add a rustic note.
Above: A black Stool One from Another Country (the contemporary craft furniture company started by Mellersh's former Wallpaper colleague Paul de Zwart) in an otherwise all-white corner of the kitchen.
Above: Mellersh designed the custom bookshelves, which are painted Farrow & Ball Charleston Gray.
Above: The bedroom features a George Nelson Bubble Lamp and a 1950s three-arm floor lamp.
Above: Graphic black-painted trim contrasts with the all-white color scheme in the elegant marble bath.
Above: A black stool from Another Country adds a note of rusticity.
Above: A detail of the simple marble tub surround.
(Visited 148 times, 1 visits today)