Drawn to natural stone but also a fan of color? Until recently, the options in the countertop world were limited, but of late, lava stone countertops have been gaining traction—and introducing an eye-opening new palette to the kitchen. Is lava stone a countertop to consider? Read our six areas for consideration to find out.
What is lava stone?
Lava stone is a natural volcanic rock that is quarried, cut into slabs, topped with an enamel glaze, and fired at a very high heat. The fact that it's volcanic lends it a toughness: Lava stone can withstand high temperatures, offers even heat distribution, and can be glazed, which sets it apart from other stone countertops.
What are the benefits of using lava stone countertops?
Resistant to heat, cold, and temperature fluctuations. Lava stone has a natural ability to dissipate heat very well, meaning that hot pans can be placed directly on the surface without damage.
Extremely durable. The firing process creates an exceptionally hard surface that can withstand corrosive chemicals and UV exposure (no fading!). It doesn't chip or scratch easily, but watch out for knife edges—use a cutting board.
Nonporous. The material is impervious to water, won't harbor bacteria, and is stain resistant.
Appropriate for indoor and outdoor applications. For all of the reasons listed above, lava stone can withstand everything that outdoor life throws its way. Fun fact: Thanks to its strength and permanence, lava stone has been used for road signs in France for most of the past century. (The famous Art Nouveau metro signs in Paris? Lava stone.)
The finish is beautiful and available in a wide range of colors.
Sustainable. A naturally occurring resource, lava stone is also environmentally friendly because it's so indestructible (reducing the waste involved in having to replace less durable countertops). Just be sure to love the material; it's like a long marriage.
What colors and finishes are available?
The enameled glaze that tops the stone slabs is available in nearly any color you can imagine, from vivid blues and greens, to clean whites, metallics, and even neutral shades. Most lava stone manufacturers (and there are only a few) offer a number of standard colors, but custom, made-to-order colors are limited only by your imagination. Glossy and matte finishes are also available, but the mattes are limited to a narrow range of more subdued colors.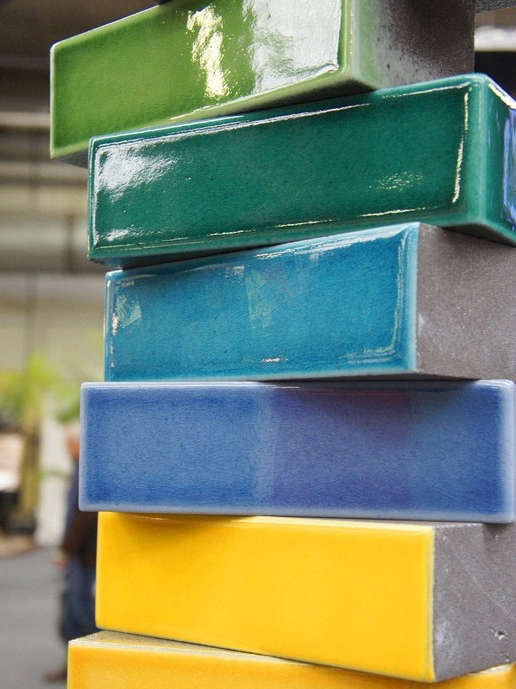 How do you clean and maintain lava stone?
Lava stone's best attributes include its lack of maintenance. It doesn't require a sealant or treatment with any special cleaners because it doesn't stain or harbor bacteria. A wipe with something mild, such as soap and water, is about all it requires. The only recommendation is to use cutting boards on the surface to protect the countertop and your knives (which also makes cleanup easier).
How much do lava stone countertops cost?
Lava stone's biggest deterrent is its price. At $250 to $350 per square foot, it's one of the most expensive countertop materials around, comparable to, or even exceeding, high-end marble. Most of the expense is due to the cost of shipping the stone. This is exacerbated by the low number of suppliers and the handwork required in the fabrication and glazing process.
Lava Stone Countertop Recap
Pros
Durable and long-lasting
Nonporous
Heat and cold resistant
Available in a huge range of colors
Fresh-looking because it's relatively new to the market
Can be used indoors and out
Maintenance free
A natural resource
Cons
Very expensive
Cannot be refinished if you tire of the color
Researching new countertops? Read Questions to Ask When Choosing Your Kitchen Countertops. And for more specifics on the subject, see our Remodeling 101 posts:
Finally, get more ideas on how to evaluate and choose your kitchen countertop in our Remodeling 101 Guide to Kitchen Countertops.
N.B.: This post is an update; it originally ran on January 15, 2015.
(Visited 285 times, 9 visits today)