Think about how much more open looking (but also how much more greasy and garlicky) kitchens would be without range hoods. Today we're spotlighting a nearly invisible option that clears the air while keeping sight lines open: the downdraft stovetop vent. (And to see more, check out our recent post Ceiling-Mounted Recessed Kitchen Vents.)
Above: It's there, but you don't see it: In lieu of a bulky ceiling-mounted hood, this townhouse kitchen has a Faber Scirocco Downdraft Vent concealed at the back of a 30-inch Capital Precision Series range. (The venting draws smoke in and conducts it to the kitchen's chimney, where fans send it out.) For a tour, go to Brooklyn Revival: A Bright and Open Family House by Ensemble Architecture.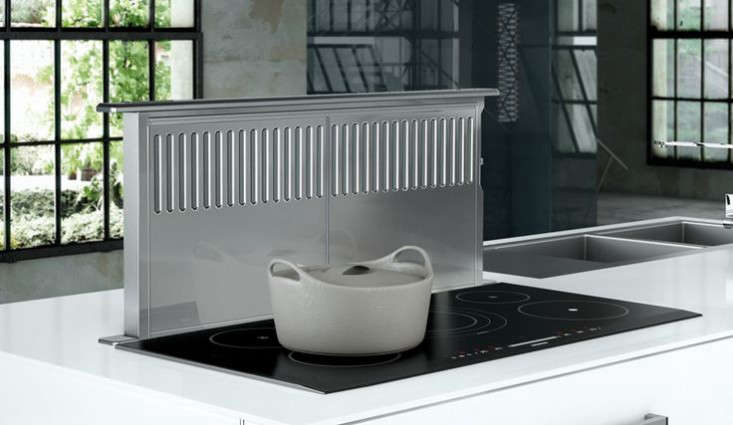 Above: A Faber Scirocco Downdraft Vent in working mode.
What are downdraft vents?
Popular on kitchen islands, downdraft vents are slim retractable designs inserted at the back or sides of stovetops as an alternative to bulky overhead range hoods. At the press of a button, downdrafts raise and lower, allowing them to remain blessedly out of sight except when needed. They come in a range of sizes to match a variety of stovetop dimensions. (There are also stationary, low-profile downdraft models incorporated into the middle of cooktops; for years these have been a Jenn-Air specialty, but of late few others offer them.)
Above: Known for its clutter-free kitchen systems, Kitzen of Finland frequently specifies downdraft vents. The one shown here, in Kitzen's Minimasculin model, is a Bora Classic range with built-in extractor vent from Bora of Germany. Read our post on Kitzen's State-of-the-Art Kitchens. Photograph by Verna Kovanen for Kitzen.
Above: A 30-inch stainless steel Miele Downdraft Hood. It's available from AJ Madison with a 500 CFM internal blower for $1,749 and 1,000 CFM external blower for $2,099 (see below for info on CFMs).
Where do they work–and what's the catch?
Downdraft designs are compatible with gas, electric, and induction cooktops, and require space behind or at the side of the burners for insertion, which is why they work especially well on islands and peninsulas. Their vents rise to heights ranging from 8 to 19 inches (in general, the higher the better: You want your vent to cover your tallest pots). They serve as grease traps–most of the latest models have removable dishwasher-safe parts–and typically vent air externally (the more efficient and much more common way to go), but some, such as many in apartments, have motors with charcoal filters that recirculate air internally.
Ventilation effectiveness is measured in CFM (cubic feet per minute)–that's the volume of air being exhausted through your hood–and most externally vented downdrafts offer a respectable 500 to 1,200 CFMs. What you need depends on how powerful your range is and the sort of cooking you do: Go to our Remodeling 101 post Decoding BTUs: How Much Cooking Power Do You Really Need? Downdraft designs are getting increasingly powerful, but the hitch is that for clearing the air, they don't compare to traditional range hoods and are generally not advised for pro-style ranges. Conor Sheridan, owner of the kitchen in the top photo and an avid cook, says his downdraft vent is "quiet and does the trick but will never be as effective as an overhead vent." Another longstanding complaint raised by Constantin Oltean, a New York–based kitchen designer for Bulthaup, is that downdraft suction steals heat from burners (especially gas, less so induction) making it hard to maintain a consistent temperature while cooking. Conor Sheridan hasn't found this to be the case, but others have, including a vocal group of Jenn-Air owners.
Above: KitchenAid (part of the Whirlpool corporation, which also owns Jenn-Air) offers this 30-inch Ceramic Glass Electric Cooktop with a central flush downdraft vent; $1,449 at Home Depot.
Who makes downdraft vents?
A lot of well-known brands offer downdraft designs. Among the most popular: Thermador, Gaggenau, Electrolux, Faber, Broan, and Elica. Prices start at $1,200, about 20 percent higher than mid-priced, high-end hoods says architect Elizabeth Roberts's go-to appliance specialist David Sugarman of Gringer in New York, who notes that costs triple for big-name brands "even though the concept isn't radically different than the others: You pay for the label and the fine detailing."
Above: To preserve a New York loft's dramatic views of a water tower, this Henrybuilt kitchen has a downdraft vent and windows that can be opened. Photograph via Henrybuilt.
Bottom line?
Downdrafts are a compelling option for preserving views and keeping kitchens clean lined, but traditional overhead hoods get the job done better.
Other options?
In addition to ceiling-mounted recessed kitchen vents–see Remodeling 101–under-the-cabinet hoods are a popular choice. There are also plenty of inventive ways to display or conceal range hoods. Take a look at:
Finally, get more ideas on how to evaluate and choose a new kitchen hood or vent in our Remodeling 101 Guide: Kitchen Hoods & Vents.
You need to login or register to view and manage your bookmarks.