A Portland couple's solution to the Pacific Northwest's gray wet winter weather? A weekend house in Scottsdale, Arizona. Armed with a budget of $40K, Canoe store owners Craig Olson and Sean Igo took on the ultimate DIY project, a mustard yellow, shag-carpeted townhouse bought in foreclosure. Here Olson shares notes from the project:
Remodelista: What were the major undertakings in the renovation?
Craig Olson: We changed the layout to be code compliant and create a better flow. This was actually fairly difficult to accomplish, as the kitchen space is small and you have to work with certain elements that can't be moved, like the electrical panel, plumbing, and water heater hookup. It was truly like fitting pieces of a puzzle together, with only a few inches to spare in some places.
RM: What was the biggest challenge?
CO: Without a doubt it was removing the existing ceramic tile floor on the first floor. The previous owner had removed a wall in the kitchen to open up the kitchen to the main living space. This left a large patch of floor where the concrete slab was revealed (the tile didn't run under that section of wall). The tile was old and highly patterned, so you could never match it. Therefore we had no choice but to remove all the existing tile from the slab with a power demolition hammer. We did this as a DIY project and I would never do it again—very hard, dusty, noisy work.
RM: Where did you save money?
CO: The existing kitchen was in bad shape, with a poor layout that was not code compliant (for instance, the refrigerator was right next to the range ,which is a code issue). So we removed all the cabinets and appliances and donated them to a local charity and installed an Ikea kitchen. To simplify we chose Ikea kitchen appliances as well—by doing this we were able to essentially get the whole kitchen delivered in one shipment at the same time. Because we don't live there full time and we couldn't spend months renovating this proved to be a good choice. We chose white cabinet doors in the simplest slab style.The induction stovetop was mostly a budget issue; we would have preferred a gas cooktop, but there isn't an existing gas line and we didn't want to put one in.
Above: The kitchen counter top is oak butcher block from Ikea finished with Osmo oil wax.
CO: The original treads were softwood that was carpeted. We removed those and replaced them with solid white oak treads that we finished with Osmo oil wax finish. The metal structure of the staircase was stripped, cleaned, and repainted in Benjamin Moore Super White—the same as the walls. We wanted to emphasize the floating look of the staircase, and using the same color helps the structure visually recede. We had some custom stairway railings designed and fabricated from mild steel that was finished with a clear seal. They were not very expensive, but they add a custom element that elevates the interior. If I were doing a similar project I'd probably budget for a few custom details like this again.
RM: Anything you would have done differently?
CO: I would not repeat our choice to do the removal of the floor tile as a DIY job—it took three days and it was exhausting work. I'd hire this out next time. Renovating a home from afar requires you to think hard about what you can realistically take on. Obviously, when you are working with a strict budget the temptation is to go the DIY route, but it isn't always the best choice.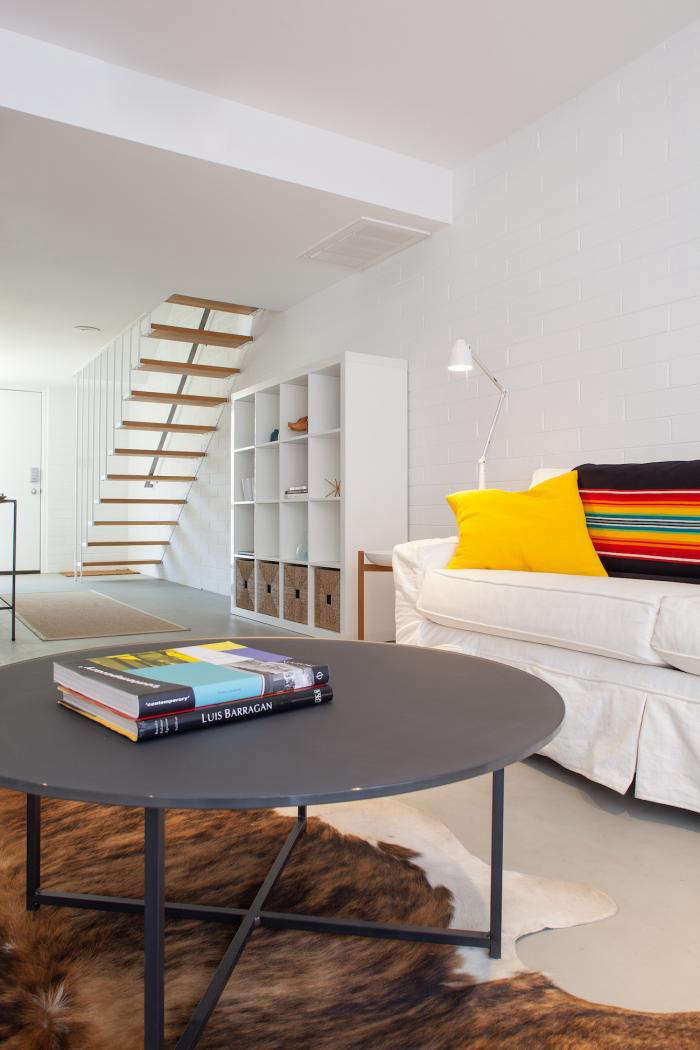 CO : We used a low VOC solid color concrete floor stain on the first floor and also extended it out onto the patio. It was an easy DIY project, but based on the wear to date we're not sure how it will hold up long term. If we were to do the project again, we'd probably hire a professional to do a truly heavy duty concrete epoxy finish.
RM: How did you manage a renovation project from afar?
CO: We made multiple trips during the construction months, and ordered fittings online as much as possible. One key factor in pulling this project off was that we worked with an excellent contractor named Mack Ketcham who had done similar projects before. He understood midcentury design and it was great to bounce off ideas with him. He was very budget conscious but also had an eye for details. He also had local contacts for contractors for all the sub work required, so we didn't have to search for them.
Above: The bathroom sinks are from the Elite Sinks line, ordered from Amazon. The glass mosaic tiles in the bathrooms are from Hakatai in Ashland, Oregon, and were also used in the kitchen. "Hakatai is very affordable (it's about $3.25 a square foot)) and we think it looks period correct for the 1960s building without looking too retro," Olson says.
Above: In the upstairs bedrooms and hallway Olson and Igo installed white oak from Lumber Liquidators, which they sanded and finished with Osmo oil wax. "We had a worn-out looking balcony deck replaced with Trex lumber, the idea being that this would be an easy care choice for a vacation home," Olson says. "It looks good and should hold up against the Phoenix weather, but we learned it gets very hot to walk on in bare feet. If we were doing it again we might choose real wood."
Above: The master bathroom.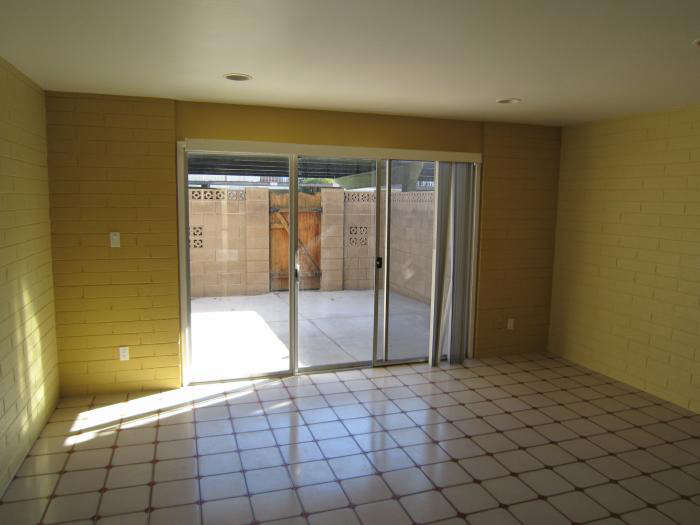 Above: The townhouse before the renovation. To read about how they rehabbed the outdoor patio, see "DIY: Outdoor Trellis from Commercial Components."
(N.B.: Read more Rehab Diaries.)
(Visited 8 times, 1 visits today)