For a big gun architect like Annabelle Selldorf to take on a relatively modest Brooklyn kitchen remodel is almost unheard of. Selldorf, afterall, designs skyscrapers, museums, and hotels (see, for instance, the Neue Gallerie and the Villas at Amangiri). But in this case, friendship and family ties came calling. She and the house's co-owner, artist Julia von Eichel, had first met through Julia's aunt more than two decades earlier, when Julia was eight years old. They'd stayed in touch over the years, and when Julia and her husband, Alex Vlack, a filmmaker, sunk their savings into a dilapidated 19th century Clinton Hill town house, it was Selldorf they turned to.
"The house was initially set up for a single family but over the years had been divided into a warren of dark rooms," says von Eichel. "We couldn't afford to tackle the whole place; we had to focus, so we made the kitchen our priority." Crammed into a closet-sized second floor space, the existing kitchen needed to be scrapped and reinvented. Towards that end, Selldorf came up with a master plan that packs in far more than just a kitchen: relocated to the garden level of the house, the new space functions as the household hub, complete with mud room, powder room, family room, cooking island, and dining area, all overlooking a green backyard. "Everything Annabelle suggested was way out of our budget," says von Eichel. "But we thought, it's a dream come true that she's doing this. The rest of the house is very basic, but this is the room we really live in."
 Above: The 715-square-foot kitchen is anchored by an 11-foot-long island of painted wood cabinetry topped with a single piece of statuary marble, which von Eichel and her husband sourced at Swan Tile in Queens–after visiting every stone source in the greater New York area. "My husband is extremely details oriented," she says. "He also loves to cook." To make the project viable on a controlled budget, Selldorf recruited kindred architect Lauren Wegel to join the design team and oversee all of the construction. (Wegel runs her own New York architecture firm; her website is in the works, but she's reachable at [email protected].)
Above: A Lacanche range and statuary marble counters and backsplashes were the biggest splurges. "One of Annabelle's signature designs is the extra-tall backsplash made out of the same marble as the counter so that it mirrors it," says von Eichel. "We could have gone with Carrara marble, which is less expensive but much more gray. It was a choice we made. This is a ground-floor kitchen; it would be dark if we didn't use materials that lighten it up." 
Above: To streamline the room, Selldorf cleverly relegated the refrigerator to a walk-in pantry that also houses the toaster oven and blender. There are two under-the-counter drawer refrigerators by the kitchen sink that are used for dairy, vegetables, and other daily staples; the pantry fridge is for oversized goods and things that don't need to be on hand. 
Above: The counters are lit by Original BTC Cobb Rise & Fall Lights sourced from the Conran Shop (when it still had a New York outpost). Selldorf was initially inclined to paint the exposed beams, but came around to von Eichel's idea that they be left natural: "I wanted the kitchen to be both rustic and super modern." 
Above: The far end of the room, which overlooks the garden, is devoted to the dining area. The expandable table is a Danish design that Vlack's father purchased at the Door Store in 1978. The lack of upper cabinets in the kitchen area makes the low-ceilinged room feel more open and light.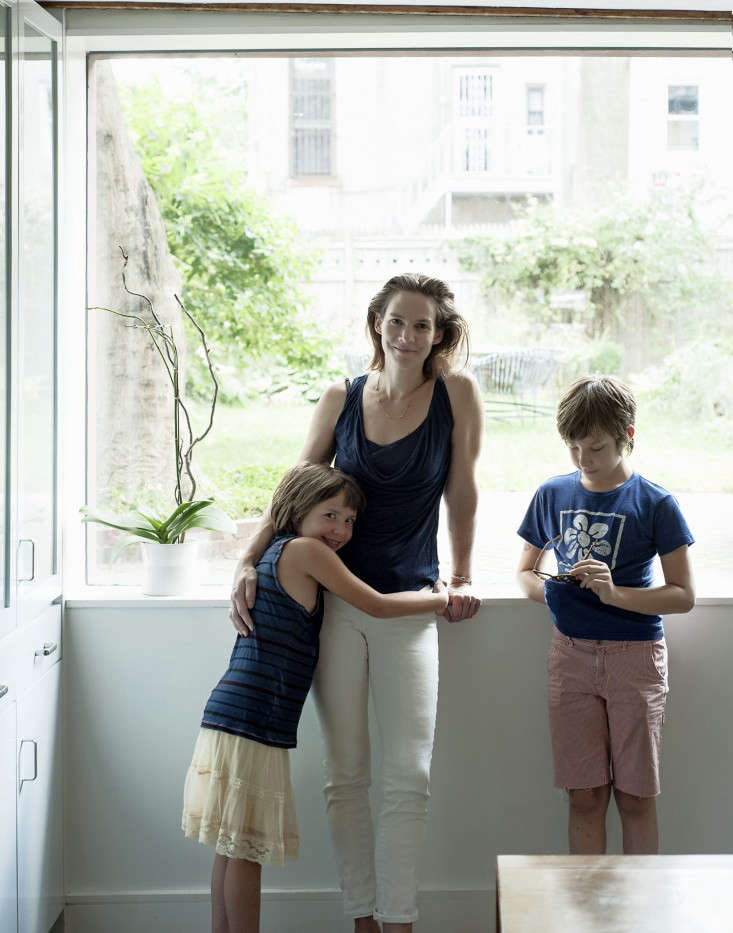 Above: Julia von Eichel and her children stand in front of their kitchen's giant new back window: 9 feet wide and 5 feet tall. Inspired by a window at the Noguchi Museum in Queens, New York, Selldorf specified that it be frameless, which, explains Wegel, provides an unobstructed visual connection between the room and the outdoors. Installing it involved engineers and iron beams.
Above: Paintings by von Eichel hang in a corner by the new back window and a French door to the garden. The 1960s Danish safari chair is a Kaare Klint design in leather and wood. The potted plants are from Grdn.
Above: Tableware is stored in a built-in cabinet next to the dining table.
Above: The kitchen and its offshoots are tiled in Inca Gray honed limestone from Stone Source and have radiant heat.
Above: The front of the room is devoted to a sitting area/family room, which is open to the kitchen. Von Eichels says most nights while Vlack cooks, she and the kids can be found here lounging and chatting with him. The modernist bench is a design by Gordon Bunshaft, architect of the New York Public Library for the Performing Arts at Lincoln Center (which was overhauled and renamed in 2001); Vlack's father rescued it from the Lincoln Center trash and von Eichel and Vlack had it reupholstered.
Above: A pocket-sized powder room feels taller than it actually is thanks to Vlack's inspiration: rectangular white tiles from Avalon Flooring are installed vertically. Von Eichel and Vlack did some searching to find a small enough sink and toilet–both are by Duravit.
Above: The garden level of the house is accessed by a well-organized mud room.
Above: The floorplan details the expansive kitchen and its satellites: powder room, pantry, and dining area with a new window and door overlooking the backyard.
Stay tuned: Architects Annabelle Selldorf and Lauren Wegel also helped the couple turn their second floor into a combination living room and art studio–with very little construction. We'll be showing it in a future post.
Working on your kitchen? Check out our other Rehab Diaries, including Five Favorites: Before and After Kitchen Renovations and Dream Kitchen for Under $3,000.
(Visited 36 times, 1 visits today)