Though we love to dream about our someday remodels, the fact is that all remodels come with constraints. Sometimes they're squeezed by time (see a full kitchen remodel on a six-week deadline, below). More often, pennies must be pinched (Justine's $3,000 kitchen remodel awaits). In all cases, homeowners and their designers must work within the confines of the space at hand. Here, five kitchen remodels we think handled the challenges with aplomb.
Before
Above: When Remodelista's Justine Hand was house hunting in New England, she intentionally looked for a kitchen in need of a remodel, dreaming of making it her own. She thought she could bear any existing kitchen until she had the funds for her dream remodel, but once she was faced with "oppressively orange" wood cabinetry, she made her modest budget work. For all the details, see Rehab Diary: Dream Kitchen for Under $3,000.
After
Above: Justine worked with the designers at Jersey Ice Cream Co. to remodel her kitchen for a total cost of $3,000. The team worked their magic with white paint, wood countertops from Ikea, new open shelving, and brass drawer hardware, turning Justine's kitchen into an open, airy space.
Before
Above: Owned by a designer and a photographer, this kitchen is located in a home by midcentury California architect Joseph Eichler; the mahogany cabinet paneling was a classic Eichler finish. To learn more, see Reader Rehab: A Respectful Eichler Remodel in Marin.
After
Above: The owners made the floating reclaimed oak shelves themselves. They wanted to offset the slick surfaces of new Caesarstone countertops and white lacquer cabinets with something rough and hand-hewn.
Before
Above: Like many kitchens in older homes, this one had undergone an unfortunate renovation in the 1970s. The existing kitchen was in disrepair, so nothing was suitable for reuse. For the full story, see Rehab Diaries: An Oregon Kitchen with a Dose of Downton Abbey.
After
Above: This kitchen by Remodelista Architect/Designer Directory member Howells Architecture + Design is the architect's take on a classic English scullery. The original 1920s Portland home had an English influence, so that was the designer's starting point.
Before
Above: Believe it or not, Remodelista editor Christine Chang Hanway's kitchen remodel involved only repainting the vertical surfaces, extending the kitchen island, and replacing a few dated appliances. Get the whole story in The Architects Are In: Minimal Moves for Maximum Impact in Christine's Connecticut House.
After
Above: Christine extended the existing kitchen island in her Connecticut home and added some pops of color after painting everything white. Learn more about her kitchen island extension in House Call: Christine's Best Remodeling Decision.
Before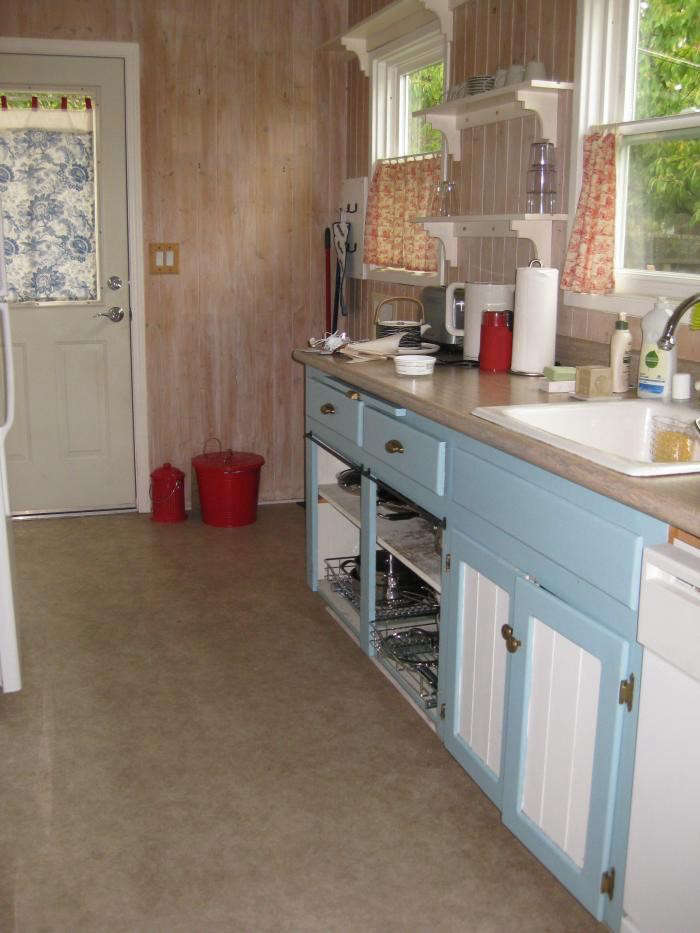 Above: This kitchen hadn't been updated in 20 years and featured a 5-foot-long empty space at the end of the counter cabinetry, where a washer and dryer once stood. Remodelista Architect/Designer Directory member Amy Alper made good use of the wasted space. Read all about it in Reader Rehab: A Sonoma Kitchen Remodel with a Six-Week Deadline.
After
Above: Alper remodeled this 13-foot-long Sonoma galley kitchen in a mere six weeks, in time for the owners' first harvest of their new kitchen garden.
Presented by Scotiabank®
You need to login or register to view and manage your bookmarks.