Are we entering a new age of the everything-within-reach kitchen? Where dishes are stored on open shelves and pots are hung on the wall and not hidden away in drawers and cupboards? Here are 10 kitchens that have us thinking this might be the case.
Above: A clever hanging arrangement of pots in a London house via Shoot Factory.
Above: No need to stow away a collection of vintage pots; create an artful tableau using simple wall hooks. Image of Adrienne Antonson's house via Design Sponge.
Above: Copper pots in the kitchen of designers Amy and Todd Hase in Normandy; photograph by Robyn Lea.
Above: Lynward Farm in the Southern Highlands, Australia, via Ingrid Weir.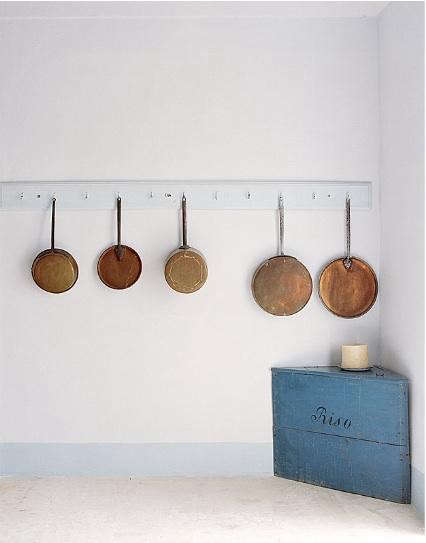 Above: Copper pots, all in a row, photo via Simon Watson.
Above: A pegboard painted black via Everyday Emma (see a pegboard DIY on A Beautiful Mess).
Above: Copper pots in a pale blue kitchen photographed by Simon Watson.
Above: A black kitchen with copper pots; photo via Slim Paley.
Above: A kitchen in Brazil via Alan Chu Silveira and Christiano Arns Kato architects.
Above: In a kitchen by Oliver Freundlich of MADE Architecture, the vent hood is tiled for an Old World effect, the floor is tumbled limestone, and the pot rack is from Urban Archaeology in New York (for a similar–but less pricey–option, go to Enclume). Photo by Tara Striano for Elle Decor.
For more kitchen inspiration, see 5 Favorites: Mirror in the Kitchen, 10 Strategies for Hiding the Microwave, and 10 Favorites: Cutout Kitchen Pulls.