If any antiques dealer can be classified as a rockstar, Christopher Howe qualifies. The longtime shopkeeper on London's Pimlico Road came to his trade as an art student (concentration: sculpture) and is known for applying uncommon style and craftsmanship to all that he does. And he does a lot: In addition to selling vintage goods, he has his own line of antique-inspired lighting and furnishings, world's most charming Dog Bed Sofa included. He's also an in-demand interior designer: Take a look at his Gloucestershire Guest Barn. His clients over the years have ranged from Lucien Freud to Sir John Soane's Museum and Hampton Court Palace.
Christopher is attentive to customers and crew alike, which explains how he came to install a surprise, fully stocked kitchen in the basement of his showroom. It replaced a cooking setup he describes as "a damp hovel of rotting chipboard." And, though initially modest in scope, ended up stretching the expanse of the space: 41 feet. Used round-the-clock for staff meals, client meetings, marmalade making, and dinners for 30, the kitchen was designed with Plain English cofounder/creative director Katie Fontana and her team, fellow contemporary classicists with whom Christopher had collaborated on jobs for clients. This time, he says, working for himself enabled them to make some unorthodox choices. Join us downstairs at 93 Pimlico Road.
Photography courtesy of Howe London.
The space is furnished here with Made-by-Howe Salon Chairs and a Georgian mahogany table. Thanks to an ever-evolving inventory, the ensemble often gets swapped out for an Irish hunt table, French farmhouse table, or series of folding trestle tables, depending on the needs of the day. The hanging lantern is French art nouveau and the hanging cabinet lights have vintage ruffled glass shades.
The design features cupboards from Plain English's Tetbury Long House and Spitalfields lines. The paint—"we selected neutral off-whites for the basement setting"—came from Edward Bulmer, a line of low-VOC, natural paint that Christopher swears by.
The drawers are made of white oak, which Plain English usually lacquers, "but we wanted the wood to age naturally with time and use," says Ali Yarr of Howe, who notes, "another feature many comment on is the authentic lack of toe kick along the base of the dresser."
"No one has managed to improve on the classic form of the kitchen that was the heart of the 18th-century home," says Christopher. "We hide things away only to be reminded of the old adage, out of sight, out of mind. We invent nonstaining surfaces and automatic devices but none last—and in the end what we really long for is something enduring that ages gracefully and works."
"We audaciously chose not to have an extractor hood—and to instead enjoy the good smells of cooking," says Christopher. The in-house menu is far-ranging—at a recent Save the Rhino fundraiser, Christopher himself was flipping organic spelt pancakes—but needless to say, there's no heavy frying going on.
The flooring is the original painted concrete, which, Ali Yarr says, "could be mistaken for limestone thanks to being worn down over the years; it's now waxed to preserve the finish."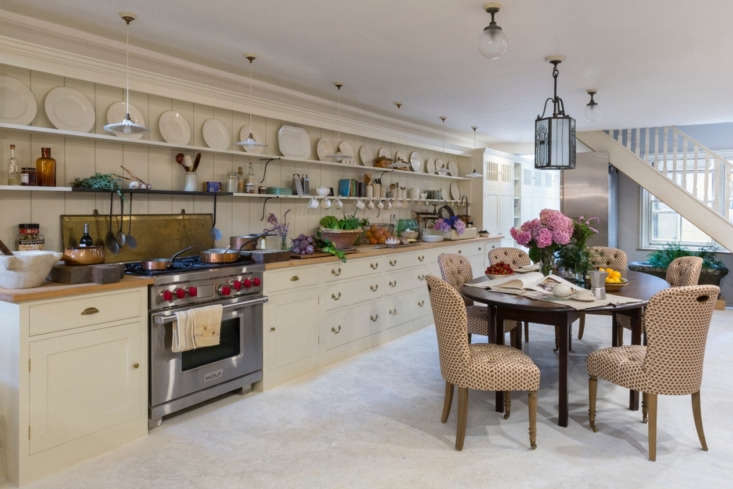 Above: Here's a look at the construction process in a time-lapse video created by the Howe team.
See more of Christopher Howe's work in Manor-Worthy Furniture and A Gloucestershire Barn by London's Idiosyncratic Antiquarian.
And take a look at more Plain English kitchens:
(Visited 343 times, 4 visits today)