Pine & Crane owner/chef Vivian Ku, a Harvard premed grad who segued into food, named her restaurant in LA's Silverlake after her grandfather's 1950s noodle shop in Taiwan. Ku likes to keep things local and all in the family; she sources produce from Sunfield, her family's Asian vegetable farm in Bakersfield, and, after discovering local potter Peter Sheldon, commissioned him to create the dinnerware for the restaurant. Another neighbor, Sophia Lin, helped with the interior design. 
Above: The restaurant is located on the premises of the former Cru and specializes in Taiwanese-Chinese cooking. Photograph via LA Times.
Above: The simple dining room has polished concrete floors, rough-hewn walls, and simple pale wood banquettes and tables. Photograph by Daniela Galarza via LA Weekly.
Above: A vintage shot of Ku's grandfather making noodles. Photograph via Pine & Crane.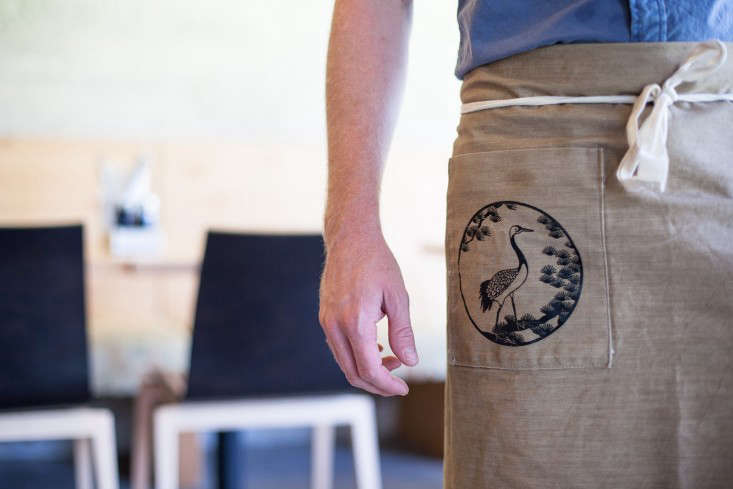 Above: Aprons feature the Pine & Crane logo. Photograph via J. Chong Studio.
Above: A wall-mounted planter adds a touch of green to the interiors. Photograph via Eater.
Above: Various provisions and kitchen accessories for sale. Photograph via Eater.
Above: Local potter Peter Sheldon, who has traveled in Taiwan, collaborated with Vivian on the ceramics for the restaurant. For more info, go to Pine & Crane.
Go to our LA City Guide for more of our favorite haunts, including:
(Visited 157 times, 1 visits today)