When Remodelista contributing editor Meredith Swinehart began planning for a big move from her longtime San Francisco Victorian apartment into her boyfriend's early 2000s condo in nearby Emeryville, she started by scoping out available real estate for her furniture and essentials: a niche for her rolling desk, pantry shelves for her baking tools, and empty wall space for favored artwork. But there wasn't an obvious available spot—or any spot at all—for one particularly unglamorous necessity: the litter box for her two cats.
On the plus side, the new digs had a dedicated laundry closet—a major improvement from the SF apartment's coin-op basement laundry—and, almost fortuitously, its existing washer and dryer had seen better days. So Meredith and her boyfriend agreed to upgrade the appliances with a stacking set, buying the cats some unobtrusive toilet space in the process. Let's take a look at the transformation.
Photography by Mahyar Abousaeedi for Remodelista.
Before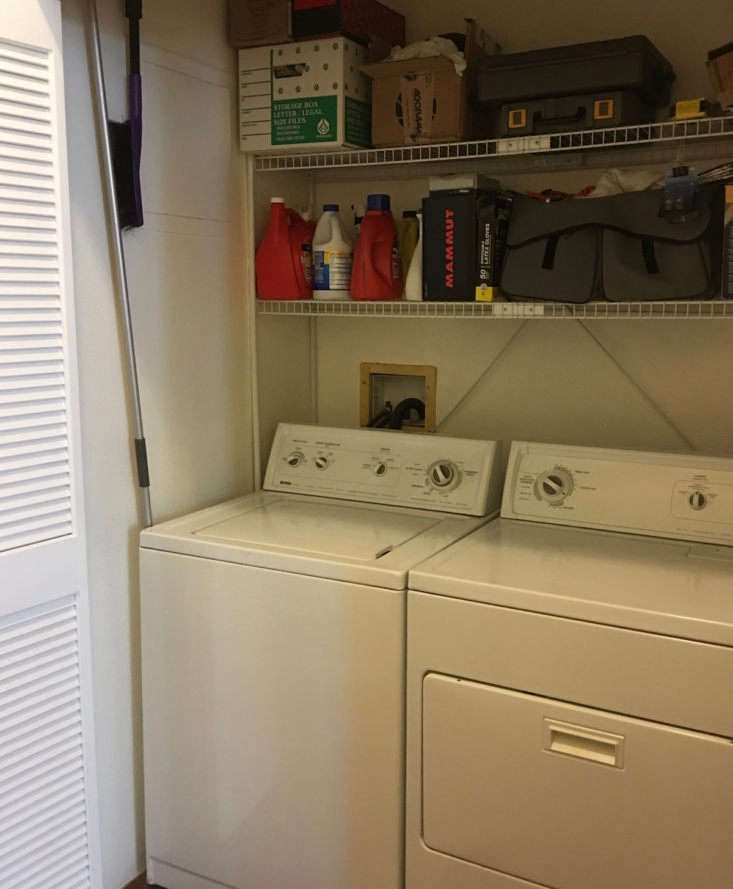 (Visited 467 times, 2 visits today)
Frequently asked questions
What inspired the pet-friendly laundry closet overhaul?
The inspiration for the pet-friendly laundry closet overhaul came from the homeowner's desire to create a space where their two dogs could be bathed and groomed easily.
What were some of the key features of the renovation?
Some of the key features of the renovation included a dog shower, built-in dog bowls, and a custom-built dog bed.
What type of tile was used in the renovation?
Porcelain tile was used in the renovation, which is a durable and waterproof material that is perfect for a pet-friendly space.
Were any custom pieces created for the renovation?
Yes, a custom-built dog bed was created specifically for the space. It features a removable cover for easy cleaning.
How was the storage optimized in the small space?
The storage was optimized with the installation of custom-built cabinets and shelving. The cabinets were designed to fit around the dog shower and provide ample storage space for laundry supplies and pet grooming products.