What is better than a basic beeswax candle? Nothing–except maybe the delicately colored beeswax creations of Brooklyn-based Japanese artisans Shiho Hashimoto and Megumi Togo of Sono.ei. In an undertaking dedicated to the creative spirits of their grandmothers (the eponymous Sono and Ei), the duo evoke shades of sunrise and twilight in their tapers and feather-shaped candles.
Above: Drawn to the texture of beeswax, Shiho and Megumi added soft colors that, in burnt pink and fading blue, evoke the first moments of day–or dwindling twilight; take your pick. Their designs are available from a number of shops across the country. Alder & Co. in Portland, Oregon, offers the 8-Inch Handmade Beeswax Tapers for $21 apiece.
Above: Megumi aims for "a softness and depth" in her color gradations. ABC Carpet & Home sells Sono.ei Pillar Candles and Votives for $25 to $30; shown here, the four-inch-tall Aqua Votive.
Above: The idea for the feather candles came while Megumi was volunteering at a hospital during the Cambodian New Year: "There was an altar made out of paper feathers that the attendants used for making personal wishes. It was beautiful, not only as a decoration but also ceremoniously beautiful."
Above: You say Cambodian New Year's altar, we say birthday pie. The Sono.ei Etsy site is currently on hiatus, but Cake-Size Feather Candles and more will reappear during the holiday season.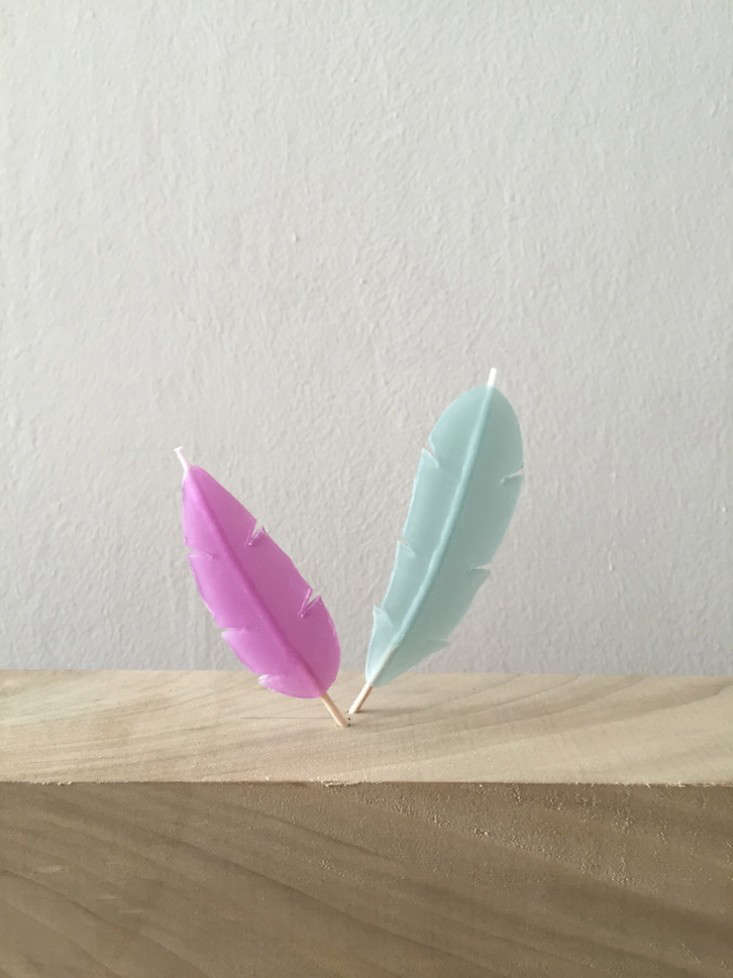 Above: Sono.ei will also be releasing home-decor-size feather candles later this year. For more details and a list of retailers, go to Sono.ei.
Go to Candles to see more of our finds, including Magiera Beeswax Candles from Japan and, for outdoor dining, DIY: Scented Candles to Repel Insects, Not Humans. Also take a look at The Day After: How to Remove Candle Wax. 
You need to login or register to view and manage your bookmarks.