Our judges have selected the finalists, now you choose the winners. Vote for the finalists in each of 12 Considered Design Awards categories, on both
In the Best Amateur Kitchen category, our five finalists are Elizabeth Norris, Tracie Delaney, Nicole Cole, Adam Darter and Nora Calderwood, and Jo Flavell. 
Project 1
Elizabeth Norris | Nantucket, MA | Modern Nantucket Kitchen
Design Statement: "Keeping it clean and simple!"
Chosen by: Guest judge and designer John Derian, who said: "It's everything I like about a kitchen: simple, bright, and well laid out. I like the symmetry and proportions of the space. I hope that once it's stocked it will be even more beautiful."
Above: "The kitchen island is painted a dark shade of blue."
Above: "Open shelving."
Above: "The light and bright dining area."
Above: "The sliding barn door offers privacy."
---
Project 2 
Nicole Cole | Norfolk, NE | Rustic Modern DIY Kitchen
Design Statement: "Over this past year, we transformed our kitchen into a rustic modern space that is functional for cooking and provides a place to display our kitchenware. Our budget dictated working within the existing framework of the previous kitchen and lots of late nights and weekends completing the work ourselves."
Chosen by: John Derian, who commented, "The white tiled walls are a great look. I love the black countertops and black-and-white accents. The kitchen seems functional, which is important to me. I like the contrast of the rustic wood shelves flush with the tile."
Above: "A clean vent hood and lighting lets the subway tile running up to the ceiling shine."
Above: "We chose a smaller scale refrigerator to maximize counter space and encourage fresh food shopping."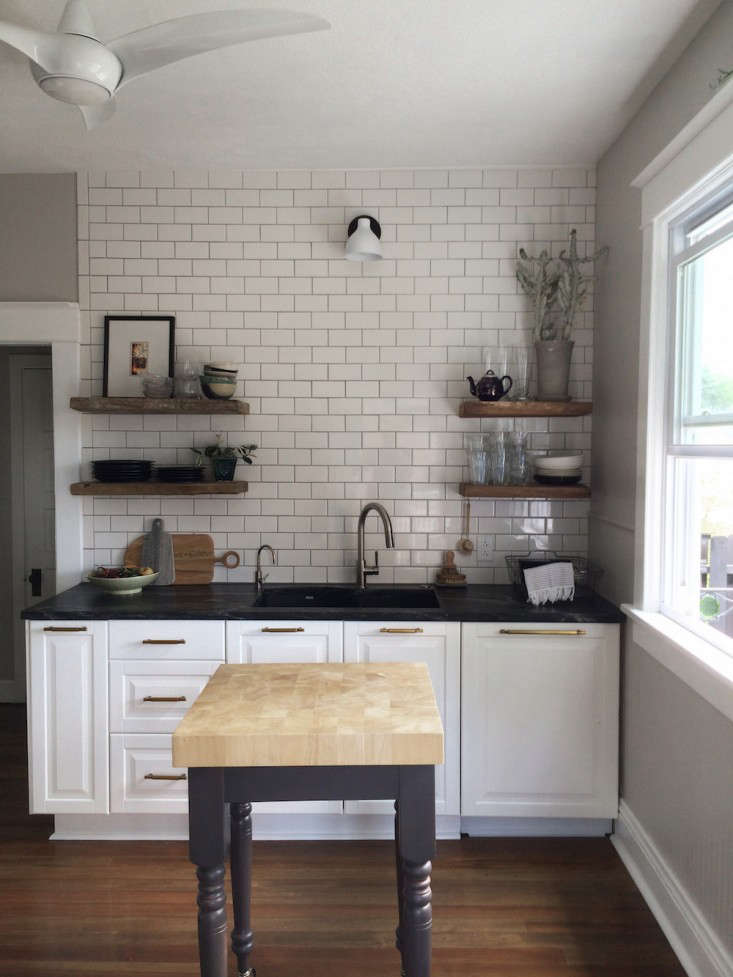 Above: "Open shelving allows us to enjoy our best pieces every day and discourages clutter. The island has been with us through three houses. The door is painted Benjamin Moore's Onyx."
Above: "Collected ceramic bowls and a watercolor from our trip to Rome displayed on floating shelves made from salvaged wood from Nebraska barns–we used butterfly joints in the cracks."
---
Project 3
Tracie Delaney | Los Angeles, CA | Hollywood Hills Kitchen
Design Statement: "Our design goal for this kitchen was simple. It needed to be warm and modern and easy to tidy up since we have two kids. You can see the 'Hollywood' sign from the kitchen window while you wash the dishes!"
Chosen by: John Derian, who said "I love the organic modern style of this simple and efficient space."
Above: "The custom cabinets are painted Farrow & Ball's Cornforth White. The stools are Muuto."
Above: "The island is solid European oak. The light is by Grethe Meyer and the fridge is from Viking."
Above: "We were inspired to build U-shaped shelves after seeing them at Nili Lotan's space in New York ."
Above: "Heath dishes and Victoria Morris pottery on display."
---
Project 4
Adam Darter and Nora Calderwood | BrooklynӬ, NY | Park Slope Kitchen Renovation
Design Statement: "Our kitchen needed to be versatile in a small space. We, an architect/designer couple, custom-designed the large island to pull out, creating a dining table for 10. Storage underneath the island is then used as a serving surface. Concealed appliances allow the kitchen to be less overt in an open-plan design."
Chosen by: Remodelista editor in chief Julie Carlson, who commented: "This kitchen is full of clever solutions for small-space living; the island that converts into a dining table is genius. I also like the crisp dark blue accents, which contrast nicely with the white subway tiles and the brass chandelier."
ҬPhotographs by Michel Arnaud for Design Brooklyn, unless otherwise noted.
Above: "Kitchen with table as island for everyday use." 
Above: "The kitchen island converts into a dining table"¨." 
Above: "Kitchen island converted into dining table–living room view"¨." 
---
Project 5
Jo Flavell | Market Harborough, UK | Garage to Kitchen
Design Statement: "An unused double garage redesigned into an open-plan space with height and light. A variety of handmade furniture gives an unfitted look, with a mixture of simple colors and old wood. A central prep area to cook and socialize and a dining table with views of the garden."
Chosen by: Julie Carlson, who said: "The owners have done a nice job of creating an open-to-the-outdoors kitchen in a former garage–you'd never guess its past life. I like the way the salvaged wood floor adds a note of rusticity to the space and plays against the dark-blue-and-white color scheme."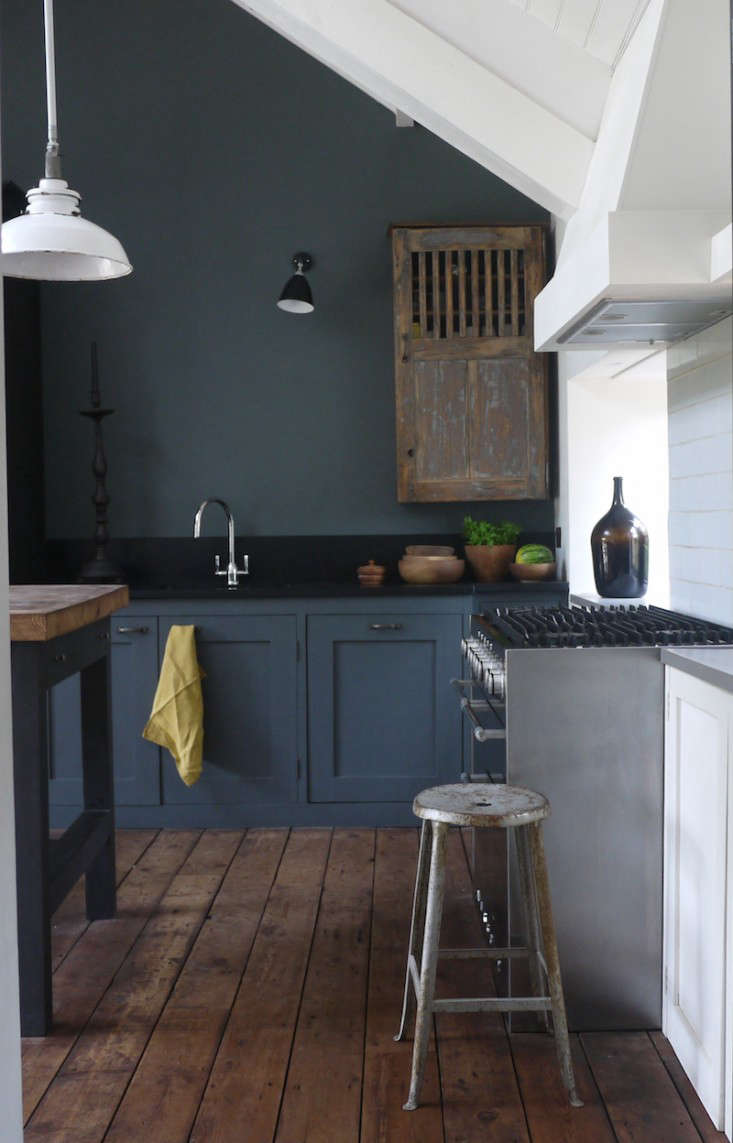 Above: "Rustic wooden cupboard above the granite sink work surface and painted storage units."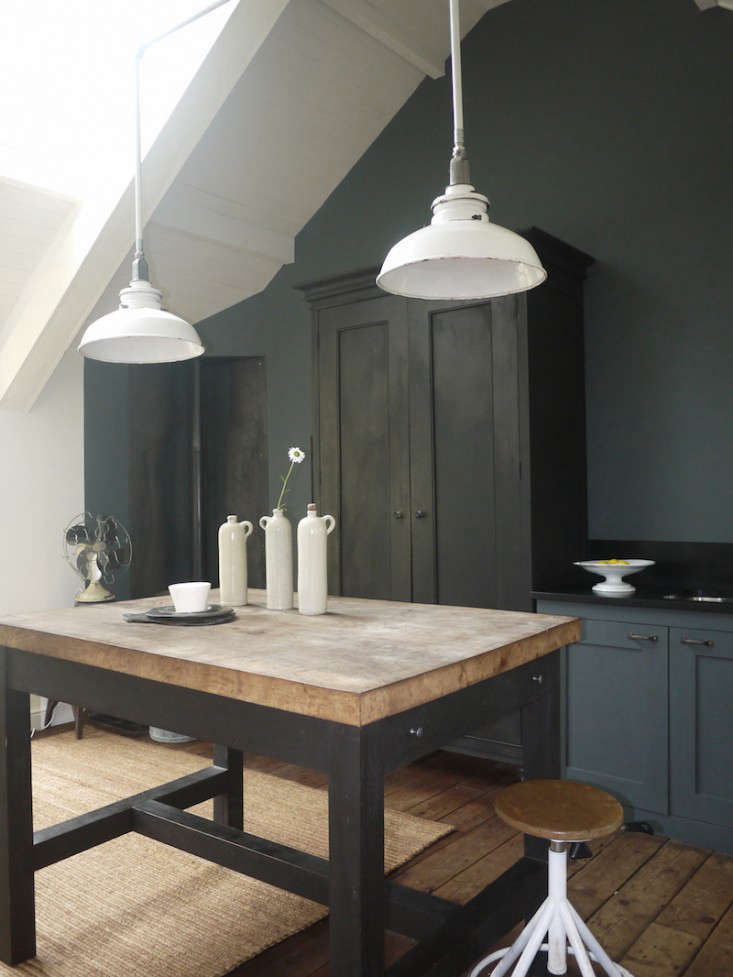 Above: "Handmade armoire-style cupboard with refrigerator and crockery storage inside."
Above: "Vintage glass cabinet and storage with new window area where garage doors used to be."
Above: "The central prep table and cooking viewed through open doors from the garden."
Found your favorite? Vote once per day in each of 12 categories across both sites, now through August 15.