After decamping from London for life in the country, designer-maker Rupert McKelvie established Out of the Valley, his Devon, England, workshop devoted to building sustainable, off-the-grid, "efficient yet aesthetic" cabins. His model design on the banks of the River Teign happens to be available for rent by the night.
Photography via Out of the Valley.
Above: McKelvie's little cabin in the woods is solar powered and perfectly sized for two. It has a shou sugi ban exterior–read about the Japanese technique in Torched Lumber. 
Trained as a classical wood boat builder, 31-year-old McKelvie went on to study 3-D design and sustainability at Falmouth University and then worked in London as a product and furniture designer. He moved to Devon to start his own practice with a focus on off-the-grid living.
Above: The oak deck is furnished with Net Chairs by Mark Product of Cornwall and a McKelvie burned-wood table inspired by a Kaspar Hamacher design: "After seeing it, I wanted to have a go at making one."
Above: The deck has a canvas shade stitched by a sailmaker and a corrugated black metal roof (see more on metal roofs here). The cabin is heated by woodstove and has solar-powered lighting.
Above: A king-size bed is tucked into an alcove off the open living space. The kitchen comes complete with cooker and gas hob. "For the next cabin, I'd like to incorporate gray water recycling and not use any gas," says McKelvie.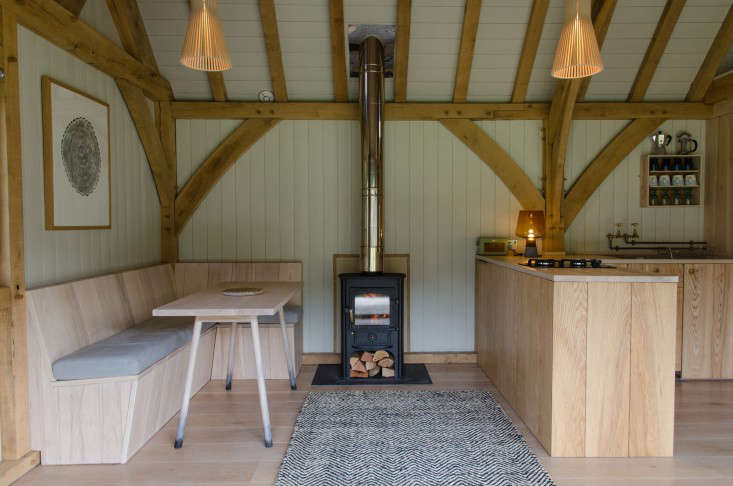 Above: All the furniture and built-ins are McKelvie's own designs in ash and oak, which he and his small crew fabricate (and make on commission). "I wanted to use a minimal material and color palette, three at most," says McKelvie. "Less is so much more when it comes to the architecture of small spaces; each material allows the next to have room to breathe." (For more tips, go to Expert Advice: 11 Tips for Making a Room Look Bigger.)
The wood print over the banquette is made from an ash tree on the property felled in a storm. It's by McKelvie's friend illustrator Bea Forshall. The conical wood hanging lights are by Secto Design of Finland.
Above: A sliding door off the kitchen opens to the compact bathroom. The glass-and-concrete Leimu table lamp is by London-based designer Magnus Pettersen for Iittala.
Above: The bathroom is detailed with Carrara marble tiles and has a brass monsoon showerhead (plus a compost toilet).
Above: The sink is kitted out with reconditioned old brass taps. (If you're looking to source your own old-fashioned hot-and-cold spouts, see Objects Lessons: The British Cloakroom Basin Tap.)
Above: At last week's Clerkenwell Design Week in London, McKelvie launched Out of the Valley's first furniture collection, which includes cabin-inspired sinks with surface-mounted copper pipes and vintage taps.
Above: The cabin overlooks a former farm field that slopes down to the river, where guests can fly-fish and skinny-dip. Bluebells and foxgloves bloom around the property in early summer, and McElvie reports seeing wagtails, wood warblers, herons, and kingfishers near the water.
Above: The field is surrounded by National Trust woodland.
Above: Stargazing from the deck is the main nighttime activity. 
The Out of the Valley cabin rents for £130 ($193) to £160 ($237.63) per night, depending on the season. It's located on the northern edge of Dartmoor in Devon's Teign Valley. Two castles–Drogo and Bovey–are nearby, as is the Devon coast.
Explore more cabins in the woods in our Outbuildings of the Week posts, including a Tree Cocoon.
For more examples of shou sugi ban, see:

(Visited 26 times, 2 visits today)