Bakery owner Dawn Casale and designer Oliver Freundlich have been leaving an enticing trail of crumbs all over Brooklyn since 2006. The third One Girl Cookies outpost–this one in Sunset Park's revitalized Industry City–captures a look Casale calls "modern Mayberry." And it's filled with clever takeaway for home settings.
Photography by Dana Gallagher.
Above: A pegboard rises behind the counter animating the space and supplying easy wall-hung storage and displays, including a George & Willy Kraft Paper Roll.
"Our directive was to take a 650-square-foot raw concrete manufacturing space and transform it into an inviting cafe," says Freundlich, who collaborated on the project with Emily Lindberg from his office. "As with the other two One Girl outposts, we set out to find the right balance of vintage, modern, and playful." The palette–dominated by bright white and turquoise offset by warm ash counters–takes its cues from One Girl Cookies' greatest hits and serves as a foil to the existing concrete and steel.
Above: The colors continue on the floor, which is patterned with Artistic Tile's Hydraulic Blue tile in matte porcelain. The metal windows were installed during Industry City's recent overhaul–go to Remodeling 101 to get the low-down on Steel Factory-Style Windows and Doors. The white metal hanging lights are Ikea's Foto design, $19.99 each–"32 of them with Cree LED bulbs," says Oliver. "The idea was to create a field of lighting that defines the ceiling plain and conceals ductwork and sprinklers."
Above: Each One Girl Cookies location has an antique display case–this one was found in Brooklyn–and vintage milk glass cake stands collected by Casale.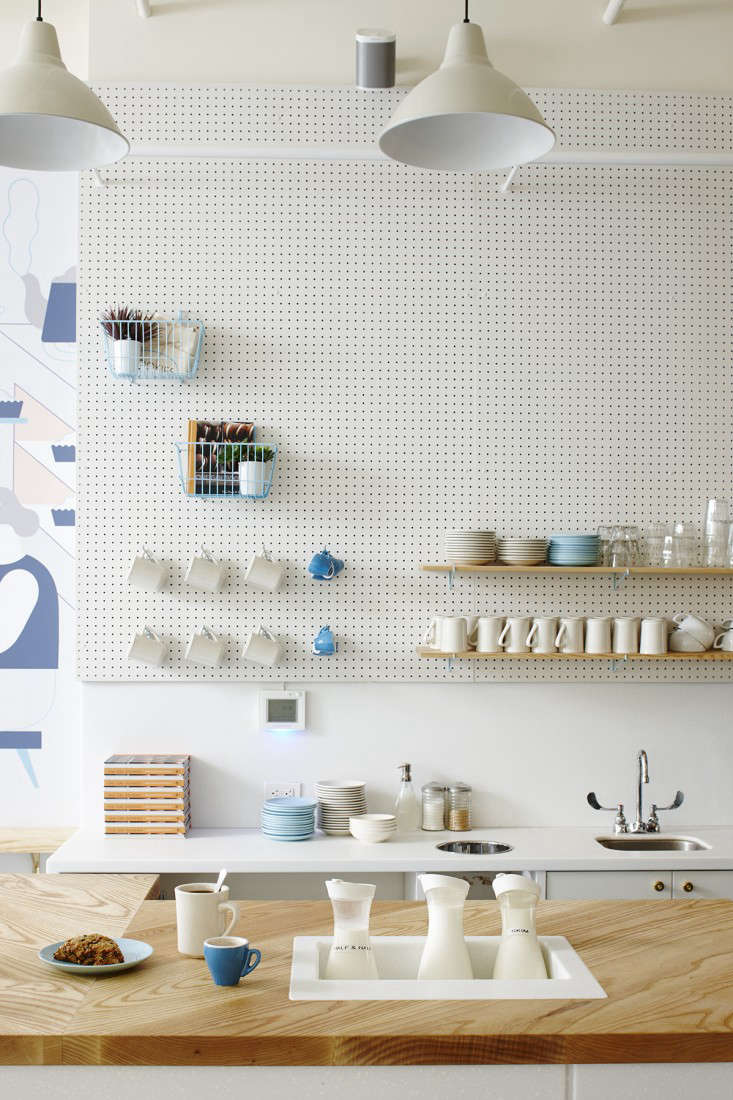 Above: The coffee bar's work counter is made of Corian-like Staron: "very clean look and durable," says Oliver. (Read about solid-surface counters in Remodeling 101.) It's offset by an ash counter in a chevron pattern with a built-in Staron ice basin. The hand sink has a classic restaurant supply gooseneck faucet, the Krowne H-102, widely available for less than $100.
Above: One Girl Bakery owners, Dawn Casales and David Crofton, met when she hired him to be the company's head baker. (And they discovered Freundlich when they moved into the Brooklyn loft he designed as his first job after graduating from Yale architecture school. The three have been working together ever since.)
They're shown here seated on banquettes upholstered in Candid, a vinyl from Maharam that, says Freundlich, "had to pass the buttercream test–many before it failed." All of the bakery's millwork is by Matt Hogan of Reliquary Studio, a tenant of Industry City and longtime Freundlich collaborator. Windsor-style Salt Chairs, $129 from DWR, were selected because "they matched our palette exactly." (See more options in the Windsor Chair Revisited.)
Above: Freundlich took a high/low approach to the lighting: Beneath the Ikea ceiling pendants, he introduced vintage English industrial lights sourced from 1st Dibs. (Looking for something similiar? Trainspotters may have it.)
Above: Each One Girl Cookies outpost features a mural that tells the story of the bakery, the family behind it, and the location. This one is by illustrator Jing Wei. The cake window offers a view of the finishing room, part of the bakery's vast industrial kitchen next door.
Above:  The cafe's recipes are gathered in the One Girl Cookies cookbook.
Above: Oliver Freundlich and Emily Lindberg of Oliver Freundlich Design with Jing Wei in front of her artwork.
Above: "The murals are our way of embedding a sense of place and give cafe-goers something to remember."
Above: Pale rose-colored curtains provide "a nod to cafe aesthetics and a little intimacy." One Girl Cookies is located in Industry City's new food hall modeled after Chelsea Food Market. It's at 254 36th Street in Sunset Park, Brooklyn.
We're longtime fans of Freundlich's work. Have a look at Behind the Scenes: Design Lessons from Julianne Moore and The Ultimate Starter Apartment.
(Visited 29 times, 1 visits today)