"'Showroom' is not a word I enjoy," explains the British designer Fred Rigby. "I'd say we've created more of an apartment, a home from home." Fred is describing his new studio space on Gransden Avenue, a short stroll from London Fields in East London. The building—a detached, industrial unit built in 1911—is something of a rarity. "It was owned by a father and son, who ran their cabinet-making business from here, so it's great that we're able to bring it back to its former use."
To arrange a consultation and a visit, go to Fred Rigby Studio.
Photography by Jake Curtis, courtesy of Fred Rigby Studio; styling by Laura Fulmine.
Fred Rigby Studio is a furniture and interior design practice founded in 2008. Fred began his career in retail design before segueing into furniture and domestic interior design. (He launched his debut furniture range, The Everyday Collection, in July last year.) "When I first started the studio, I worked in a building at the very end of the same road," he explains. "I've always walked past and thought: 'That's a good one'—especially because it's freestanding, which means we can make a lot of noise."
"Guests" (Fred also isn't fond of the word "customers") enter the space via the ground floor design studio. Behind here is the workshop. The "lifestyle space" (think whitewashed brick walls and exposed trusses and rafters) is on the first floor. Here, Fred has created a textured and tactile loft-apartment with pieces from The Everyday Collection and a lineup of like-minded brands including Francis Gallery, Cadogan Contemporary, Flow Gallery, Atelier Ellis, and Nordic Knots, most of whom he has worked with in the past. "These are friends of the studio that I've got a connection with," he explains. "For us, that connection doesn't end when a project is finished."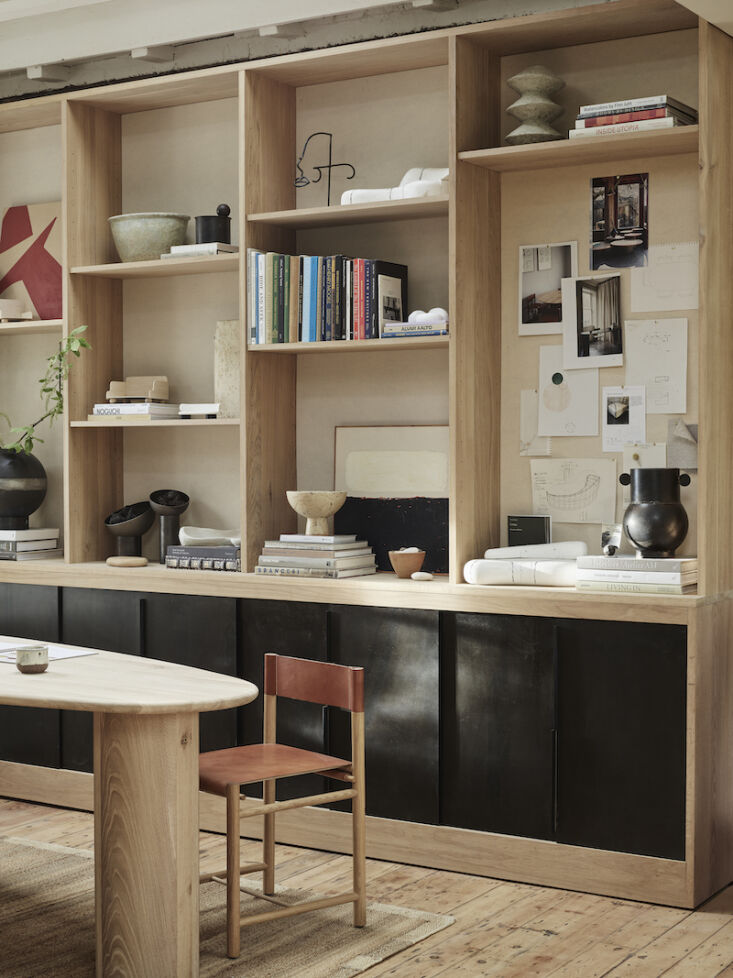 A public-facing studio has been a long-held ambition for Fred: "Especially coming through the pandemic, I wanted to create a space that people could come and be comfortable in—somewhere they could sit and feel the furniture," he explains. He envisages guests visiting the studio, experiencing a piece firsthand and actually being able to see it in production. The space has also been conceived as a comfortable and creative setting for design consultations. "You might want to come here for a couple of hours on a Saturday morning to discuss a bespoke piece. We've also already started spending a whole afternoon here with new clients. Away from our computers, I get very overexcited and bring out all my books for what is hopefully a very inspiring, creative session."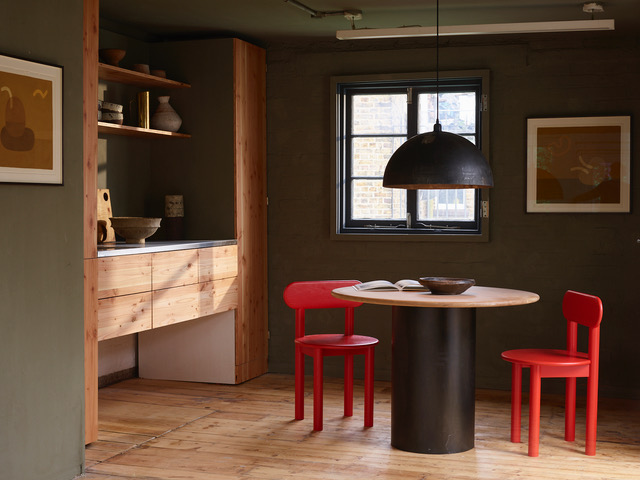 Inevitably, the new space has brought about a change in working methods. Firstly, the workshops must be visitor-friendly. They team have organized their working hours so that the sound of a table saw doesn't detract from the creative consultation in progress overhead. (Design consultations will be by appointment only Monday through Thursday; on Fridays and Saturdays, the workshop team will set down their tools.) The space has also changed the working day for Fred and his team. "We now have this beautiful, homely space to sit in and have internal meetings away from the workshop and our computers—but it has also become a space in which we can design and develop new pieces. Even today," he continues "we had some people here, and we made more cups of tea than we could carry, which made me think: 'We need to be designing a tea tray.'"
Once the open studio is established, Fred will focus on refining and releasing his first collection of homeware, including table totems, metal vases, lights, and mirrors—prototypes for which can currently be seen in the new space.
The studio is also developing a series of events and workshops. "You'd be amazed how few people can use a screwdriver," says Fred. "We will have just finished designing and installing an interior, and I'll be asked to hang a few pictures." A series of DIY evenings are being planned, but the space is just as likely to play host to a wine tasting, product launch, or creative brand collaboration "in between all the designing and making."
"I think it's OK to have fun and to enjoy what you do,"  Fred concludes. "The whole premise comes down to meeting people and creating a new dialogue—a story."
For more, see:
A Calming, Curvaceous Home by British Designer Fred Rigby
(Visited 260 times, 1 visits today)