A star fashion stylist in NYC for nearly 30 years, Scott Newkirk has also been one to watch in the world of interiors, thanks to his effortlessly chic quarters. In Brooklyn, he kept home in a former fire station with burlap curtains and art displayed every which way (including with masking tape as instant wall frames)—as featured in our first book, Remodelista: A Sourcebook for the Stylish Home. In upstate NY, he built his own off-the-grid, two-story dream cabin from salvaged materials—see Steal This Look. Photos of the latter and of Scott bathing in a brook continue to make the online rounds even though Scott himself moved on a decade ago.
We're happy to report that our friend recently resurfaced with his beloved dog, Scratch, and an expanded repertoire. After putting most of his possessions in storage and going home to Mississippi to help his ailing father, Scott tells us, he got a job offer that brought him to Charlotte, North Carolina. For the last few years, he's been beyond busy as the visual director at Tabor and Capitol, companion mens' and womenswear boutiques (at Tabor, Scott was also enlisted to design the store and is one of its two buyers). And for the last year, he and Scratch have been getting settled in an apartment in a 1929 five-story brick structure in Charlotte's Fourth Ward, a walkable area of Victorian houses and pocket-sized park that he describes as "the most urban neighborhood I could find." Every object Scott lives with has a story, and he welcomed us in for a guided tour.
Photography by Chris Edwards, courtesy of Scott Newkirk.
"The living room is quite small so I needed a sofa no more than five-feet long," Scott continues."I came across this one on 1st Dibs. It was a sad little no-name Italian piece from the late fifties in an old red striped velvet with springs bursting from the seat, but it had great lines and I loved the little brass legs. (I like to imagine it lived in Venice at one point.) I found the beautiful green mohair at a local fabric store that sells leftovers from interior designers and it gave the sofa a new life."
Other than the sofa and the Grasshopper Floor Lamp, shown here, just about everything came from Scott's New York loft: "All of the furniture was purchased in the early- to mid-1990s from small furniture galleries in Soho and the beloved 26th Street Flea Market."
The table story: "I bought it thirty years ago from a young man who had just inherited two warehouses of Scandinavian furniture from his Dad and was trying to sort it all out. That day was a score." Scott paired the 1960s bronze lamp with a string shade he long ago found in a Chelsea thrift store. The long-armed light is in the style of Prouvé.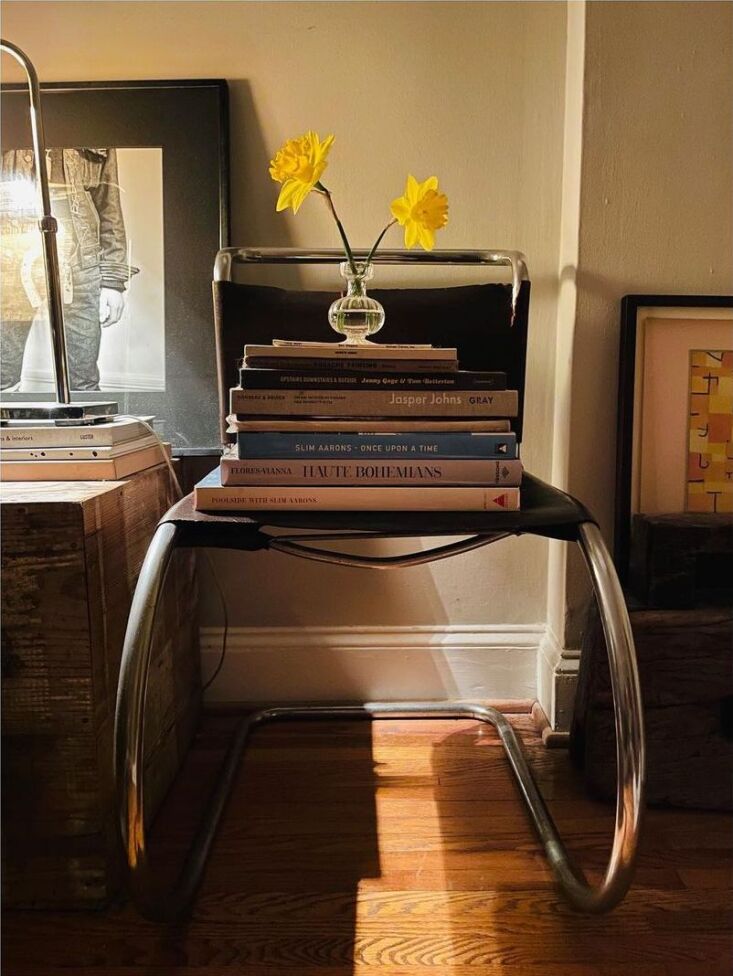 Here's our 2011 Designer Visit: Scott Newkirk shot by Michael Mundy at Scott's Brooklyn firehouse.
(Visited 1,729 times, 27 visits today)