How to combine a humble 19th-century farmhouse and an edgy contemporary art collection? Husband-and-wife architects Maria Berman and Brad Horn of Berman Horn Studio, members of the Remodelista Architect & Designer Directory, approached the job in stages. Step 1: Shore up the house. Step 2: Situate the outsized art. Step 3: Devote three years to assembling an odd lot of furnishings—rose-colored modernist sofas, embroidered pillows, Americana quilts—that telegraph an "anti-trophy house," comfy vibe.
The results? A quirky, completely personal home.
Photography by Rush Jagoe, courtesy of Berman Horn Studio.
The designers painted the exterior in Benjamin Moore's muted, dusty Classic Gray, with a roof of Eastern white pine shakes in place of asphalt shingles."Its modesty is offset," says Berman, "by a vibrant yellow door, Fine Paints of Europe's Van Gogh Yellow, and a romantic and exuberant garden." Explore the house's outdoor design today on Gardenista.
"The first thing we did was to clarify all of the interiors by painting out most of the woodwork and unifying the color scheme into a single color throughout: Benjamin Moore's Cloud Cover," explains Berman. Shown above, a contemporary sculpture displayed on an antique painted drop-leaf table. The yellow sconce is Charlotte Perriand's Applique à Volet Pivotant.
"Our clients didn't have a sense of wanting to make the place look finished or polished," Berman tells us. "They were after a general embrace of weirdness and charm." In the living room, that embrace encompasses a custom tuxedo sofa in a Bergamo plum silk-velvet (with a madcap array of needlepoint pillows), an artist-made traffic drum hanging light, and a vintage magician's chest.
Where did they find all of these things? "We shopped everywhere: Chicago, Mexico City, Europe, Los Angeles, 1st Dibs, Etsy, eBay, Brimfield, junk stores, resale shops, salvage places—and we're still looking."
Berman happened upon the 14-foot-long Vladimir Kagan–style sofa at a Westchester estate sale. "It was in the basement on the last day priced at about $100." As for her choice of Romo's Linara Flamingo, a bright cotton-linen: "The room is quite dark, so we needed saturated, fearless colors. Neutrals in this setting turn to mud."
The dining room opens to a little reading area with a shelf of cookbooks and an antique rope farm bed.
In the study, the floor is painted
Arsenic
from Farrow & Ball, one of our
Happiness-Inducing Paint Colors
. The rug is a Ukrainian flat weave from Berman and Horn's favorite NYC carpet source,
Symourgh International
.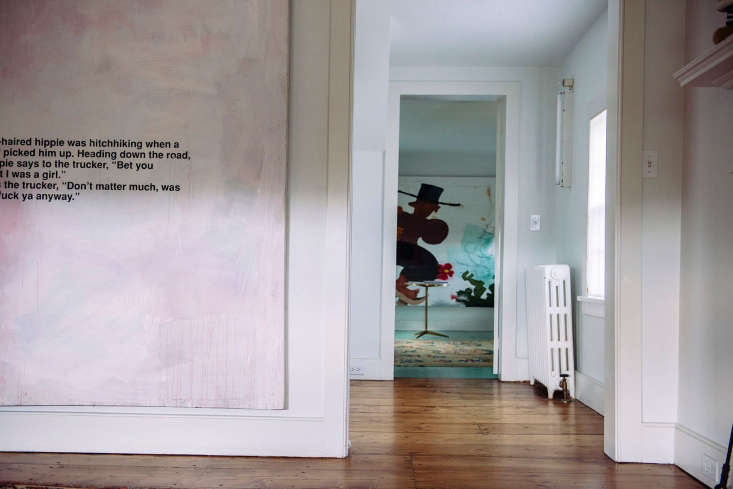 Above: Contemporary art in an Americana setting.Throughout the house, the architects preserved the original wide-plank pine floors—"we worked hard on the stain to get to a color without any of the dreaded orange or honey tones"—and painted the walls Cloud Cover from Benjamin Moore's Off-White Color collection.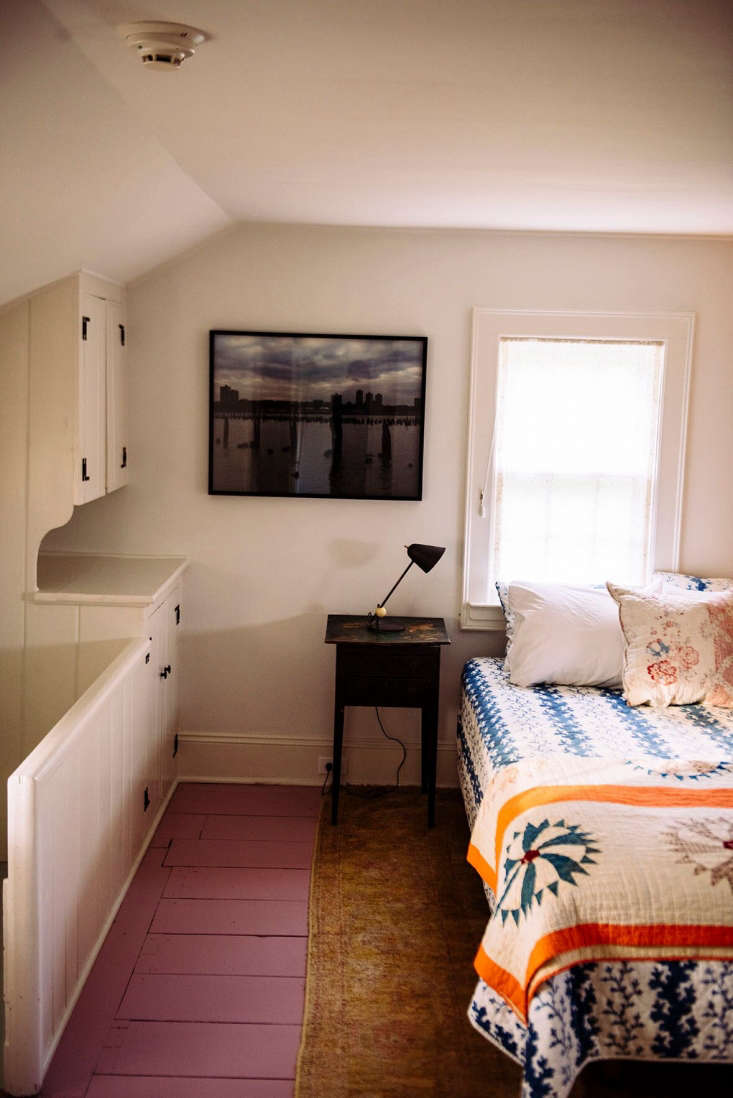 Here are two more adeptly remodeled farmhouses:
You need to login or register to view and manage your bookmarks.