My family and I have just moved to a new house and I'd like it to be nearly paperless. We all know the reasons to aspire to such a goal: In addition to being better for the environment in countless ways, being paper-free saves time and money. And yet I still struggle against the daily onslaught of junk mail, bills, and forms. Why is it so hard to cut down? One problem, I've realized, lies in the end goal: Most of us think of "paperless" as representing an idyllic (and hard-to-fathom) existence. But like all life-improvement plans, a paper-reduction strategy also benefits from realistic expectations and baby steps. We don't have to be entirely paperless, I've decided, but here are eight steps to put us all on the right track.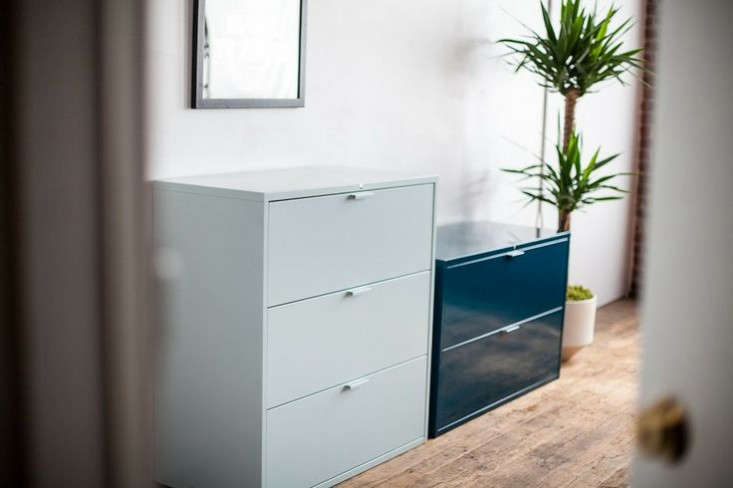 Above: Lateral file cabinets from Heartwork featured in A Labor of Love: Heartwork Office Furniture.
1. Recycle, recycle, and recycle some more.
Which scraps of paper do you really need to hold on to? Toss whatever isn't essential into the recycling bin as soon as it comes into your possession—and weed it out of your old filing cabinet, too. Two guides to consult: Get Rich Slowly's list of financial records that should be saved, and Life Hacker's instructions on how to give your file cabinet an extreme makeover.
2. Manage all of your bills online.
Sign up for electronic statement delivery or e-billing for all of your accounts, and use a service like Shoeboxed to manage your receipts. Also consider an app like Evernote to store, search, and manage all of your documents and notes.
Above: A vision of the pre-Cloud desk. Photograph from Vintage Revival: Kitchen Essentials Made in India.
3. Reduce paper mail and put a stop to junk mail.
Services like PaperKarma and Catalog Choice will help you get rid of all that unwanted junk mail. Are there any magazines or newspapers you can read online instead?
4. Conduct as much of your business electronically as possible.
Replace paper forms with electronic ones. There are services for document scanning (TurboScan and TinyScan Pro), signing (DocuSign and Adobe's EchoSign), faxing (HelloFax), as well as invoicing, billing, and accounting (FreshBooks and FormSwift) and expensing (Expensify)—all of which take paper out of the equation. And DropBox and Google Docs, among others, allow you to save and share documents electronically.
Above: A dual printer and scanner tucked away in Dagmar Daley's Disappearing Home Office. Photograph by Matthew Williams for Remodelista.
5. Invest in a scanner.
Some scanners, such as the ones from Neat and Doxie Mobile Scanners, are designed to make document archiving and management more streamlined. I'm planning to invest in the Fujitsu Scansnap because of its integration with Evernote (I'm already an Evernote devotee): You can plug the scanner into a computer and scan documents directly into your Evernote inbox, then have the ability to access scans from your iPhone.
Above: Photographs splayed out on the desk from Totokaelo's Fashion-Forward Office in Seattle. Photograph by Michael A. Muller for Remodelista.
6. Digitize those shoeboxes of old photos.
Sites like GoPhoto, Snapfish, and ScanMyPhotos will digitize your old photos for a fee. Shutterfly lets you upload and archive an unlimited number of photos. There are countless other sites and services—such as Photobucket, Flickr, SmugMug, and Google Photos—for organizing and viewing photos. To get started, have a look at Mashable's 5 Simple Tips to Digitize and Organize Old Photos.
7. Digitize your wallet.
That's right, no credit cards. Sounds a bit scary but heavenly too. LifeLock is an identity theft protection service that will protect digital copies of all of your important cards (ID, credit cards, bank information), so that you can access them from anywhere.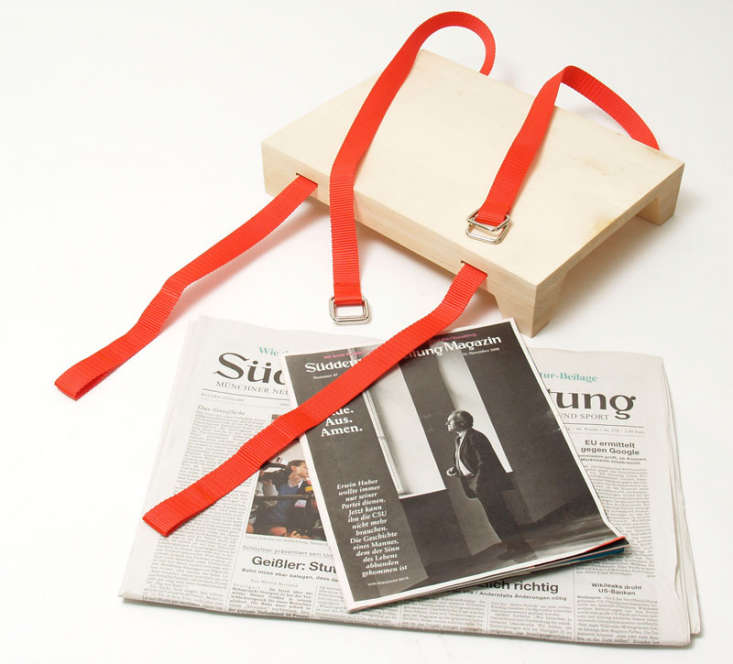 Above: What to do with old print material? We like the Hockenheimer Magazine and Newspaper Stool as a storage solution.
8. Always be thinking about additional ways to save paper.
Consider saving documents as PDFs instead of printing them on actual paper (a habit I personally have yet to break). And if you must print, use both sides of the paper. Carry reusable bags wherever you shop, and opt for emailed receipts—they're increasingly available at grocery stores and banks. Use Evites, Paperless Post, and other online services for sending out invitations. And if you're still reading the paper version of the newspaper, it's time to go digital. Any other suggestions? Fill us in.
N.B.: This post is an update; the original story ran on May 16, 2014.
(Visited 92 times, 2 visits today)