Ben Bradlee, the famed Washington Post editor and bon vivant—played by Tom Hanks in The Post and Jason Robards in All the President's Men—probably wouldn't recognize his old Georgetown residence. Remodeled in an elegantly succinct style far more European than preppy, it's still nonetheless his kind of place: the double living room is designed for hobnobbing, the dining table stands ready for a crowd, and every room is filled with family mementos, a pair of water skis included. What's more, Bradlee would find plenty of things in common with the new owners: Miriam Mahlow, a former journalist who grew up in Berlin and has two degrees from Stanford, is a managing director at Human Rights Watch, and her husband, a Georgetown local, is a star investigative reporter.
The couple have three young sons and were living in Istanbul when New York-based architect Lauren Wegel received a call: would she help them pull together their dream house on a budget? A protégé of Annabelle Selldorf's, Wegel now runs her own office. Mahlow, a self-described "design junkie" and longtime Selldorf groupie, had admired Wegel's "pure but welcoming and livable" version of minimalism on Remodelista. And she liked the idea of bringing an outsider's prospective to DC living. Wegel herself, Mahlow says, took some convincing—until she saw the place. Join us for a tour of the results.
Photography by Richard Barnes, courtesy of Lauren Wegel.
Bradlee and the then senator are said to have met while pushing strollers in the neighborhood; their off-duty friendship led to Bradlee's 1975 book, Conversations with Kennedy. And the discussion still rages over the 1964 murder of Bradlee's artist sister-in-law, Mary Pinchot Meyer, who, it came out, had been having an affair with Kennedy while living in the house; her case is still unsolved. Mahlow and family holed up in the carriage house during construction.
Like most remodels, a lot of the work is invisible and included "new columns, footings and a deep new beam running the width of the house to correct major settling issues," plus new central heating and AC.  Because all of that was costly, the couple decided to focus the design tweaking on the parlor floor, starting with the original Southern pine floor, which was stripped of carpeting and lightened. ("We briefly thought about going with Dinesen's wide boards—way over our budget —but I'm glad we didn't," says Wegel. "It would have had a very different feel and the existing flooring suits the house.") The pendant light is the IC Lights S Pendant by Michael Anastassiades.
The Le Corbusier LC3 Grand Model Sofas are signed originals passed down by Mahlow's mother ("you can feel Le Corbusier's signature etched on the undersides"). Anticipating that their black upholstery would be too heavy for the space, Mahlow ordered several sets of linen slipcovers in Istanbul: "you can walk into a fabric store, make your selections, and have them stitched in a few hours for about $5o." As for the period chandeliers, they're hand-me-downs: Wegel and Mahlow were having trouble finding twin lights that could carry the space when a new neighbor about to do a gut renovation asked Mahlow if there was anything in her place she could use. (Scroll down to the bottom for a look at the lighting the room came with.)
There are next to no window coverings and only a few rugs by choice: "I loved the house most when the work was just complete and all the rooms were empty," says Mahlow.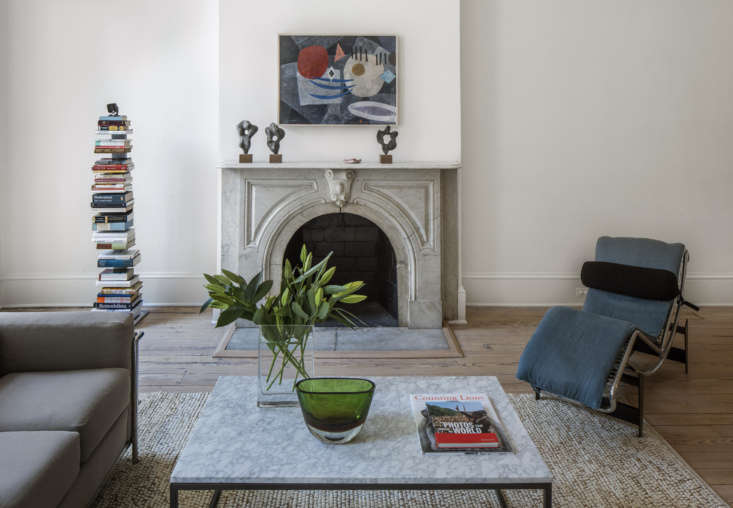 The architect credits project general contractor Kaz Malachowski of Falcon Construction as key to the success of the renovation: "I could trust him to get all the details right and my clients loved him. For me, being long distance, Kaz was truly a godsend."
Though she was initially resistant to the idea of an island, Mahlow was persuaded that it was the best option for the space: "She can cook and enjoy her family at the same time," Wegel says. The island has a Walnut Butcher Block Top from John Boos. The Viking cooktop (and the oven below it) has a retractable downdraft hood, all by Viking. For similar lights, see 10 Easy Pieces: White Globe Pendants.
The refrigerator is a Fisher & Paykel: "It isn't as expensive as a Sub-Zero, but you get the counter depth and the custom panel," says Wegel. "I also like the high freezer: it allows a lot of storage and coordination with the counters opposite." Note the art throughout the room (Mi!, the neon sculpture on the wall, was a 10th anniversary present to Mahlow from her husband). See The New Gallery for more examples of art in kitchens.
Before
Here are the two projects that inspired Mahlow to reach out to Wegel:
You need to login or register to view and manage your bookmarks.