When lighting designer Chris Millard and interior design Flo Millard relocated from London to the village of Rock in Cornwall, they hoped and dreamed for exactly this sort of project. A one-time dinghy club and restaurant perched on the waterfront in tiny, steep Polruan, on Cornwall's south coast, the wooden structure had long ago been converted into living quarters, but was in need of a top-to-bottom rethink. "The house had been reinvented several times over the years," Flo tells us, "and the result of these reiterations meant it was a patchwork of rooms with a rather confusing layout."
Millard & Flo, as the couple call their firm, stepped in and, while preserving the footprint, gave the structure a historically sensitive makeover, opening up and orienting the living spaces to the river, relocating the kitchen to an underused part of the ground floor, and fully outfitting the place: "we provided all furniture, finishes, joinery, and lighting." The results are a bright and breezy modern-classic nod to boathouse style executed with ease and restraint. And an unmistakeable English accent. For those of us still recovering from winter, these rooms are a tonic.
Photography by David Curran courtesy of Millard & Flo.
The designers introduced whitewashed paneling, ceilings included, throughout: "we tied the entire scheme together with the use of several tons of timber cladding," says Flo, "horizontal on the ground floor and classic vertical tongue-and-groove upstairs."
The white paint used throughout is Little Greene's Slaked Lime, which, according to the company is "made with a combination of minerals to give a warm and soft appearance."
The kitchen is open to a large dining area overlooking the river.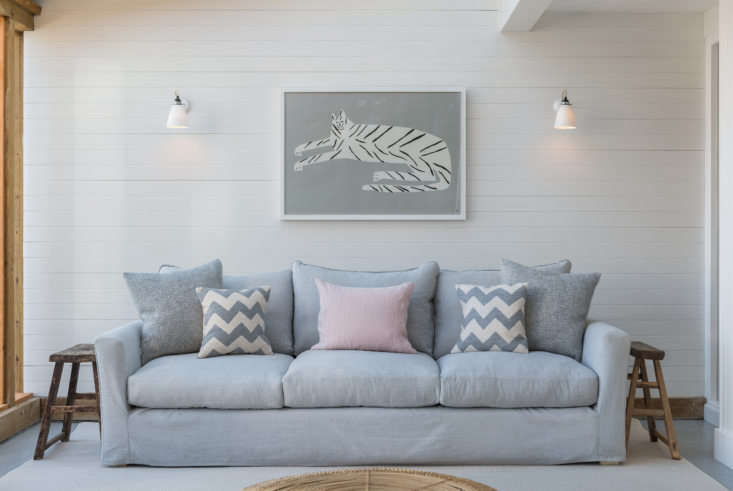 Inspired to panel your own house? See our Remodeling 101: The Ultimate Paneling Guide with Jersey Ice Cream Co.
Browse our Nautical Archive for more maritime design inspiration.
Thinking of venturing to Cornwall? Take a look at:
You need to login or register to view and manage your bookmarks.