Matthew Hranek, Yolanda Edwards, and their 11-year-old daughter, Clara, are a traveling trio. The urge to see the world perhaps explains their careers–he's a celebrated photographer and contributing style editor at Conde Nast Traveler, where she's the creative director. It also explains their approach to putting down roots: When they were looking to build their country house in Sullivan County, New York, they went shopping globally and ended up ordering a prefab design by Austrian architect Oskar Leo Kauffman. Hranek and Kauffman first crossed paths at a shoot for Wallpaper in Milan, where Kauffman had been commissioned to create an overnight glass-box house for a Design Week party. Hranek was so impressed by the results that when he returned home, he and Edwards, longtime committed modernists, stopped their search for an architect and placed their own order. She was pregnant at the time, and the two felt ready to trade the cabin on their 130-acre property for a little more room and a much better view.
Kauffman gladly accepted his first (and, to date, only) US prefab order–he and his team even traveled to the site to survey the possibilities. Hranek and Edwards, in turn, made the trip to Dornbirn, Austria, to see their walls and roof in progress at Kauffman's factory operation. ("These guys are perfectionists," says Hranek. "They're so beyond us in their skill level. They create concrete surfaces as smooth as baby skin.")
The prefab design arrived in a series of containers, along with a small crew. Four days later, the structure was standing. And it was complete for the arrival of Clara. Now that they've had time to fully make themselves at home, what does the family of three have to say about life in their $350,000 kit?
Photography by Matthew Hranek.
Above: Yolanda, Clara, and their dog, Charlie, in their customary morning perch–in front of the 40-foot windows that overlook their meadow. The walls and ceiling are covered in European oak veneer, all of it precisely fitted (note the lack of baseboards and moldings to hide the seams). Kauffman even contributed the dining table (the chairs are vintage Thonet.)
The house is as old as Clara is. "Oskar is a true pro, so I wasn't nervous," says Edwards. "I was actually more anxious about the idea of having a house built from the ground up by local contractors, because I knew the price and the finish date would be constantly moving. Instead, it was a fast and easy process."
Above: The open-plan main room–39 feet long and 24 feet wide–has oak floors with radiant heat and built-ins fabricated by master cabinetmaker Heinz Ruscher. (His work was installed by a five-man finish crew that arrived from Austria after the structure was in place and a local team had added essentials such as plumbing.) "The cabinets are painted with something like car enamel," says Hranek. "Everything is solid in this house and made from the best materials. You close doors and have a seamless surface." 
Above: The kitchen, with its white Corian-topped island, is the hub, and Hranek is the designated cook: "I'm completely sold on Corian, it's indestructible. The only thing I'd do differently in this whole place is put in a double kitchen sink," he says. "The Austrians are into little tiny sinks." The pair of 1950s stools are from Housing Works on 17th Street in New York City's Chelsea. Hranek had the pendant lights made to his own specs by "a copper guy out West."
Above: The couple supplied their own appliances: "We shopped online for the most affordable options from restaurant supply stores; the range is a commercial model by Dynasty." (For a kettle like theirs, see Object Lessons: The Great Japanese Cast-Iron Kettle.)
Above: Books do furnish a room–even one shelf. The living area is sectioned off by a felt "ravioli" carpet–two layers of wool with natural latex in between–by Austrian designer Johannes Mohr, and is furnished with the couple's collection of midcentury designs that come from places like "the Swedish version of the Salvation Army." 
Above: "At one point I was very into European pottery," says Hranek. "Someone had to stop me." The black and white pieces are by Arabia of FInland.
Above: A French tin holds Champagne caps from many weekend celebrations.
Above: Hranek and Edwards found the Haida prints over their sofa at the gift shop in the Museum of Natural History in Vancouver "for about the price of a poster at Spencer Gifts." The ceramic lamp is a 1950s Martz design.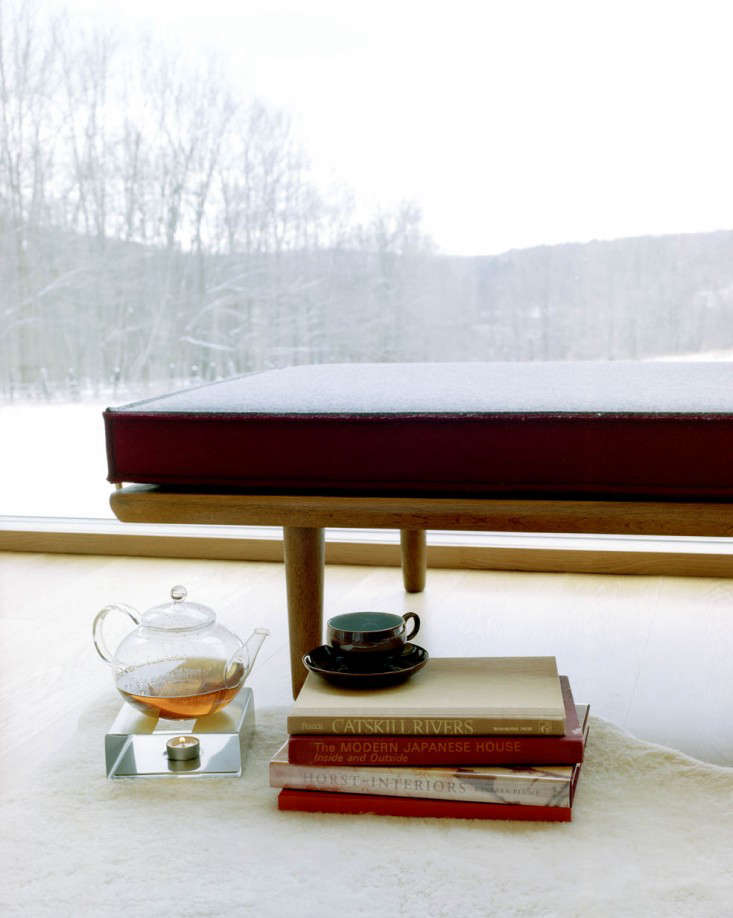 Above: A Hans Wegner 1960s daybed with a snowy view. One of the couple's requests to Kauffman was for "as much glass as possible." 
Above: Family craft books from the 1970s on the daybed's wool-felt mattress from Johannes Mohr. "We are all our happiest when we're here," says Edwards.
Above: The raised one-story house is entered via stairs. Kauffman detailed the passage from the living room to a bedroom with a narrow bridge and a barely visible panel of glass.
Above: The wood paneling continues in the house's three bedrooms. Clara's room is shown here.
Above: Clara in the guest room. The blanket is a vintage national park Pendleton.
 Above: "The house is like an elevated shoebox that has a glass wall on one side," says Edwards. 
All told, the project rang in at about $336,000–$236,000 for the turn-key house ("We got a good deal because Kaufmann is a friend," says Hranek), $12,000 in shipping costs, and the rest for site prep and other work done by the local crew, including electrical installation. "Unlike standard, stick-built construction, there were no surprises. What the Austrians said would happen, happened," adds Hranek. "This house is our think tank. It's the best thing we've ever done." As for Kauffman, he's since moved on to large-scale, one-of-a-kind projects, but we're hoping he makes his way back to the world of prefab.
Curious to see where Hranek and Edwards are traveling? Take a look at their his-and-hers blogs: The William Brown Project and Travels with Clara. (Edwards is also a founding editor at Mom Filter.)
For another notable Upstate New York design, see The Architect Is In: A Rural Barn Transformed for Modern Living. More prefabs? We have our eyes on:
(Visited 1,269 times, 1 visits today)