If, like us, you're still dreaming about the chí¢teau we visited yesterday in the Charente region of France–see La Vie en Vert–the good news is that most of the furnishings are available. Owners Isabelle Dubois-Dumee and Hubert Bettan run Les Petites Emplettes (translation: The Little Shop), an online emporium of French and Moroccan household staples, straight from their enchanted castle. Here's a sampling.
Baskets and Furniture 
Above: A Mini Hanging Basket made in Morocco of braided palm; €17 ($18.70).
Above: Woven fiber Round Poufs are €49 ($53.92) each.
Above: Decorative Wooden Trees, approximately 29.5 inches tall, are €39 ($42.92), and "some slightly bend for poetic attitude as if the wind were blowing."
Tableware
Above: Dejeuner sur L'herbe, €31 ($34.11), is a biodegradable collection of lunch-on-the-grass dishes and utensils for eight, vial of salt included.
Above: A Wool Storage Cube, made in France of unbleached wool, is €21 ($23.11). "Small decorative tip," write the couple, "adding textiles to your home adds warmth."
Above: A Mini Panier, sized for sugar cubes or paper clips, is €8 ($8.80).
Above: A hostess gift Tabletop Pack, €24 ($26.40), comes in a wooden crate and includes picnic items for two: glasses covered with woven fiber, fiber mats, wooden spoons, lemongrass candles, and a pair of vases (flowers included). A set of four Natural Fiber Placemats is €29 ($31.91). The glasses are also sold separately.
For the Bedroom
Above: An organic cotton Star-Adorned Duvet Cover and Pillowcase–with black and glow-in-the-dark stars–is €180 ($198.07).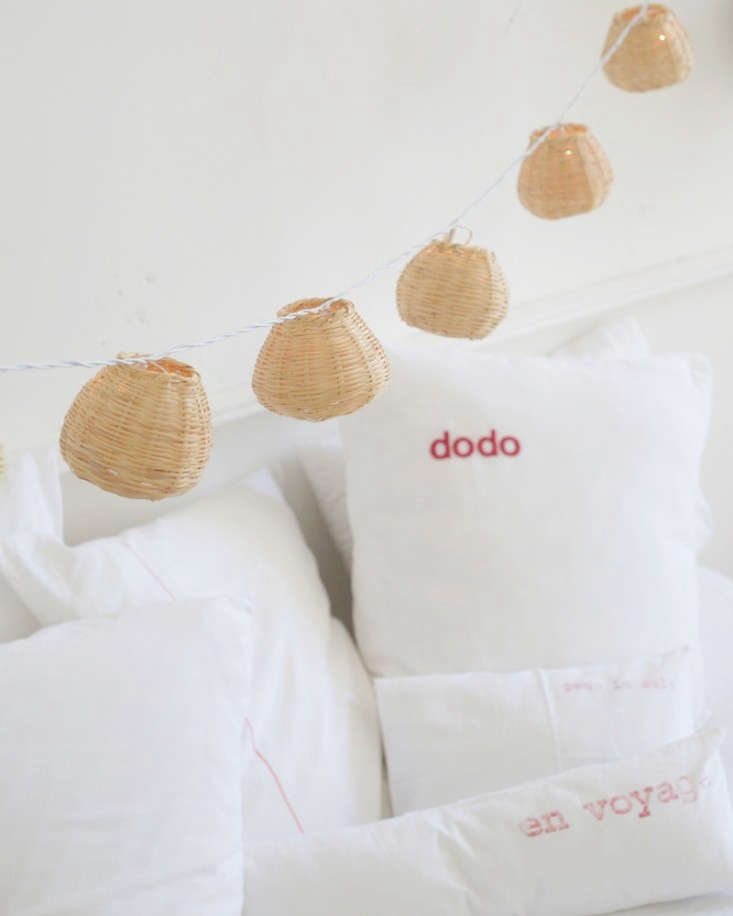 Above: A string of Wicker Lights (20 lights total) is €120 ($132.05). 
Above: Les Petites Emplettes' made-in-France Organic Cotton Duvet Cover and Pillowcase of unbleached cotton is stamped "chut," which means "shhh." The set comes in two sizes starting at €159 ($174.96).
Go to La Vie en Vert and Les Petites Emplettes to see more.
(Visited 18 times, 1 visits today)