Adventure is built into Laura Aviva's self-created job description: At L'Aviva Home, she tracks down and collaborates with skilled artisans the world over. A favorite resource of the design world, her collection includes top-of-the-line Andean alpaca throws, Moroccan pom-pom blankets, indigo bedcovers from western Africa, and more. Her recent fascination with all things Colombian? "It was spurred by a new Colombian beau," she reveals. For the past year, she's been working with a group of weavers outside Bogotá. The results are her new (and noticeably heartfelt) Crin rugs.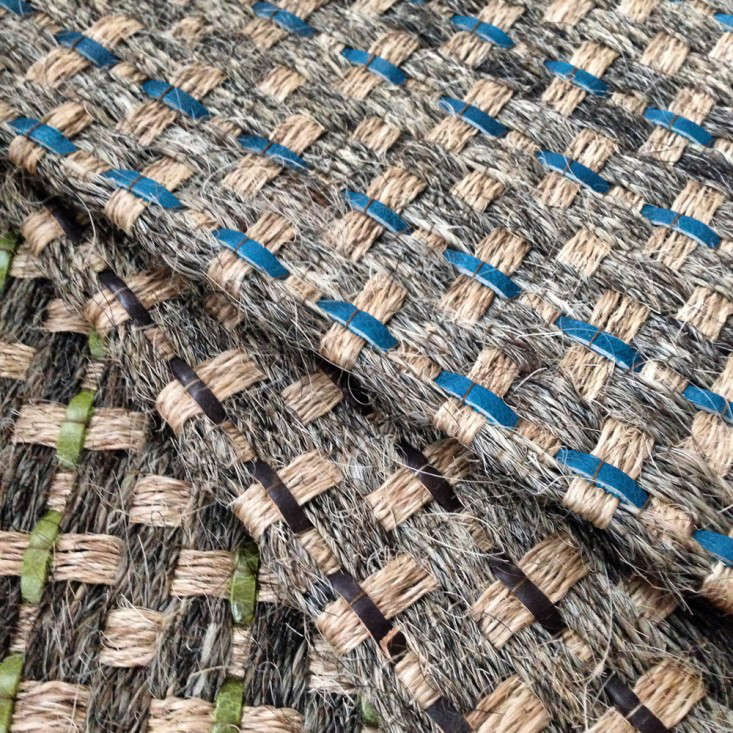 Above: "The collection pays homage to Colombian equestrian culture," Aviva says. "Strands of horsehair (crin de caballo) are interwoven with a local jute." The Colombian Crin rugs shown here are detailed with leather in Avocado, Coffee, and Ocean. 
Above: The particular jute in the designs is a natural fiber made from the fique plant. Aviva notes that "fiber gives the rugs texture; horsehair, durability; and leather, a patina over time."
Above: Developed for use in hotels and other public spaces, the rugs are extremely durable. As Aviva notes: "Horsehair is hugely hearty and long-wearing–and also luxe-feeling and soulful." The rugs are woven on 15-foot-wide looms and are all made to order.
Above: A jute and horsehair Crin rug detailed with green leather. 
Above: The collection includes three additional horsehair and jute patterns: Festival (left), Natural (center), and PreColombian (right). The leather-detailed rugs are $56 per square foot, and the horsehair and jute rugs are $54 per square foot. A 2.6-by-8-foot horsehair and jute runner is $1,080; a 6-by-9-foot horsehair and jute rug is $2,915; custom sizes are also available.
Above: The Crin Festival pattern.
Above: The Crin PreColombian pattern. Stay tuned: Aviva has also been developing a line of poufs made from cana flecha, a cane fiber used to weave vueltiaos, the Colombian national sombrero.
See more of L'Aviva Home's designs in our posts:
• Safari-Style Camping in Colorado, Glam Bedding Included
• Outdoors: Bolivian Hammocks from L'Aviva Home
• Mexican-Iraqi Exchange: Temoayan Blankets
Have you voted today? Voting is now under way for the 2014 Remodelista and Gardenista Considered Design Awards. You can vote for the finalists every day until this Saturday, August 8. The winners will be announced August 9. 
(Visited 37 times, 1 visits today)