It was on a Kenyan safari that the owners of Cresto Ranch in Cresto, a tiny town in southwestern Colorado, figured out a new use for their historic property: they'd pitch African-style canvas tents in an alpine clearing and introduce full-frills resort camping to the Rockies. A year later, the original 19th century log farmhouse has been turned into a base lodge and dining room. And eight canvas tents have been fitted with cast-iron gas stoves, writing desks, teak lounge chairs, en-suite bathrooms, and, most notably, king-sized beds made up with glam-rustic linens. Days at the ranch are spent horsebacking riding, fly fishing, hiking, mountain biking, doing yoga and pilates–and recovering in the spa tent. As Vogue put it, "At Cresto Ranch the only survival skill one needs is the ability to book a massage."
Above: Each of the eight tents comes with views of 14,000-foot Wilson Peak or the rushing Dolores River. They rest on 16-by-40-foot wooden platforms and consist of a steel framework hung with a heavy cotton duck that is water repellent and mildew resistant. Inspired by four-star African safari accommodations, they were custom designed by Reliable Tent & Tipi of Billings, Montana. The resort is open in the sumer only; off season the canvas is removed and stored within each tent's weatherproof bathroom.
Above: The tents sleep two in king-size beds or two twins. Laura Aviva of l'aviva home masterminded the linens: she cloaked the beds in crisp white cotton duck that echoes the tent fabric and is squared-off to fit crisply over the sheets and blankets. These slipcovers were designed to work well in a rugged setting and to provide a clean backdrop for l'aviva home's frazadas, vibrant traditional blankets handwoven in Bolivia. Frazadas were also repurposed as pillows backed with Belgian linen. Yes, the tents are electrified and have hot and cold running water.
Above: The tent platforms extend out 10 feet to form a covered deck. The teak steamer chairs were sourced from Golden Teak.
Above: L'aviva home's frazada throws are reimagined versions of age-old Andean designs. They're made of alpaca, a miracle fiber that's hypoallergenic and as soft and luxurious as the best heavy-weight cashmere.
Above: The bathrooms are shed-like structures within each tent. They're built from Zipsystem's weatherproof roofing and wall sheathing and are clad in corrugated tin with beadboard ceilings and slate floors. Each has twin vanities (with towel warmers), as well as six-foot-long, extra-deep bath tubs that double as showers.
Above: Cresto Ranch's owners, businessman Christoph Henkel of Canyon Equity and old master art dealer Katrin Bellinger, are German and love biergarten tables and benches for outdoor dining. The ones on Cresto's farmhouse deck are made by Roost from pine and steel and are available from Scarlett Alley.
Above: The farmhouse tables are surrounded by foldable canvas and wood safari chairs imported from Kenya. The tin ceiling panels were purchased from an antiques dealer in Pennsylvania for $5 a sheet–a bargain until it was discovered that they came with lead paint and had to be stripped and repainted.
Above: Cresto Ranch's sister resort, the equally luxe Dunton Hot Springs, is just four miles down the river. A restored 1885 mining town that's open year round, it consists of 12 handhewn log cabins, no two alike, in a spectacular mountain valley. Elevation: just under 9,000 feet.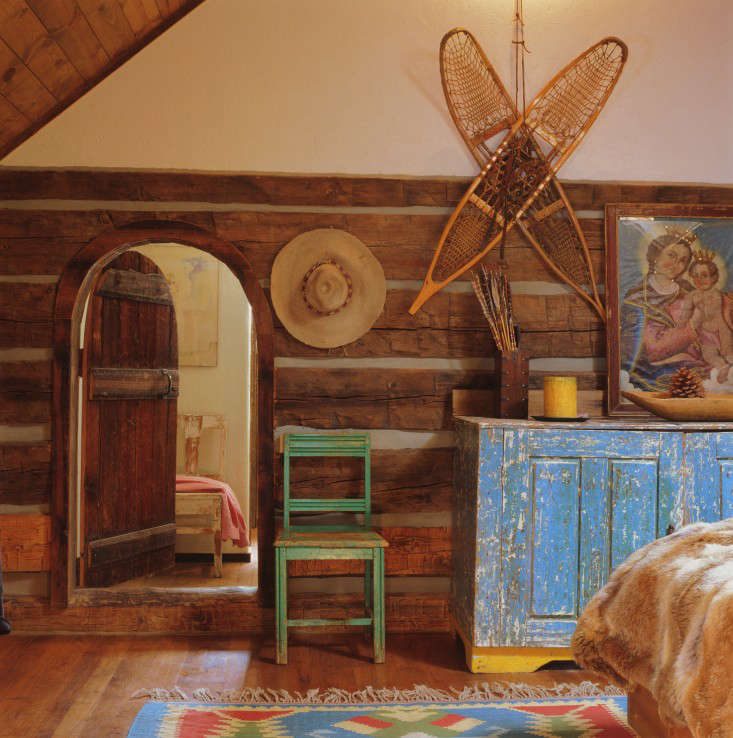 Above: The cabin furnishings are far ranging, and, as at Cresto, represent the hard work of resort manager and in-house designer Christina Rossi of CHREDO Hospitality. Forge, shown here, has Mexican antiques and a low arched doorway that leads to an expansive bathroom.
Above: Dunton was built around hot springs and retains its original, now fully restored bath house, which offers indoor and outdoor dips. The resort is so picturesque that Ralph Lauren and the Sundance Catalog recently staged holiday shoots on the premises. And the food and wine (from Dunton's own vineyard down valley) are first-rate, too: Bon Appetit magazine ranks it the number four getaway in the country for food lovers. All of this, of course, comes at a cost: both Dunton and Cresto operate as all-inclusive resorts priced comparably to the best hotels. For the full details on each, see Dunton Hot Springs.
(Visited 128 times, 1 visits today)