Lee's has everything we'd want from an event space in New York City: an airy, bright feel; minimalist wood furniture; a legit Downtown address; the ability to be dressed up or down depending on the event; not to mention a back-to-basics kitchen that isn't basic in the least.
The space is the brainchild of Nick Poe, an architectural designer and visual artist who was enamored with the idea of a dedicated private room, a place you could go to with friends and cook yourselves. He opened the joint on New Year's Eve in 2016 in a former mahjong parlor on Canal Street. "It was sort of an underground Chinese casino, where people would come to smoke and gamble. It was left in shambles, with cigarette burns and rotting food throughout the many subdivided rooms," he explains. "It was love at first site." (The name of the front business for the casino, he thinks, was Lee's Fashion.)
After knocking down the walls and letting the light in, what was left was raw, unfinished, and industrial—just how Poe liked it. "The look of this space, as with most of the other spaces I build, almost certainly comes from my experience growing up in and around, and loving, the old downtown lofts of New York," he says.
Poe designed all the wood tables and kitchen built-ins for Lee's, which has a hybridized style best described as "industrial, country/farm, and Japanese," he says. He was also heavily inspired by the designs of mid-century minimalism master Donald Judd.
Let's take a tour of this inspired private dining room and kitchen, borne of downtown grit and creativity.
Photography courtesy of Lee's.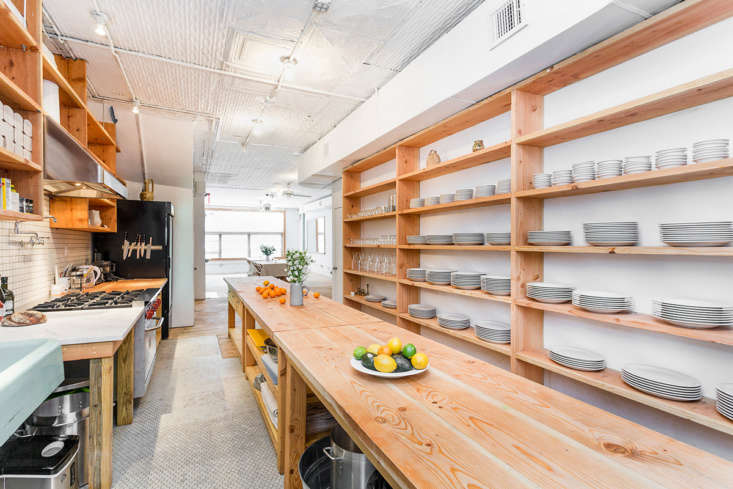 For more Kitchen of the Week inspiration, see:
You need to login or register to view and manage your bookmarks.