Since Christmas 2015, Maria Förstberg, a librarian and weaver, has been living in a home tailor-made for her in Linköping, in southern Sweden. The structure, a pair of gabled volumes clad in corrugated aluminum looks much like a child's drawing come to life, and is the work of her son, architect Björn Förstberg, and his partner, Mikael Ling. It was Förstberg Ling's very first project.
Originally dreamed up as an entry for a sustainable housing exhibition in Linköping—planned back in 2013 and opening this September—House for Mother instantly became a Pinterest sensation. We're especially drawn to the double-height, plywood-clad kitchen, which overlooks a living area complete with a greenhouse. The architects explain that they aimed to "balance spatiality with intimate rooms, formal simplicity with strong materiality." Translation: The design manages to be both airy and embracing, clean-lined and full of life. And all of the materials choices are budget friendly. Join us for a look.
Photography by Markus Linderoth, courtesy of Förstberg Ling.
Above: With its soaring ceiling and exposed beams and trusses, the design references barn construction. The rooms are wrapped in plywood and parts of the kitchen are set off with a graphite-colored stain from Osmo. A full-height fridge and freezer are tucked into a pantry on the other side of the sink wall.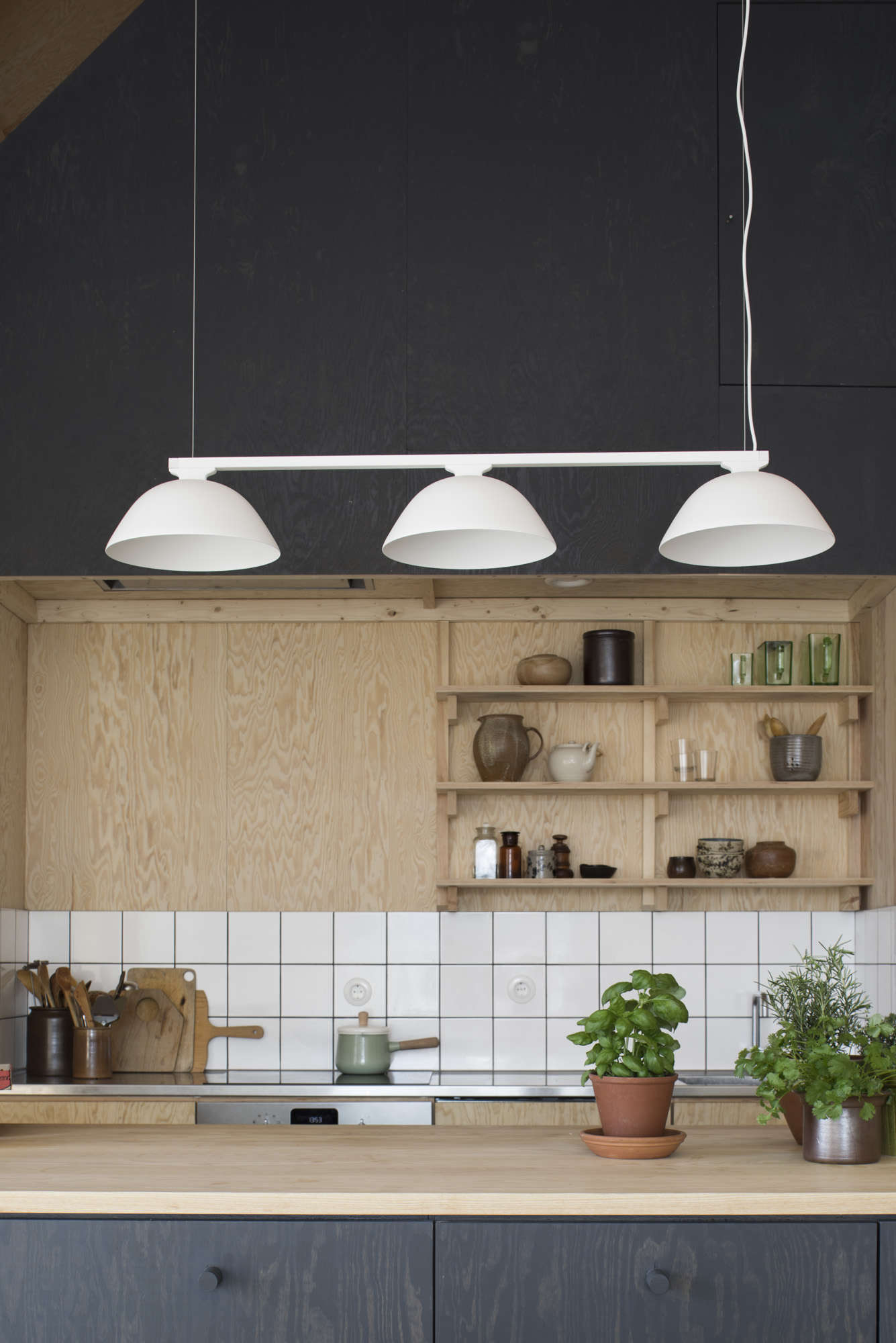 Above: Open plywood shelves serve as storage and display. The kitchen island is fitted with cabinets and, on the side facing the sink, refrigerator drawers by Liebherr. The metal pendant LED light, the w103 Sempé from Wästberg, is available as a single shade and in various combinations.
Above: The cooking area has a stainless steel counter and simple white tiled backsplash. It incorporates an Ikea stove, Ikea dishwasher (concealed behind a plywood front), and inset sink with a Vola faucet. On the side wall, shelves stocked with Ikea Knagglig crates form an orderly open pantry.
Above: The floor is concrete, which rises to form a bench along the perimeter of the room. The natural plywood on the walls is sealed with Polyx-Oil, a wax oil from Osmo.
Above: The space opens to an ethereal all-white living room. The dining table is Ilse Crawford's cork-topped trestle design from her Sinnerlig collection for Ikea. It's lit by steel Levels Lamps by Form Us With Love.
Above: Floor-to-ceiling white paint creates a literal dividing line between the two halves of the room. "By not using plaster and gypsum boards, the white areas don't feel too clinical and develop patina with age," say the architects.
Above: Tucked off the living room, the greenhouse is composed translucent corrugated polycarbonate sheets applied to a framework of wooden studs. It's fitted with open shelves and a restaurant-style stainless steel worktop.
Above: A barn door opens to a back terrace.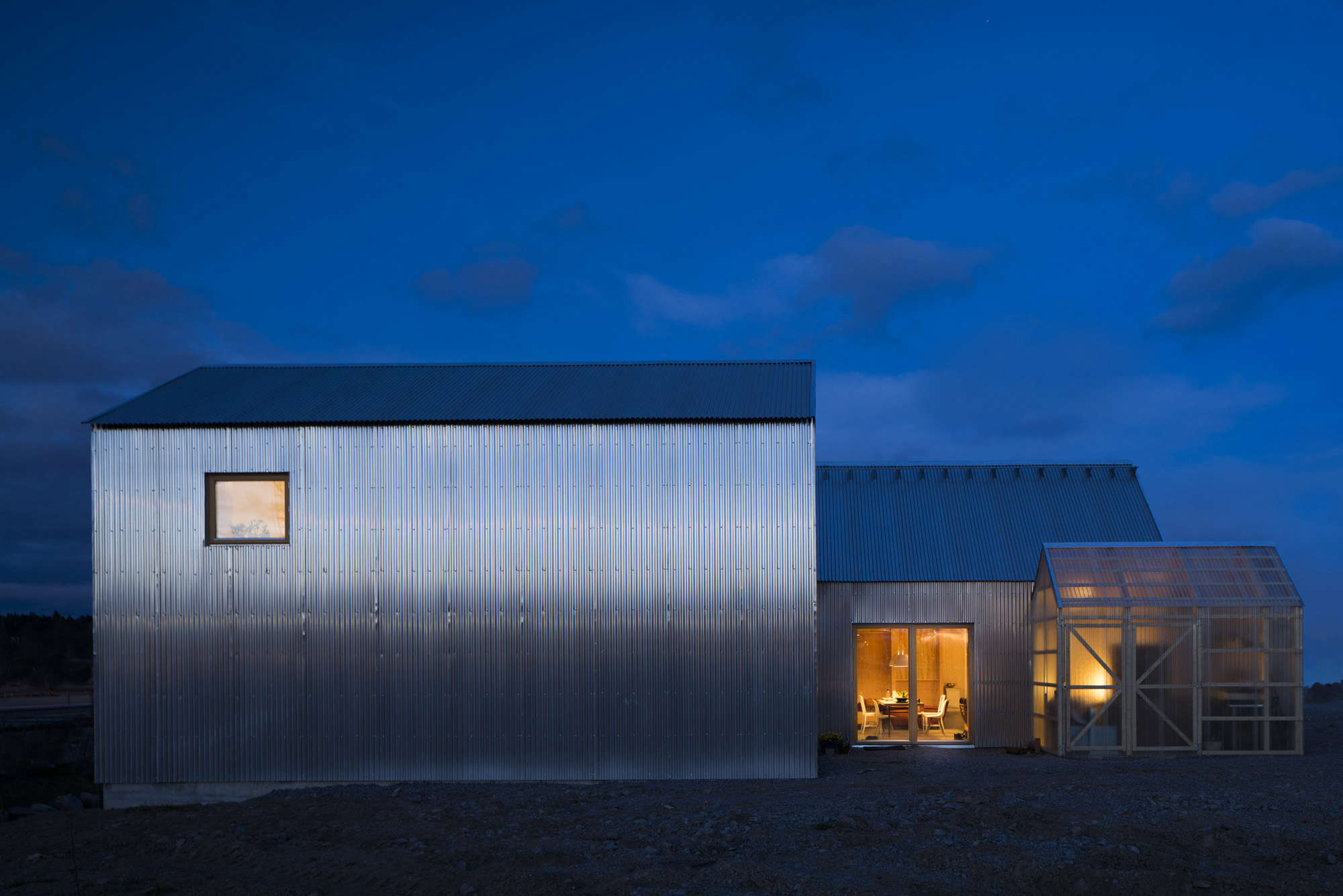 Above: Situated on a narrow lot in a still-underway planned community, the house's two corrugated steel structures are staggered: The volume in the foreground has two bedrooms and an art studio, and the other contains the kitchen and living areas, as well as a bathroom, laundry room, and greenhouse. Go to Vallastaden 2017 to learn about the development and forthcoming expo.
Working on your own kitchen? Go to Kitchen of the Week for ideas, including:
(Visited 92 times, 5 visits today)