Of all the trending alternatives to icebox white in the kitchen, pink doesn't exactly rank at the top of the list. Still, we've encountered several kitchens of late that use blush tones to great effect: see, for instance, A Plaster-Pink Kitchen in Bath, England, Two Young Architects Think Pink in LA, and Urban Tropical in London.  These designs all telegraph a notably cheery vibe thanks to their pastel palette—and the same can be said for this compact galley in a 1959 house in Solana Beach, in northern San Diego County.
San Diego interior designer Michelle Salz-Smith and her team at Studio Surface were called in to give the place an overhaul on a budget. Here's the kitchen, which makes use of Ikea cabinets and Semihandmade doors—plus Farrow & Ball's beloved pale pink known as Setting Plaster.
Photography by Jenni Corti, courtesy of Studio-Surface.
To get the look of custom cabinets without breaking the bank, they went with Semihandmade fronts, which are made to pair with Ikea frames; Salz-Smith had used them in her own kitchen. They're painted in Setting Plaster in an eggshell finish: "we wanted a soft sheen that is washable but NOT shiny," specifies Saltz-Smith. "I always do a sample door first, if possible."  The countertop is Silestone in Eternal Calacatta Gold.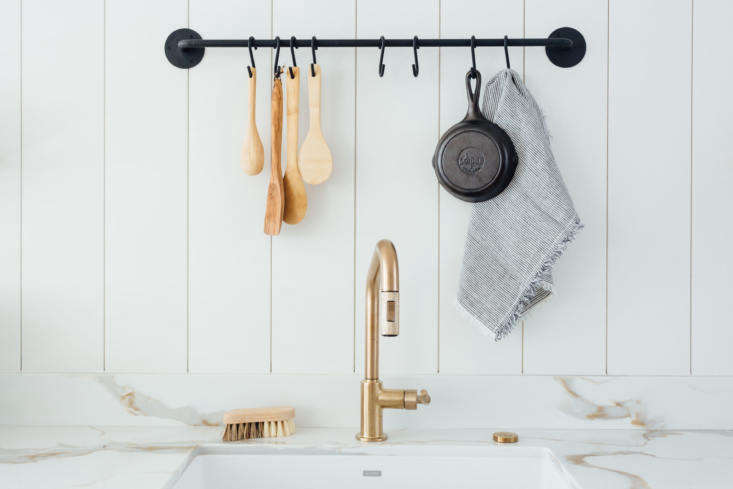 Three more Ikea-Semihandmade kitchens:
Also see: Ikea Kitchen Upgrade: 11 Custom Cabinet Companies for the Ultimate Kitchen Hack
(Visited 146 times, 1 visits today)