We recently dropped in on New Yorkers Charlie and Kevin Dumais at their country workshop in Bantam, Connecticut, where Charlie, a lighting designer, makes their ceramic lamp line, and Kevin runs his interiors business: see Studio Visit with Dumais Made. Today, we're following the couple to their nearby home in Litchfield to take a look at their Ikea-with-a-twist kitchen.
Over the last few years we've spotlighted a lot of inspired kitchen remodels built on an Ikea foundation upgraded with custom cabinet fronts. In Europe there are countless versions to choose from. But US companies have been slower to catch on: Semihandmade, which Kevin and Charlie worked with, is one of the first. And has been growing: back in 2015 when we featured designer Sarah Sherman Samuels' Semihandmade Kitchen Remodel, it had a single showroom in LA. Semihandmade has since opened outposts in NYC, Chicago, Minneapolis, and Palm Springs. Working on a tight budget—and doing much of the work themselves on weekends—the Dumais duo were able to install a 150-square-foot, modern-rustic kitchen from affordable off-the-rack parts. The results, if you ask us, are far from cookie cutter.
Photography by Kevin Dumais, unless noted
They sent the existing cabinets, counters, and outsized appliances off to be repurposed: their floor installer/refinisher took them for a personal project as a barter for replacing the kitchen's floor tile with ebonized oak that matches the adjoining dining room. "For additional spatial continuity, the wall separating the kitchen and the dining room was knocked down [see below] and the appliances were reoriented to create a U-shaped layout with central work table," explains Kevin. Photograph by Eric Piasecki.
Kevin first worked with Semihandmade on a small project for a client and reports he was very happy with the design and quality.
The undermount black sink is from Elkay and the faucet is by Kohler.
The fridge, neatly fitted into the cabinetry, is a Blomberg. Charlie made the surface-mounted brass ceiling fixtures as "retrofits that plug into the existing recessed lighting," he says. The globe light is from Restoration Hardware and the fixture over the sink is a School House Electric design. Photograph by Allegra Anderson.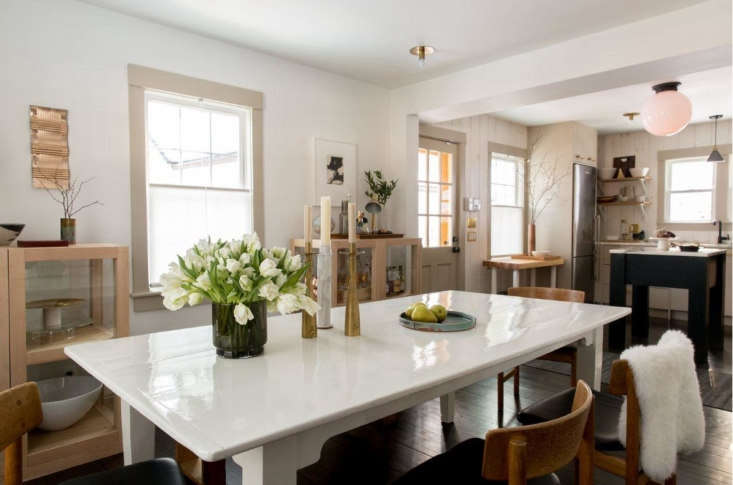 More Ikea kitchen inspiration: