Swedish company Ballingslöv has been in the kitchen business for 80-plus years. Along the way, they've ably adapted to the times: Their archives display looks that range from Brady Brunch suburban to turn-of-the-millennium all white. The company offers complete kitchen systems that clients can select as is or puzzle together from a wide range of components made at the company factory in Ballingslöv, Sweden.
The new Bistro design caught our eye thanks to its thoughtful detailing and homey vibe. It's shown here in a family apartment in Stockholm. Join us for a kitchen inspection. N.B.: Ballingslöv's kitchens are currently sold only in Sweden and Norway, so we hope stateside kitchen companies are taking note.
Photography courtesy of Ballingslöv.
Above: The smooth-fronted Bistro is offered in nine cabinet finishes—the ash-brown-stained veneer is shown—and can be configured to fit spaces large and small. The dishwasher and refrigerator can also be concealed by paneling in the same ash brown. The multiarmed copper ceiling light is the Kvist by Jonas Bohlin.

Above: The counter is a hard-wearing Carrara marble composite—see our Remodeling 101 post on Engineered Quartz Countertops to read about the material. Space permitting, the kitchen includes pantries, with or without glass; the family fridge is concealed behind the door on the right, and there's a panel-front dishwasher near the sink.
Above: Open shelving with metal brackets outside a shelf-lined pantry.
Above: Drawers and cabinets are fitted with Ballingslöv HG295 Handles made of chrome detailed with pale leather.
Above: The company offers sinks and faucets from several top European makers. This pairing is a Vola KVI Mixer and stainless Kubus KBX from Franke.
Above: Drawer inserts are made of white ash and can be tailored to order.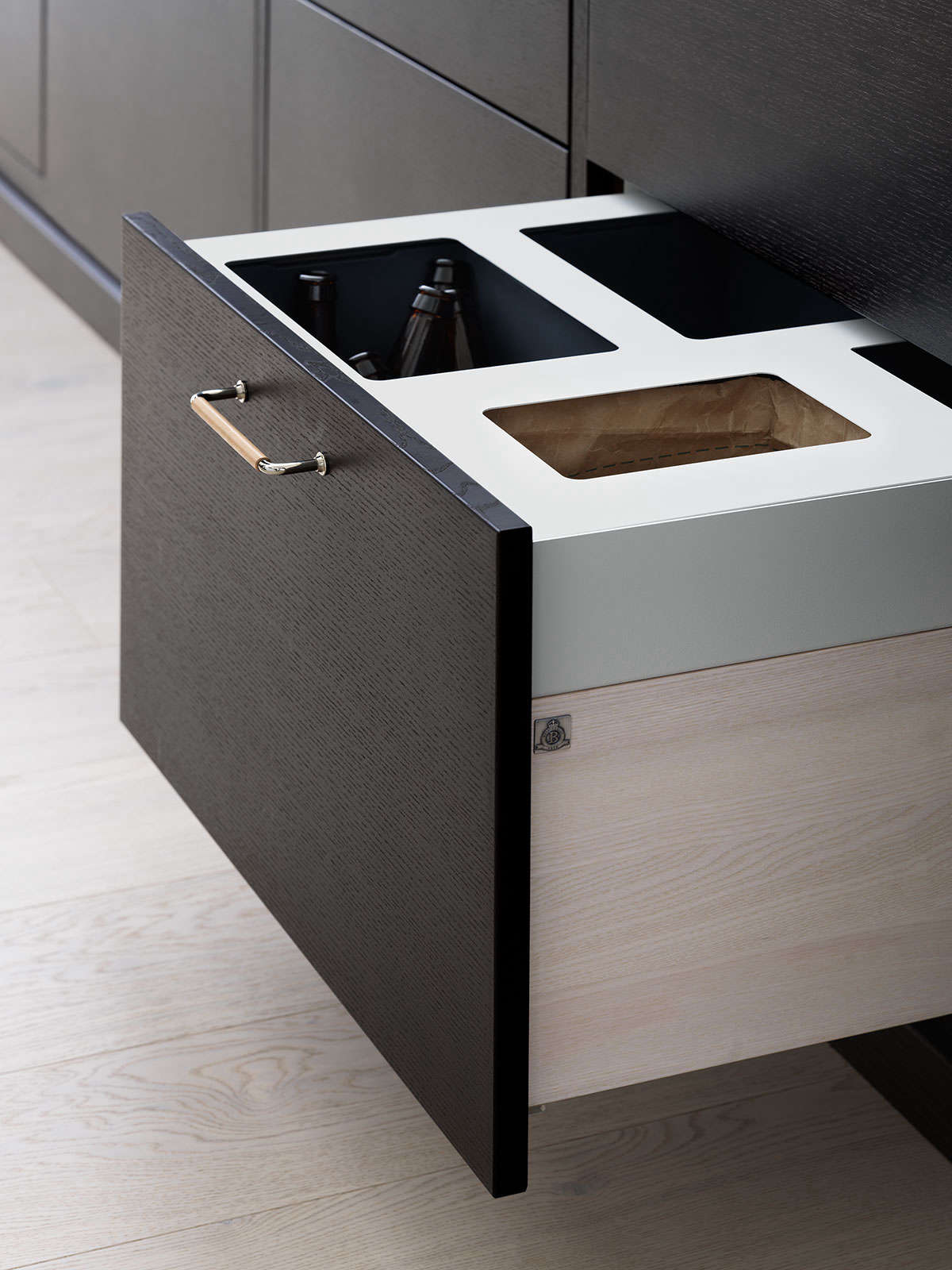 Above: A garbage drawer with recycling compartments for glass, paper, food waste, and metal.
Above: The kitchen counter ends in bench seating. The little globe light is the modern classic Cestita Table Lamp by Miguel Mila.
Above: A range by Italian company Ilve stands in the tiled opposite end of the kitchen. Made-to-fit extras, such as this butcher block worktable, are also available. Go to Ballingslöv for more details.
Pulling together your own kitchen? Peruse our Kitchens of the Week, including:
(Visited 318 times, 1 visits today)