Like many interior designers, Louisa Grey of House of Grey likes to leave behind the world of color and pattern when she crosses her own threshold. She and her husband and child live in a Victorian terrace house in London's Islington defined by its pale shades and uncluttered surfaces: "It's a place," she says, "that keeps the mind clear in such a busy city."
Grey recently converted the house from three flats—"last updated in the sixties, when vinyl was key to the scheme"—back to a single family dwelling. It was a big project, and for the large, built-from-scratch kitchen, she recruited fellow designer Jamie Blake of Blakes London as her collaborator. "Louisa wanted to create a beautiful yet practical space with a clean, minimalist Scandinavian feel," explains Blake, who happens to specialize in the genre. Come take a look.
Photography by 82mm, courtesy of Blakes London (@blakesldn).
Above: The kitchen is in the basement; formerly dark and dank, it has a new skylit extension with a wall of glass doors that open to the garden. The island incorporates a lot of storage and is set on castors: "It gets moved around for various gatherings to allow children to use the space with bikes and go-carts, and we've been known to hold egg and spoon races here when it's too wet outside," says Grey.
Above: A John Pawson devotee, Grey wanted the kitchen elements to "blend in seamlessly with the rest of the room—essentially to disappear." To introduce warmth to the space, she used Douglas fir not only on the cabinets but also as cladding on the counter wall.
Note that the cabinetry is detailed with reveal edges in lieu of hardware and the only appliance on view is a stately white Aga (which, Grey tells us, "operates via an app, so it can be turned on and off while we're out.") There's also an induction cooktop hidden under a panel on the counter.
Above:  The wood is lightened with a traditional Scandinavian soap and finished with a Danish sealer. (See Easy Whitewashed Scandi Floors for details.) The brass faucet is a Vola.
Above: The counters are gray Corian, which works well with the new polished concrete floor. "We have a four-zoned underfloor heating system that allows us to control sections depending on how cold each area is," says Grey. She plans to detail the inevitable cracks in the floor with gold resin.
Where's the refrigerator? It's concealed opposite the island behind a pivoting white wall, which, in addition to holding a "large American-style fridge/freezer," serves as the pantry and holds all the small appliances. Blake calls it "the business area in the kitchen." There's also an under-counter fridge near the range for staples, such as milk and butter.
Above: All millwork was fabricated by the team at Blakes London and has a skeleton of marine plywood. Two-tiered drawers, each kitted out for specific storage needs, make efficient use of space. For more details such as this, go to 15 Storage Ideas to Steal from High-End Kitchen Systems.
Above: The main kitchen counter extends for 6.3 meters (20.6 feet), which allows room for artwork and decorative objects that add life to the room.
Above: Some of the cabinets are for storage, others hold essentials such as trash and recycling bins and dishwashers—there are two, so that even during big parties, the counters never have to be cluttered with dirty dishes.
Above: The addition has bi-fold doors and adds a huge amount of natural light to the kitchen. "We wanted to enjoy the full width of the garden," says Grey. "It's not overlooked by anything, which is a real rarity in London, and it has a lime tree taller than the house that provides us with a lot of privacy."
Above: The table, a House of Grey design available by special order, is surrounded by box seating and a pair of vintage chairs.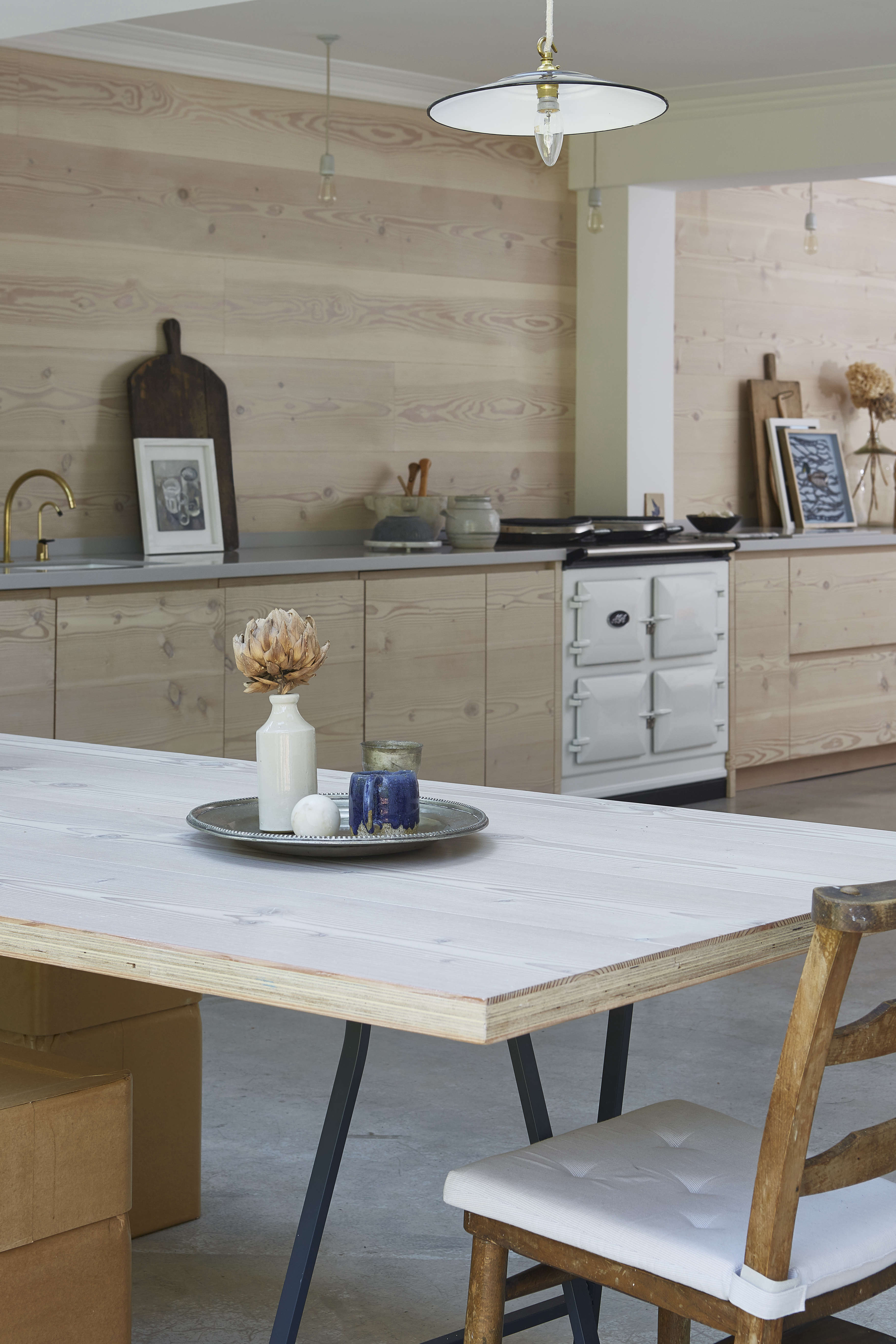 Above: The tabletop is made of the same Douglas fir with exposed edging as the cabinets.
Blakes London is a member of the Remodelista Architect/Designer Directory. Take a look at two more of the firm's projects:
You need to login or register to view and manage your bookmarks.