Inspired by an island people's self-resilience and rugged independence, an Irish couple created the Inis Meáin Knitting Company.
The Aran Islands, located off Ireland's west coast, are noted for their terraced limestone and knitted goods (in particular, the Aran sweater). In 1976, when Tarlach de Blácam first began his knitwear company with his wife Aine (who grew up on the island), there was no running water or electricity, and supplies were rowed ashore. While modern conveniences prevail today, it's the enduring "make-do-with-what-you've got" attitude that appeals to de Blácam, who cites as inspiration the older women in the tiny community and the sweaters they hand-knitted for their husbands and family. To see an interview with Tarlach de Blácam, here's a video, shot by our friend Jay Carroll. To learn more, go to Inis Meáin Knitting Company.
N.B.: Also on the island is the Inis Meáin Restaurant & Suites (see our post: An Idyll on Inis Meáin); the lodging is run by Tarlach and Aine's son Ruairí de Blácam and his wife Marie-Thérèse.
Above: The company's symbol is the curach, the traditional fishing boat of the Aran Islands, which is a timber-framed boat covered with canvas and sealed with tar.
Above: Inis Meáin Knitting Company's knitwear reflects the hues of the surrounding landscape (Knitted Shawl, €195; Knitted Scarf, €125. The Aran Scarf is also available at Barneys for $175.)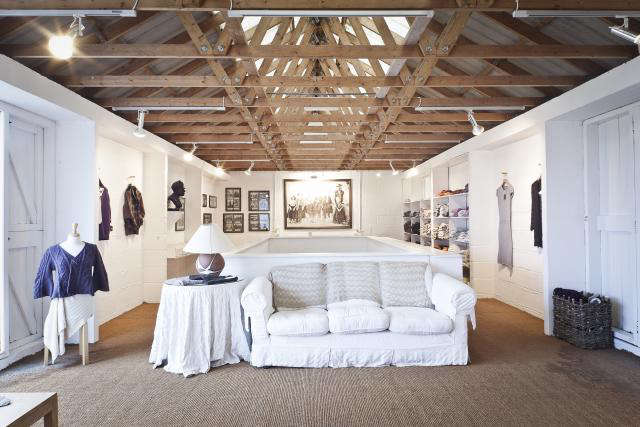 Above: De Blacam's brother Shane (of Dublin-based architecture firm de Blacam & Meagher) designed the showroom.
Above: "We are always looking to the magnificent repertoire of knitting and handmade clothing on the island for inspiration in our new collections," says de Blácam.
Above: Inis Meáin's knitwear and clothing for men and women is available at select stores throughout the world, including Barneys.
Above: The surrounding environment is ever-present. De Blácam notes, "There is the huge array of flora and fauna on land and sea which just catches your eye wherever you look here, and that has a great influence on us also, especially when it comes to color."
You need to login or register to view and manage your bookmarks.