What can we say? Craftspeople are crafty. In this tiny work studio (first spotted on Design Sponge), a woodworker/metalworker/jack-of-all-trades makes clever use of stock materials to create a photographer's studio.
David Clark, owner of Austin-based woodworking studio Kartwheel, designed and built this 350-square-foot work studio in Austin's Travis Heights neighborhood. Located at the back of a residence, the studio was created for a photographer who needed a darkroom and extra usable space for ad hoc needs and overnight guests. Kartwheel built the project from start to finish, hiring subcontractors only for plumbing, concrete, and electrical.
N.B. Clark added a range of custom wood shelving and display pieces to one of our favorite Austin stores, Spartan. He is also soon launching a furniture line with both stock and custom options. For more information, visit Kartwheel.
Photography by Alexandra Valenti.
Above: The staircase is tied to a simple pulley system that allows the stair to be lifted out of the way when not needed.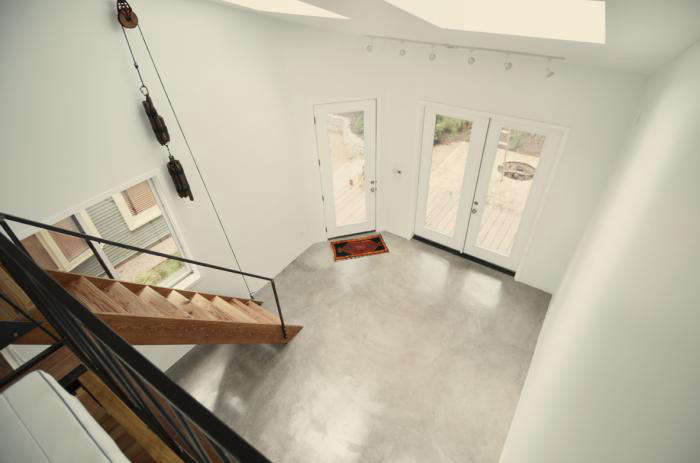 Above: The main open space is lit from ample windows and a skylight overhead.
Above: To serve as hanging pegs for hand towels, Clark installed handles off of old woodworking tools. The sink is a basic porcelain model from Ikea, and strips of reclaimed barnwood siding serve as simple shelves.
Above: A wood feature wall in the bathroom is made of reclaimed long leaf pine sealed with oil. Note the window, the same used throughout the rest of the studio: It's a basic Anderson window, with the window pull painted black. A creative, affordable way to put a spin on an off-the-shelf product.
Above: Though darkrooms don't need to be stylish, this one is simple, functional, and beautiful.
Above: Clark designed and fabricated the bedroom railing from milled steel. A Mexican serape blanket adds the only shot of color into the space.
Above: A handmade corner shelf with drawer makes good use of limited space.
Above: In the lofted bedroom, Clark used simple beadboard—installed vertically and horizontally—-to offset the bedroom from the rest of the space.
Above: The stair weights are old window weights, fastened together via climbing rope and carabiners. (Clark was inspired by old mountain climbing videos during this project.)
Above: Most of the small building is covered in cypress siding with a semitransparent cypress oil.
Above: The rear of the studio is clad in aluminum siding.
Looking for more inspiration? See 181 images of work studios in our gallery of rooms and spaces.
(Visited 1,019 times, 2 visits today)