One small step (maybe even a giant leap) for lamps, tables, and nightstands: designs from Ikea with built-in wireless charging for smartphones. The pieces have just arrived or are expected imminently in Ikea stores across the US and the UK.
Above: The new Ikea Wireless Charging Range comes with built-in charging stations–just place your phone on the charging pad and juice up, no outlets or cables required. The hitch: Your smartphone has to have Qi wireless charging, which not all do–but Ikea also sells iPhone and Samsung Galaxy Wireless Phone Covers for $15 to $25 that make them compatible.
Above: The Sellje (a nightstand or front-hall table) is made of powder-coated steel; $59.99/£50, built-in wireless charger included.
The full collection is online at Ikea Great Britain, and select pieces have just started appearing on the US site.
Above: The powder-coated steel and nylon Varv table lamp is $69.99/£50. X marks the charging spot.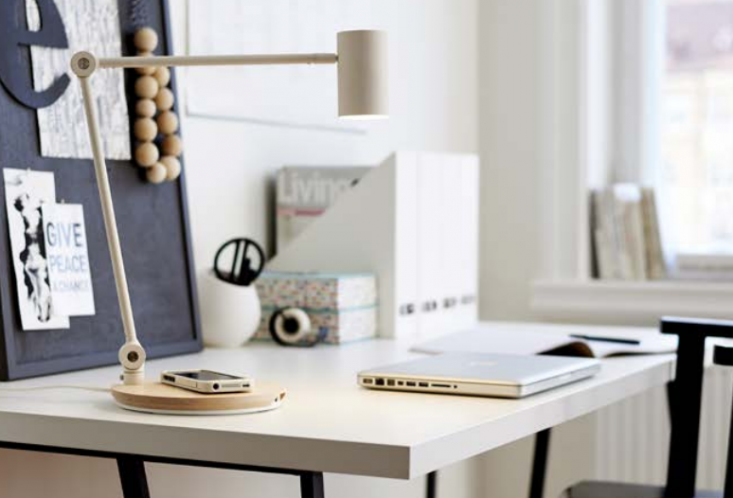 Above: The painted steel Riggad work lamp, $79.99/£50, has a birch charging pad.
Above: The powder-coated steel Nordli nightstand (also shown in the first photo) is $109.99.
Above: Noting that cell phones have infiltrated every part of the house, Ikea's designers came up with these portable single and triple charging pads, $27.99/£30 and $64.99/£60, that can be used on any flat surface. The gray and white boxes are Ikea Romma cord management containers.
Ikea also sells Jyssen wireless chargers, $29.99/£30, that can be inset into the cord outlets of some Ikea desk designs and, with a drilled hole, any furniture. A cautionary note from Gizmodo: "Wireless charging probably isn't the best thing for the lifespan of your device's battery. (It generates excess heat.) But it sure is convenient."
Above: The Nordmarke single pad for wireless charging; $27.99.
Above: The Varv floor lamp is $119/£85. See the full collection in Ikea's Wireless Charging announcement. And take a look here at another wireless charging system we like.
Here are a few more of our favorite new Ikea designs:
(Visited 267 times, 3 visits today)