This content was produced as advertising by Remodelista in collaboration with Docking Drawer. 
At Remodelista, we're all about clean, efficient, organized solutions. So is Docking Drawer founder Scott Dickey and his family. Years ago, Scott's wife had grown tired of their house being constantly cluttered with technology such as phones, tablets, laptops, and all of the cables that go along with them. She asked her husband to install in-drawer electrical outlets to keep the devices charged but out of sight, but when he got to the hardware store, Scott was surprised to learn such a thing didn't exist. As an electrical engineer, he decided to take on the mission of inventing a safe, reliable solution: the Docking Drawer. He installed the outlets throughout his house and the tech clutter vanished, and Docking Drawer had an unintended benefit in Dickey's household: It encouraged family members to "unplug," since their electronics were stored out of sight (and out of mind).
Read on to learn more about Docking Drawer.
Photography showcases projects completed with Docking Drawer outlets by Studio Dearborn, except where noted.
Unlike DIY and custom solutions, which can be time consuming to install and questionably safe, Docking Drawer is designed to fit standard cabinet sizes, and their newest Blade Series outlet requires no cabinet customization. The outlets can be installed at any stage of a remodel, or even in existing cabinets.
Docking Drawer is ETL listed (meaning it complies with U.S. product safety codes and will pass inspection) and features a range of safety mechanisms. The Charging Outlets have a built-in circuit breaker while the Powering Outlets have a thermostatic shut off feature which cuts power to the outlet if the temperature rises above 120 degrees Fahrenheit.
Docking Drawer offers Charging Outlets with a maximum current of three amps—ideal for charging small devices such as laptops, cell phones, and tablets.
Docking Drawer also offers Powering Outlets to power small appliances. These have a maximum current of 20 amps and are commonly installed in bathrooms to power hair dryers and curling irons.
To make installation easy, Docking Drawer's Specification Library has helpful guides, including cutout templates, installation manuals, professional tips, and an electrical planning guide. (Note that while the Charging Outlets are plugged in, the process for the Powering Outlets is different: They must be hardwired.)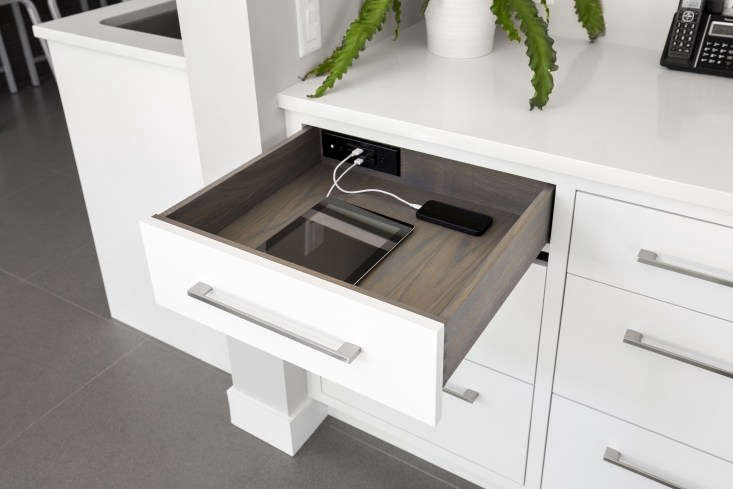 Even if you're not in the midst of a remodel, you can still install a Docking Drawer. Outlets are designed to fit standard, framed, frameless, and custom cabinets with no customization required beyond a cutout in the back of the drawer. Docking Drawer's Blade Series outlets only require the standard 2 inches of space behind the drawer box, which means you don't need to customize your cabinet order. The company's Slim and Narrow models are designed for even smaller cabinets. To find the right size, visit the Docking Drawer Specification Library for a measuring guide. For even more help, call, email or even text Docking Drawer and a representative will help you find the right outlets for your space. They are passionate about helping you plan and specify your first project, and they're available 24 hours a day.
For inspiration on how to use Docking Drawer, visit the Idea Library on their website. There, you'll find photos of Docking Drawer installed in real homes.
To learn more about Docking Drawer, visit their website and blog for ideas, advice, and FAQs.
(Visited 384 times, 1 visits today)