When it comes to remodels, we all know that kitchens are the biggest money sink of all. That's why we're big fans of budget rehabs that make creative use of low-cost materials. But sometimes even these minimal kitchen makeovers can be out of range, especially if you've just spent your last red cent on purchasing your new home. (Guilty as charged.) In times such as these we have one piece of advice: Never underestimate the power of paint.
Don't believe us that paint can resurrect a kitchen with cheap composite cabinets and laminate counters from design purgatory? Just take a look at some of our favorite transformations.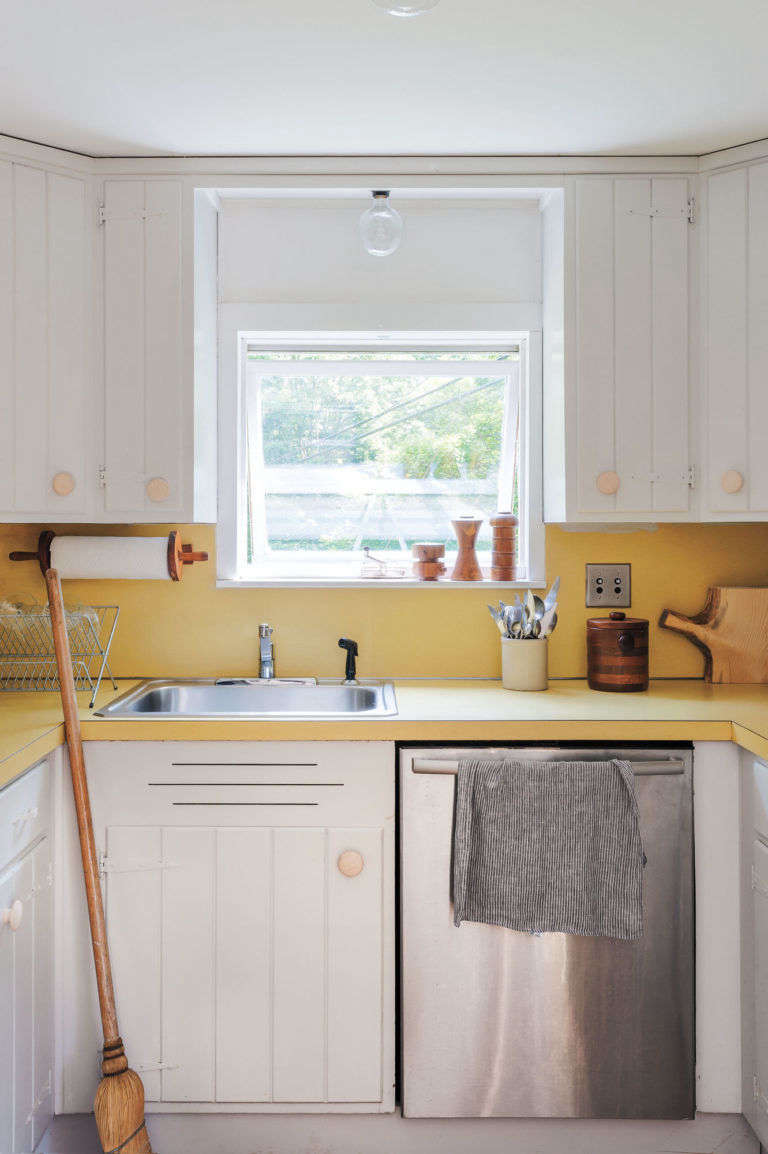 Sometimes even architects and designers don't have the time, money, or inclination to redo an entire kitchen. When Robert Highsmith and Stefanie Brechbuehler of
Workstead
purchased their the 1850s home in the Hudson Valley, the design-duo fully intended to gut the 1960s-era kitchen, but they ran out of time and the necessary funds. As a stop-gap they simply painted the wood-paneled cabinets, including the giant hinges, and replaced the hardware with inexpensive wooden knobs from the hardware store. Robert says they've now grown fond of their harvest-gold counters, "They make us laugh and they're part of the story of this house." (See more of Workstead's Hudson Valley home in the 
Remodelista book
. Photograph by Matthew Williams.)
In their weekend retreat in Chatham, New York, Brooklyn ceramic artist Suzie Ryu and painter/furniture designer Kana Philip had only 48 hours at a time to get work done. Fortunately two weekends was all the time they needed to remake their galley kitchen. First they removed heavy upper cabinets, replacing them with open shelves made from Home Depot sourced pine boards. These along with the walls and cabinets received a fresh coat of paint. After rounding out the look with inexpensive Ikea accessories and Suzie's own ceramics, the laminate counter doesn't look so bad. (See more at Before & After:
The $350 DIY Kitchen Overhaul in Two Weekends
.)
If you live in a rented space, often painting is your only option. Such was the case for blogger Athena Calderone of
Eye Swoon
. Using a special primer she was able to paint right over the kitchen's "horrific, honey-toned" laminate cabinets. (See the before at
Kitchen of the Week: A Low-Cost Before/After Kitchen in Brooklyn
.)
With just a few cans of paint, Megan Wilson remade her 1970s kitchen in Connecticut in English cottage style. She even painted the Formica counters, as well as the "tiles" on the floor. (See more of the home Megan shares with her husband, painter Duncan Hannah in the 
Remodelista book
.)
Lacking funds for a professional remodel, New York City public relations consultant Danielle Arceneaux lived for years with a "soulless, postage-stamp-size kitchen," until she decided to do it herself. Except for the original, yellow tile backsplash, she didn't replace a thing; she just applied several coats of paint to the brown cabinets. A few extra DIY details such as the premade beadboard paneling around the kitchen island and over-the-cabinet storage made with painted wine racks and plywood, provided the final bits of personality and charm. (Read more about how Danielle achieved this look in 
Reader Rehab: Danielle's DIY Kitchen Remodel for Under $500
. Photograph by Manuel Rodriguez via 
One Kings Lane
.)
Abbey Hendrickson of  Aesthetic Outburst, described her kitchen in Oswego, New York, as "a perfect storm of 1970s renovation work." She and her husband Phil conjured a more timeless look with a two-toned approach: dramatic black on the lower cabinets and airy white above. Brass hardware with Martha Stewart Living Bedford Brass Pulls and Knobs from Home Depot ($4.49 per pull), adds a touch of warm and complements the original green, formica counters, now rendered charming instead of dated. (See the full story Kitchen of the Week: A DIY Kitchen Overhaul for Under $500.)
Ready to paint your kitchen now? Here's how: How to Paint Kitchen Cabinets: 5 Tips from a Master Painter. And don't forget the paint: Architects' 10 Favorite Warm White Paints, Architects' 8 Favorite Warm Gray Paints.
Still looking for more budget kitchen makeover inspiration? We suggest Ikea Upgrade: The SemiHandmade Kitchen Remodel and Rehab Diary: Dream Kitchen for Under $3,000.
Finally, get more ideas on how to evaluate and choose kitchen cabinetry and hardware in our Remodeling 101 Guide: Kitchen Cabinets & Hardware.
(Visited 141 times, 1 visits today)