There's something about summer that invites spontaneity: one last quick dip in the lake before dinner, an afternoon drive to nowhere in particular, spur-of-the-moment dinners taken outside in the garden. Some of the most memorable summer evenings start out this way: an impromptu dinner party, just because it's too beautiful to call it a night. (Or because company drops by unexpectedly.)
How to pull off a festive dinner—to make sure there's something to eat, and that it's just a bit special—when there's no time to run to the grocery store, the florist, or the farmer's market? (Or, when you'd rather spend the hours before a party reading in a hammock, not running errands?) We asked Jill Donenfeld, a chef and cookbook writer who, as a co-founder of in-home chef company The Culinistas, knows a few things about throwing a party. Here are her easy last-minute tips.
1. Keep essentials on hand.
To be ready on a moment's notice—or, so that you can invite the gang over straight from the beach and avoid a stop at the grocery store—keep a few essentials on hand. An instant dinner? "Pasta, anchovies, tomato paste, lemons, walnuts," Donenfeld says, almost all of which you can keep stocked in the pantry. "Finish with a simple salad: Bibb lettuce, mustard, honey, olive oil, lemon, raisins." As for the bar, keep it stocked with the basics: "tequila, gin, vermouth, Pellegrino equals tequila and soda, gin martinis, and sparkling water."
2. Shop the house.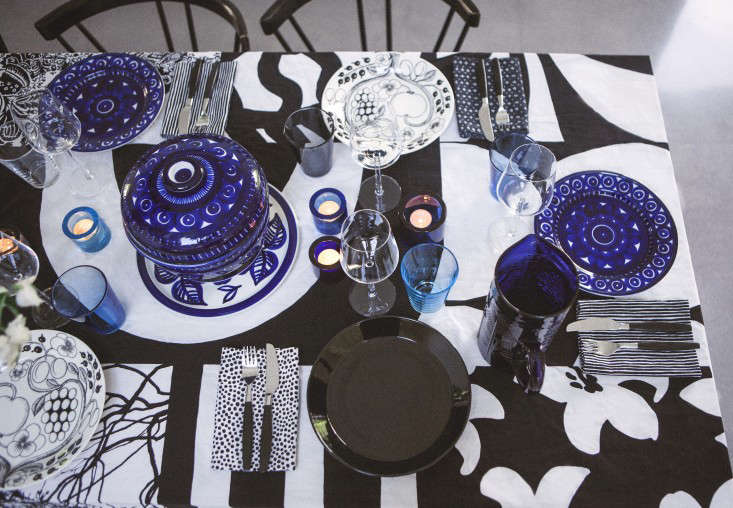 Once dinner's started, scour the house for what you already have: "Any textiles, bright and patterned, that can be used as a tablecloth or runner," Donenfeld says. "Light all the candles you have and dim the lights."
3. Add bits and bobs from nature.
If you have a few extra minutes, add a simple, small detail to make it just a bit more special than any old weeknight dinner. "If you are a collector of rocks or shells like I am, find your prettiest pieces and place one at each person's table setting: plate, napkin on top, a piece of coral to secure it," Donenfeld says.
4. Float flowers.
Don't feel like you need big, lush flower arrangements to make it a party. "Float flowers in bowls—anything you find on a walk, forage, or get from the grocer," says Donenfeld. "My favorites in season now are rhododendrons: big pink pompoms. If you prefer a cleaner, upright look, one calla lily and one closed peony make for nice small arrangements that you can source from the deli."
5. Let food double as decor.
"I like a functional table, since room is often limited," Donenfeld says. For example: "I am always a fan of baguettes between the guests. Lay them perpendicular across the table between each 'two-top'." Or, line the center of the table with "a long trough of steamed clams", Donenfeld says. It'll do double duty as a first course and give a sense of summer, in all its fresh-from-the-sea abundance.
More summer entertaining tips:
N.B.: Featured photograph by Simon Bevan from London's Best Below-Stairs Lunch, Hoxton Edition.
(Visited 29 times, 1 visits today)