After wreaths and framed artwork come down, what are you left with? Walls and doors with random holes from nails and tacks, the bane of many a real estate broker. How to get back to pristine walls? For advice, I turned to Albert Ridge of Ridge Painting in NYC. Albert, who grew up in County Galway, Ireland, and is known in my northern neck of the city as the most meticulous housepainter around. "Covering up imperfections is all about the art of disguise," Albert says. Here are his tips.
1. Remove nails gently.
Try first with your hands before getting out a hammer or pliers.
2. Assess the damage.
If it's a pin-size hole on a white wall, you can likely get away with applying a touch of filler or paint with a cotton swab. (For paint tips, see below.) But if the hole is noticeable, you have to plug it. Albert recommends spackling or caulk or Elmer's Wood Glue, and you can use your finger to work it in and then level it. Some people use white toothpaste; Albert says, "Don't go there. You need a material that adheres and doesn't crack." Also useful to have on hand: DAP Patch Stick Spackling Nail Hole and Crack Filler.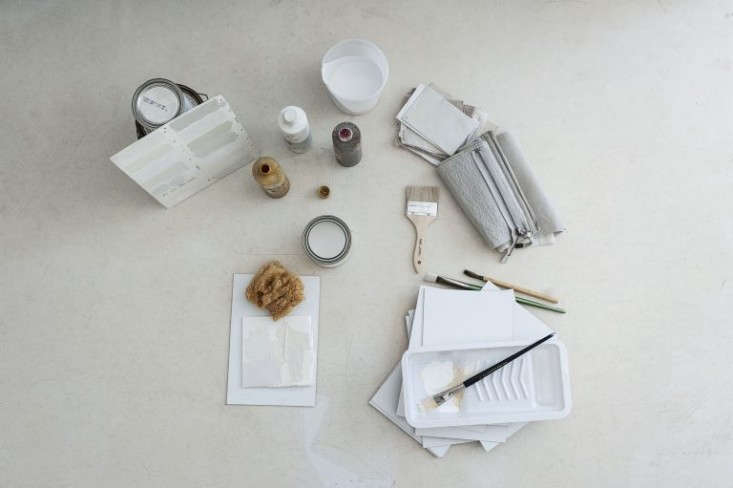 3. Even the surface with a damp cloth.
"You don't want a blob," Albert says. "The key is to just cover up the hole, not the area around it or you'll end up with a splotchy patch."
4. Let completely dry and then gently smooth with a fine grit sandpaper.
If your compound has shrunk, apply a second coat.
5. Match the paint.
A tiny patch can be covered up with paint that's the same color and finish as the wall. Apply it with an artist's paintbrush or a cotton swab—"use one side to dab it on and the other to soften it out," Albert says. A larger patch often requires a bit more finessing because wall colors weather and age over time: Consider adding a bit of colored tint, such as burnt umber or dark beige blended into the original (bring a sample, if possible, or a photo and your paint store will help). Tip: When painting walls, put aside a small labeled can or bottle to keep on hand as touch-up paint.
6. Tackle nail holes on wooden doors and paneled walls much the same way.
Plug the hole and then camouflage it. Albert uses Minwax Stain Markers: They touch up patches and nicks—until you deck the halls again.
What are your own nail hole solutions? Fill us in in the comments section below.
Go to Palette & Paints for more ideas and advice, including:
N.B.: This post is a rerun; the original story ran on January 12, 2017.
(Visited 1,109 times, 9 visits today)
Frequently asked questions
How can I fix nail holes in my wall?
To fix nail holes in your wall, you can follow these steps:
Start by cleaning the hole and the surrounding area.
Use spackling compound or lightweight wall filler to fill the hole, smoothing it out with a putty knife.
Allow the filler to dry completely.
Sand the patched area gently to create a smooth surface.
Wipe away the dust and apply paint or touch-up paint to match the surrounding wall.
What materials do I need to fix nail holes in the wall?
To fix nail holes in the wall, you will need spackling compound or lightweight wall filler, a putty knife, sandpaper or a sanding block, a damp cloth for cleaning, and paint or touch-up paint to match your wall color.
Can I use toothpaste or soap to fill nail holes in the wall?
While toothpaste or soap may work temporarily to fill small nail holes, they are not recommended for long-term fixes. These substances can shrink or crumble over time and may not provide a durable and professional-looking result. It's best to use proper wall fillers or spackling compounds for a more reliable solution.
How long does it take for the filler to dry?
The drying time of the filler depends on the specific product you are using. Generally, lightweight wall fillers and spackling compounds dry within a few hours, but it's recommended to follow the manufacturer's instructions for the most accurate drying time. It's important to ensure that the filler is completely dry before sanding or painting.
Do I need to sand the patched area?
Yes, sanding the patched area is an important step to create a smooth surface. Use fine-grit sandpaper or a sanding block and gently sand the patched area until it is level with the surrounding wall. This helps to blend the patched area seamlessly with the rest of the wall.
How do I match the paint to the surrounding wall?
Matching the paint to the surrounding wall can be a challenge. It's best to use leftover paint from the original painting job, if available. If not, take a small sample of the wall color to a paint store and ask them to match it. Test the paint on a small inconspicuous area first to ensure it matches before applying it to the patched area.
Can I fix larger holes using the same method?
The method described in the article is suitable for smaller nail holes. For larger holes, such as those left by anchors or screws, additional steps may be required. Larger holes may need to be filled with a patching compound or a drywall patch, which involves cutting out the damaged portion, fitting a patch, and applying joint compound. It's recommended to consult a professional or reference specific guides for repairing larger holes.