This content was produced as advertising by Remodelista in collaboration with Armstrong Ceilings.
A finished basement is kind of magical. It manages to add extra square footage and bonus living space to a home (without expanding its footprint) and seems to lend itself to almost any purpose. Growing up in the suburbs, I experienced basements of all kinds, from in-law suites to echo-y playrooms to the dive-bar-inspired setup in our own house (dartboard and pool table included). But there was one thing I thought all basements had to have: An ugly drop ceiling outfitted with some iteration of bland acoustic tiles. As it turns out, that doesn't have to be the case. With Armstrong Ceilings WoodHaven ceiling planks and a little know-how, a savvy remodeler can easily overhaul a basement ceiling in as little time as a weekend.
Curious? Here's a closer look:
After
Starting at around $4 per square foot, Armstrong Ceilings' MDF planks are a budget-friendly alternative that achieve the look of a wood ceiling without the time or expense necessary to install one. Use Armstrong Ceilings' Project Estimator to find out how much material you'll need and estimate the total cost, then set aside a weekend for the project.
Before
WoodHaven planks can be installed directly over an existing drop ceiling grid using Armstrong Ceilings' track and clip Installation System. All you have to do is remove the existing acoustic tiles, then use the clips (sold separately) to attach the planks to the grid. Armstrong Ceilings' WoodHaven Installation Guide outlines every step of the project, making it easy for the DIY remodeler to tackle this project in their own home.
WoodHaven planks come prefinished, so there is no need for messy sanding or staining. However, some of the plank styles can be painted to match an existing color scheme.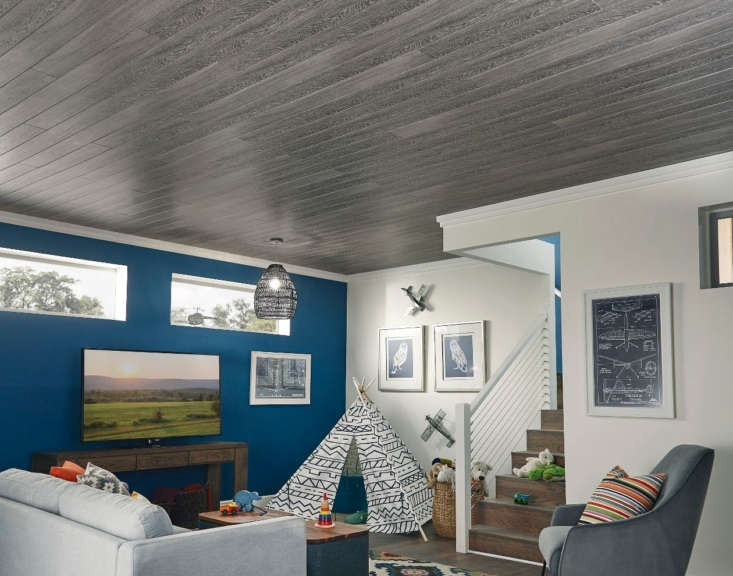 They're not just for ceilings, either: WoodHaven planks can be installed on walls too. See Remodeling 101: Easy-to-Install and Affordable Accent Walls for more on that project.
Ready to get started? Check out Armstrong Ceilings' Basement Guide for how-to videos, tips, and inspiring before-and-afters. If wood look planks aren't your style, Lowe's carries other Armstrong Ceilings products including coffers and metal panels.
(Visited 35 times, 1 visits today)