These days, having extra spaces to escape to is a plus, if not a must. Even better if you can transform the garage, garden shed, or basement into a workout space, a home office, or just a place to relax.  
Maybe you're looking to expand your living space and turn your unfinished basement into a usable space you'll actually want to spend time in. Perhaps you've moved into a house with an unfortunate basement—or are trying to sell your own place with an unsightly cellar of its own. Either way, you may be surprised to learn you don't need to undergo a full basement remodel. A simple swap—transforming dated, yellowing, old ceilings into something polished, clean, and bright—can go a long way.
Armstrong Ceilings offers simple options to upgrade your existing sub-par basement ceiling, and while we've previously featured their Woodhaven wood-look planks (see the post here), today we're profiling their drop-ceiling panel options that can transform a basement ceiling in a weekend—all while still allowing access to pipes, ductwork, and wiring. (Have a completely unfinished ceiling in the cellar? You can also install a drop ceiling yourself using Armstrong Ceilings' Quickhang Installation Kits.)
Take a look at a few newly functional, good-looking basements—no dated ceilings in sight.
After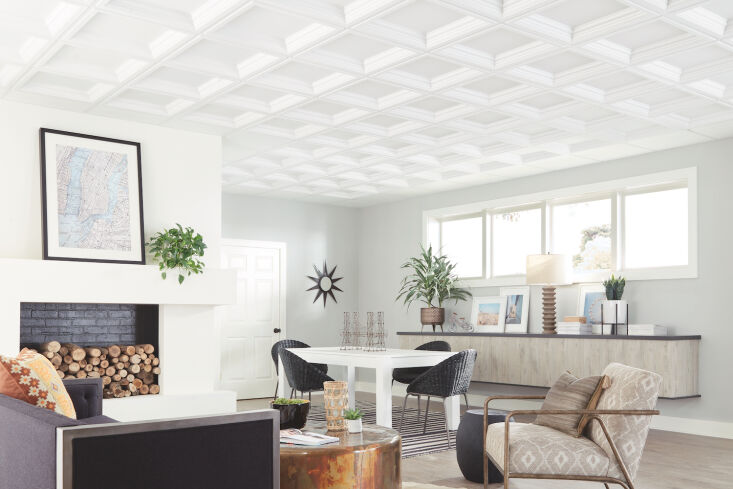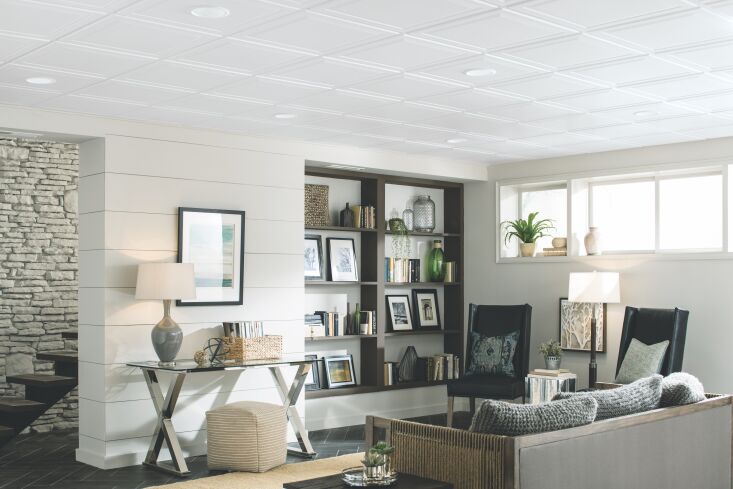 Before
For more simple solutions from Armstrong Ceilings, take a look at:
(Visited 378 times, 5 visits today)
Frequently asked questions
What are Armstrong ceilings?
Armstrong ceilings are a brand of ceiling products that offer a variety of options for both residential and commercial spaces. They provide solutions for improving the aesthetics and functionality of ceilings, including options for unfinished basement remodels.
Why should I consider using Armstrong ceilings for my unfinished basement remodel?
Armstrong ceilings offer several benefits for unfinished basement remodels. They provide a finished and polished look to the ceiling, concealing exposed wires, ducts, and other mechanical systems. Additionally, Armstrong ceilings offer options for soundproofing, moisture resistance, and ease of installation.
What types of Armstrong ceilings are suitable for an unfinished basement?
Armstrong offers various ceiling options suitable for unfinished basements. Some popular choices include suspended or drop ceilings, which consist of a grid system that holds ceiling tiles or panels. These systems allow for easy access to the space above the ceiling for maintenance and repairs.
Can Armstrong ceilings help with soundproofing in the basement?
Yes, Armstrong ceilings can help with soundproofing in the basement. Certain ceiling options, such as acoustic panels or tiles, are designed to absorb sound and reduce noise transmission. By installing these sound-absorbing materials, you can create a quieter and more comfortable environment in your basement.
Are Armstrong ceilings resistant to moisture and mold?
Armstrong offers ceiling products that are specifically designed to be moisture-resistant and mold-resistant. These products are ideal for basements, where moisture can be a concern. Moisture-resistant ceilings help prevent the growth of mold and mildew and can withstand humidity without warping or sagging.
Can I install Armstrong ceilings in my unfinished basement myself, or do I need professional assistance?
Depending on your level of DIY experience, you can install Armstrong ceilings in your unfinished basement yourself. Armstrong provides installation guides and resources to help homeowners with the installation process. However, if you're unsure or have complex requirements, it's recommended to seek professional assistance to ensure proper installation and to address any specific challenges.
Are Armstrong ceilings easy to maintain?
Yes, Armstrong ceilings are designed to be low-maintenance. Regular dusting or vacuuming can help keep them clean. In the case of stains or spills, Armstrong provides guidelines for cleaning and maintenance specific to their ceiling products. Following these instructions will help you maintain the appearance and longevity of your Armstrong ceilings.