This week, architect Ian Read from Medium Plenty evangelizes about Heath Ceramics tiles and gives us his tips on remodeling with the tiles–even on a budget, as he did with his own house in Oakland, CA, which he overhauled with his wife and business partner, interior designer Gretchen Krebs. Read is available for the next 48 hours to answer any and all questions. Ask away!
Oakland-based architect Ian Read was introduced to the world of Heath Ceramics' seconds and overstock tiles (offered at 75 percent off retail prices in their Sausalito factory) when he worked with some clients on a remodel of a small guest house. When the same clients remodeled their kitchen, they collaborated with Read again to incorporate the Heath seconds into their lives a second time, sharing many bottles of wine in the process of laying out the tiles. So when it came time for Read, the founding partner of Medium Plenty and a member of the Remodelista Architect/Designer Directory, to remodel his own house, a Queen Anne cottage built in 1892, he knew exactly where to go for his kitchen and bath tiles. "Heath Ceramics is one of the few remaining midcentury potteries still in existence and learning about the care they take in how they form, glaze, trim, and fire their tiles makes them even more appealing to us," he says. "Besides, we don't mind using castoffs because of the surprises to be had and the price–around $5 a square foot."
With doing comes experience (Read installed all the tiles himself in his house), so we asked him for insider tips learned on the job. Here are his top three: 
1. Celebrate handmade tiles
"It's important to remember that Heath Ceramics tiles are handmade. Unlike a manufactured tile, the irregular nature of the tiles means that that there will be differences from piece to piece. You, your designer, and your installer need to understand and embrace the nature of the material or expect to be frustrated." 
2. Keep an open mind when selecting tiles
"When it comes to selecting seconds and overstock tiles, prepare to be flexible. We never thought about brown hexagonal tiles for our master bathroom until we saw it available in a large quantity. Checking the website for changing availability is advised, but note that it's only available directly out of Heath's Sausalito store and stock can go quickly, so know how much you need beforehand–and make sure you include an amount for overage (additional tiles needed to make up for tile cuts or egregious flaws). When working with seconds, I would suggest buying 15 to 20 percent more." 
3. Take your time with tile placement and installation
"The placement of the tiles requires more time than if you were working with manufactured tiles because irregular shapes translate into irregular spacing. Wedge spacers, a critical tool, make up for the lack of regularity in the tiles, but you also need to check your progress against a benchmark to ensure that the overall layout is even. And finally, when working with seconds or overstock tiles, there will be some pieces with irregularities that will not be to your liking; put these in more discrete locations."
Have a look at Read's results and read on for more tile intel.
Unless otherwise noted, photgraphy by Melissa Kaseman.
Above: The kitchen is comprised of a tiled backsplash made of Heath Ceramics seconds, blackened plate steel shelves, and an Ikea countertop and cabinets. "I considered building my own cabinets, but the material cost alone was more than Ikea finished," he says.
Above: Metal tabs welded to the back of the 3/16-inch blackened plate-steel shelves (fabricated by Chris French Metal) were fastened to the structural framing behind the wall to make the shelves appear as if they're floating. Because the grout joint is the same thickness as the shelves, the shelves look like they slot neatly into the tiles. 
Above: The glazing color of the tiles in Read's kitchen is New Crystal Blue. "Our kitchen tiles were seconds because the color variation was more than what Heath Ceramics typically allows for in variance and the shapes of the tile themselves were more irregular than the norm. There were also some surface pock marks, that we are more than happy to live with," he says. "There are different approaches to sorting the variations and you can either group like-tones or randomize them. In the kitchen we went for the randomized approach."
Above: The Aged Iron glazed hexagonal tiles that Read used in his master bath were overage from a large run for an office project. On Read's first project working with Heath tiles, he was introduced to James "Ted" Telvert from Team Ted Tile, an installer who Heath frequently recommends to clients. "One of the tricks Ted taught me is to use a story stick, a tool that's about 3 feet long with tile sizes and grout joints marked on it," he says. "It offers a quick way to see where full tiles will land and where you'll hit corners–a critical factor with the hexagonal shape." 
Above: "The main challenge with the hexagonals was getting the hang of laying out every other course, since they're staggered. Once you get started, things start to fall into place," Read says. "Corners are tricky because you always want the tiles to meet up evenly. That, too, takes some patience, not to mention a few beers."
Above: In the guest bathroom, Read worked around not having enough 2 inch high white tiles (Linen, Antique White, and Chalk) by inserting a band of 3 inch subway tiles in Parchment. "We like the way the solid band of subway tiles emphasizes the color variations in the field of 2 inch tiles," he says.
Above: Read's cat, Jack, sits on a concrete bathtub surround manufactured by Concreteworks Studio.
Before:
Above: A view of the backsplash wall in the kitchen before Read's remodel. The architect replaced the refrigerator with a cooking range to extend the illustion of one long counter run.
Above: Read's wife and business partner, designer Gretchen Krebs, pulls nails out of the floor framing of the guest bath. The entire floor had to be replaced because of rot.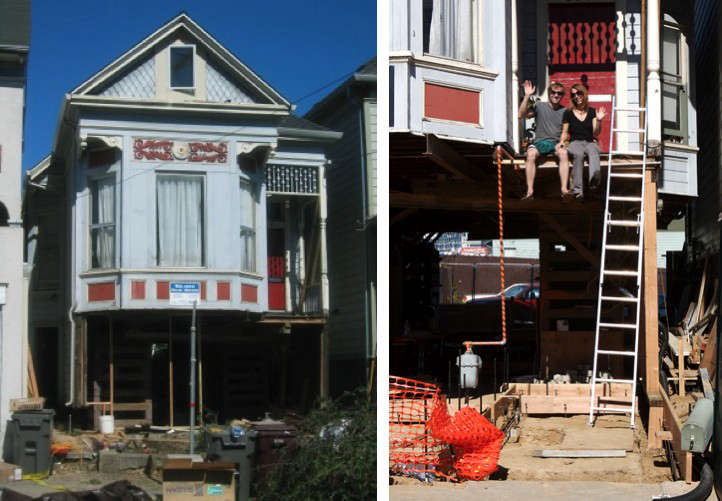 Above: An architect with extensive hands-on construction experience, Read renovated most of the house on his own with Krebs. "When we bought the house, there was no electrical, plumbing, kitchen, bathrooms, heat, or gas. Over the years, nine and counting, we have remodeled the entire house, including raising it to add a floor at street level," he says. "When Gretchen was seven months pregnant, it was time to hire out the drywall and painting. On the day our daughter was born, I finished the flooring and cabinetry and even installed a sink in our master bathroom." 
Love Heath Ceramics but not ready to tile? The company also makes a range of dinnerware and home accessories. See New Covetable Colors from the Chez Panisse Collection at Heath and Summer at Heath Ceramics for some of our favorites. For an ingenious tile alternative, go to DIY Walls: Tiles for Commitment Phobes. And click here for more tile sources and ideas.
(Visited 879 times, 1 visits today)
Frequently asked questions
What is the Architect Is In program?
The Architect Is In program is a collaboration between Remodelista and design professionals that aims to provide home design and renovation guidance to readers through virtual consultation and in-person visits.
What is the budget for the remodel featured in the article?
The budget for the remodel featured in the article is $20,000.
What type of tile did the architect use for the project?
The architect used Heath Ceramics tile seconds for the project.
What are Heath Ceramics tile seconds?
Heath Ceramics tile seconds are tiles with minor imperfections or color variations that did not meet the company's strict quality standards. However, they are still usable and can be purchased at a discounted price.
How did the architect incorporate the tile into the design?
The architect used the Heath Ceramics tile for the kitchen backsplash and bathroom walls, creating a cohesive and modern look throughout the space.
How much money did the homeowners save by using Heath Ceramics tile seconds?
The homeowners saved approximately $3,000 by using Heath Ceramics tile seconds instead of their full-priced counterparts.