"I think the thing that struck me the most was the sense of intimacy," Francesca, one of our Remodelista cofounders, told us when she got back from a recent stay at Hotel Sanders, a new hotel in Copenhagen by Alexander Kølpin—a former principal dancer with the esteemed Royal Danish Ballet—across from the Royal Danish Theater. Kølpin (whose father is an architect, and whose family runs the Helenekilde Badehotel and Tisvildeleje Strandhotel on northern coast of Denmark) worked with London-based design duo Lind & Almond to transform what was originally three private homes built in the late 1800s, then another hotel, into a Danish-inflected space that evokes all the intimacy and romance of the ballet or a night at the theater.
"Every detail is considered: the lamps, the subtle color palette, and of course the lighting," Francesca says; even the elegant uniforms that the staff wear were custom-designed, by Older Paris. "Candles are burning at breakfast, throughout the day and into the night. The overall effect is of a European home of humble elegance," she adds. Here's a look inside.
Photography courtesy of Hotel Sanders.
The Hotel, After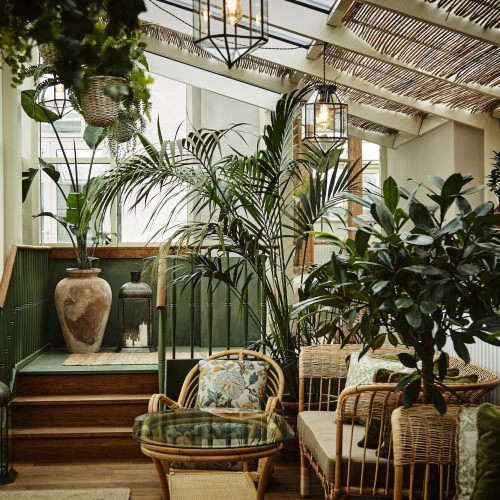 The hotel's priority is to make guests feel at home. Among the personalized services they offer: a behind-the-curtain tour of the Royal Danish Ballet (or a front-row seat to a rehearsal), "a day of drawing with the art students in the baroque sculptor garden behind the Art Academy," an after-hours look at the Royal Danish Opera House, or a ringside seat in the kitchens of Copenhagen's best restaurants. (And, should you forget something at home or the need arise, the hotel stocks "ties, cufflinks, white shirts, stockings, nail polish, hair spray, perfume, chargers, converters, and sunglasses in-house.")
The Hotel, Before
Headed to Copenhagen? More of our favorites:
You need to login or register to view and manage your bookmarks.